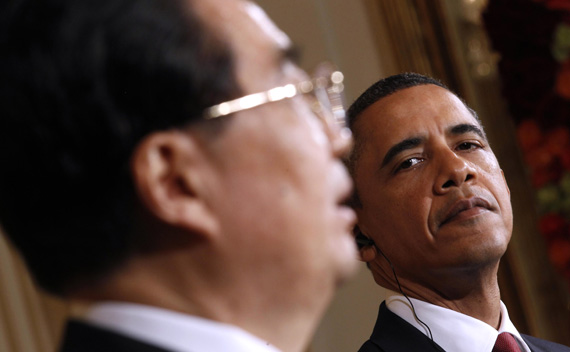 Both North and South Koreans appear to have had disproportionately high expectations in the run-up to last week's Hu-Obama summit, judging from their reluctant willingness to edge toward tension reduction and dialogue following the November 23rd Yeonpyeong Island artillery shelling and high tensions surrounding South Korea's live-fire exercises on December 20th. In anticipation of potential improvements in Sino-U.S. coordination, North Korea launched a diplomatic charm offensive during the first two weeks of January. South Korea finally responded shortly following the Hu-Obama summit with proposals for inter-Korean military talks and talks to address nuclear issues. The Sino-U.S. Joint Statement provided a push to the two Koreas by calling for "sincere and constructive inter-Korean dialogue" and by explicitly mentioning enriched uranium as an item that should be on the agenda of renewed Six Party Talks, but the joint statement also exposes clear limits to Sino-U.S. agreement on how to approach North Korea. 
The Sino-U.S. Joint Statement fails to explicitly mention UN Security Council Resolutions 1718 and 1874 and does not explicitly reiterate the need for stepped up counter-proliferation and export control efforts focused on preventing the transfer of fissile material-related technologies or knowhow. This is a significant omission, given that China's role in implementing an effective counter-proliferation program toward North Korea is critical. The statement also failed to explicitly mention or attribute responsibility for "recent developments" that have heightened tension on the Korean peninsula. There is no indication of agreement on a further UN role in addressing tensions on the Korean peninsula. The statement does not explicitly define "necessary steps" that would enable a return to the Six Party Talks process, indirectly underscoring the absence of a viable jointly-agreed process for achieving the shared objective of denuclearizing the Korean peninsula.
Nonetheless, the following background factors made possible a positive statement affirming the potential for limited Sino-U.S. cooperation on Korean peninsula issues. By the same token, changes in these factors might erode prospects for Sino-U.S. cooperation or result in renewed tensions on the Korean peninsula:
North Korea as a (Temporarily?) Rising Priority in U.S. Foreign Policy—Secretary Gates and President Obama have drawn public attention to North Korea's nuclear and missile programs as an emerging direct threat to the United States, raising North Korea's profile on the diplomatic agenda (a post-election Foreign Policy analysis of Obama's foreign policy priorities did not include the Korean peninsula in the top ten issues for U.S. foreign policy) and heightening it as a priority issue on the Sino-U.S. agenda. (President Obama's personal attention to the North Korea issue during the summit was critical in driving home that message to Chinese leaders, especially given the personal attention that President Bush had shown to North Korea.) By the same token, as the administration's attention is drawn to other issues and the sense of crisis recedes, there is a possibility that North Korea will use renewed crisis escalation to redirect the attention of the great powers to peninsular issues.
Fragility of Inter-Korean Dialogue Efforts—Under current circumstances, North and South Korean dialogue efforts belie deep underlying suspicions that make the likelihood of a breakthrough remote and the possibility of renewed tensions likely. South Korea has little real interest in inter-Korean dialogue and the North harbors deep suspicions of the Lee Myung-bak administration; little in the current South Korean approach offers North Korean leaders grounds for reassurance, and vice versa.
North Korea's Propensity for Renewed Provocation—The North Korean leadership continues to act on its own priorities and timeline, both to manipulate the external atmosphere so as to shape the environment for its own political control and management of the succession process and to draw attention from South Korea and the United States according to its own timetable and perceived needs. The Yeonpyeong artillery shelling is more plausibly driven by internal factors while the timing and nature of the revelations regarding North Korea's uranium enrichment program is most plausibly explained as driven by external motives to influence the United States and South Korea. It is not clear whether these two provocations were effectively internally coordinated or whether they might suggest discontinuities or even rivalry within North Korea's leadership.
Getting the Balance Right between Alliance Coordination and Cooperation with China—The U.S. regional joint exercises in late November and early December, Secretary Clinton's hosting of a December 6th trilateral meeting with the foreign ministers of South Korea, and Japan, and momentum for apparent strengthening of Japan-ROK security cooperation are developments that should impel China to take the regional security impact of North Korean provocations more seriously, but such efforts should not preclude or inhibit Chinese cooperation on management of tensions on the peninsula. Finding the right balance between a response that catalyzes Chinese cooperation rather than suspicion will remain a major challenge.
In sum, the Hu-Obama summit gave some grounds for hope that China and the United States can cooperate in addressing North Korea, but there are also serious pitfalls that could erode the fragile consensus represented in the joint statement.