Human Development, Inequality, and the BRICS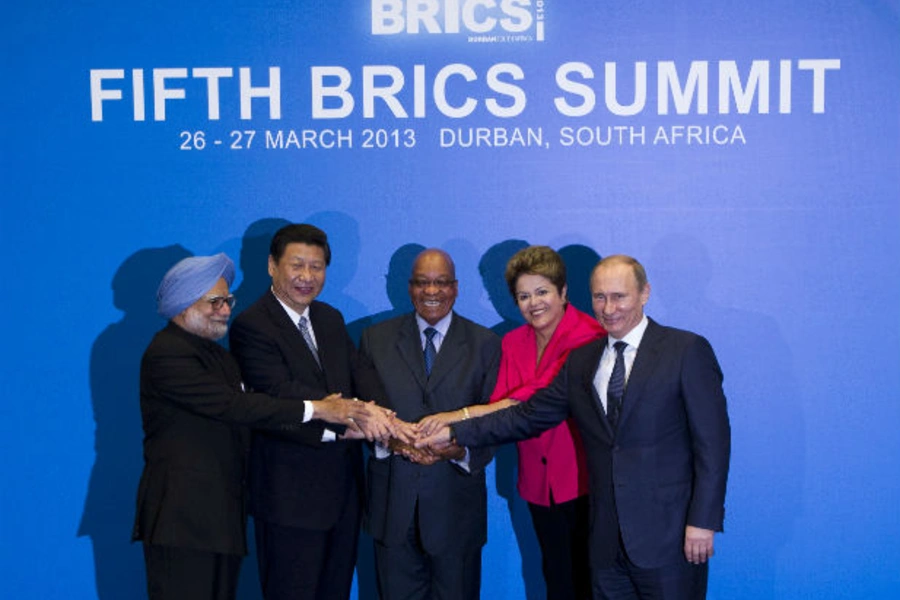 In South Africa this week a group of emerging nations, Brazil, Russia, India, China, and South Africa itself, known as the BRICs (the moniker given by Goldman Sachs in 2001), gathered to launch their own development bank. The New York Times called the move "a direct challenge to the dominance of the World Bank and the International Monetary Fund."
Observers immediately asked whether the countries have enough in common to form an economic alliance of any kind and questioned whether they could share goals given their usual roles as competitors.
Yet regardless of the fate of the bank, what is certain is the rising clout of the emergings. As the United Nations 2013 Human Development Report notes, "by 2020, according to projections developed for this Report, the combined economic output of three leading developing countries alone—Brazil, China and India—will surpass the aggregate production of Canada, France, Germany, Italy, the United Kingdom and the United States. Much of this expansion is being driven by new trade and technology partnerships within the South itself."
The numbers are particularly staggering given the historic shift they represent. As the UN report notes, "in 1950, Brazil, China and India together represented only 10 percent of the world economy, while the six traditional economic leaders of the North accounted for more than half. According to projections in the Report, by 2050, Brazil, China and India will together account for 40 percent of global output, far surpassing the projected combined production of today's Group of Seven bloc."
These figures represent a dramatic shift in people's lives. The middle class is expected to be more than 3 billion strong by the year 2020, up from 1.8 in 2009. This growing group will boost demand for everything from commodities to goods and services and will represent a new hub for entrepreneurship and innovation.
Yet alongside all the growing prosperity is the more worrisome issue of global inequality. This inequality at its most potent can stymie development and suffocate the potential of those who were born the wrong sex or race or the wrong social or ethnic or economic group. Most of the regions in the UNHDR show "declining inequality in health and education and rising inequality in income."
The UN identified three factors that have helped to foster growth and combat poverty among those nations in the global South that have achieved greatest progress: "a proactive developmental state, tapping of global markets, and determined social policy and innovation." Along with these three factors, education has been a leading driver of development and produced "striking benefits for health and mortality." According to the UN report, its research found that "mother's education is more important to child survival than household income or wealth is and that policy interventions have a greater impact where education outcomes are initially weaker. This has profound policy implications, potentially shifting emphasis from efforts to boost household income to measures to improve girls' education."
For a long time researchers have pointed to the positive power of girls' education in boosting development outcomes. Now with the Human Development Report's data it is possible that more focus will be placed on innovations such as unconditional cash transfers, such as those issued by the charity GiveDirectly, that get money into the hands of girls, who then can use it for school fees and uniforms. One of the report's many compelling graphs compares educational attainment in South Korea and India. While in the 1950s a large part of Korea's school-age children were out of school, "today, young Korean women are among the best educated women in the world: more than half have completed college. As a consequence, elderly Koreans of the future will be much better educated than elderly Koreans of today, and because of the positive correlation between education and health, they are also likely to be healthier."
In India, on the other hand, before 2000 more than half the country's adults had no formal education. According to the report, those grim numbers have changed little. "Despite the recent expansion in basic schooling and impressive growth in the number of better educated Indians (undoubtedly a key factor in India's recent economic growth), the proportion of the adult population with no education will decline only slowly. Partly because of this lower level of education, particularly among women, India's population is projected to grow rapidly, with India surpassing China as the most populous country."
As the rise of the global South moves forward the questions of equity and access will continue to grow louder, even as the region's overall boom continues.