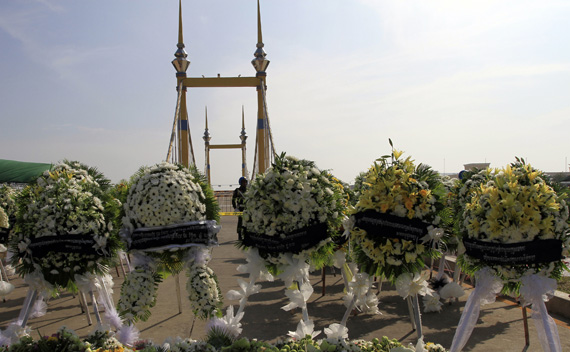 In the wake of the awful stampede that took place at a water festival in Phnom Penh in late November, killing as many 350 people, Prime Minister Hun Sen already has announced that no one will be punished for the disaster. Previously, Hun Sen had said it was the worst disaster in Cambodia since the Khmer Rouge genocide. Yet no one will be punished.
The fact that no one will be punished is indicative of perhaps the most pervasive problem in Southeast Asian politics, one that every country in the region except Singapore struggles with: Impunity. Perhaps no one really was to blame for the Phnom Penh disaster. But how could Hun Sen have known for sure less than two weeks after the deaths? There certainly was not enough time, in just a few weeks, to do a detailed investigation into culpability.
Hun Sen's actions, unfortunately, are not that surprising. He himself heads a government that survives on impunity, on the ability to evict villagers from their land without worrying about the consequences, on the confidence that opposition activists can be silenced with little consequence. But you see the same impunity throughout the region. You see it in Thailand, where no one has been held to account for alleged torture and killing of prisoners in the south, captured well in a recent Time article by Andrew Marshall. You can see it in the lack of any punishment for the chaotic mishandling of the bus siege in the Philippines several months ago, or the lack of any serious and comprehensive investigation into leaked films of the Indonesian army torturing locals in Papua. 
In Southeast Asia, punishing wrongdoing is exceedingly rare, outside of Singapore. Yet it is one of the pillars of a functioning democracy, a democracy in which citizens have the degree of trust in the state necessary to conform to the laws. If this trust in the state does not exist, you wind up with a privatization of essential functions, tax avoidance and people paying for public services like water and sanitation and policing, private militias, and other corrosion of  state control. You also wind up with a total lack of trust in the law, so that average people become less likely, in the future, to report crimes, testify as witnesses, or generally punish illegal activities.
Cambodia already has taken impunity quite far: In Cambodia powerful people are virtually never punished, no matter what they do.