Infrastructure and the SOTU: Time for Congress to Make Something Out of Nothing
Paving the road to 2020, Congress will need to steer the course and avoid potholes in 2019.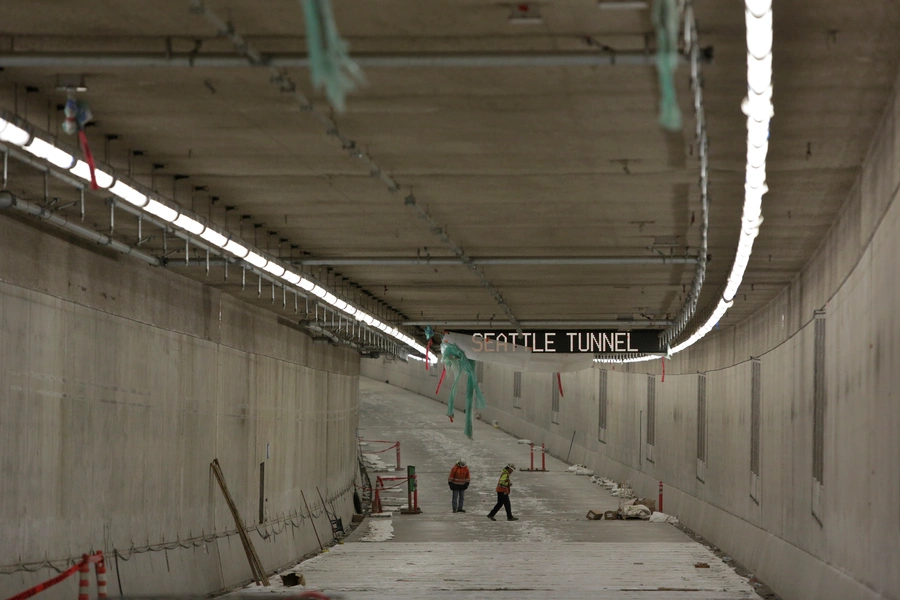 Expectations were high that President Donald J. Trump would highlight a renewed bipartisan effort to rebuild America's infrastructure in last night's State of the Union address. In the end, infrastructure warranted a full one sentence in his otherwise very long speech. It was not surprising that President Trump resurrected his call for a massive infrastructure investment program, but perhaps his shockingly cursory reference is an indication that he knows how challenging it will still be to answer his call in 2019. The same devilish details divide Democrats and Republicans when it comes to deciding what infrastructure to fund and how to pay for it. But ignoring the issue is not an option. The poor state of U.S. infrastructure is a drag on growth, productivity, and competitiveness and risks the safety of U.S. citizens crossing structurally deficient bridges or drinking unsafe water.
Given his scant mention of infrastructure, it was tempting to just re-post my reaction to last year's SOTU, which outlines the challenges of bipartisan agreement and the major dividing lines. However, despite his tepid support for what many expected would be the centerpiece of his bipartisan effort for the year ahead, it is worth writing about for one reason: 2019 provides an opportunity for lawmakers to run with the issue themselves and to lay the groundwork for where the action will be on infrastructure at some point between now and 2020. Absent such an initiative, the U.S. federal government's Highway Trust Fund (HTF) will simply run out of money.
The HTF's funding of U.S. highways and public transportation programs expires in September 2020. This is the federal government's key contribution to U.S. infrastructure funding and come 2020, Democrats and Republicans must agree to a path forward to ensure the viability and solvency of the HTF, or put in place plans for a new approach to the federal contribution to national infrastructure investment. There is room in this conversation for political courage and imagination. There is no room for inaction. 
Unfortunately, the opportunity to use the simplest "pay for" solution, combining tax reform with a federal infrastructure investment plan, has come and gone. Fortunately, several good proposals exist to address the HTF's shortfall. The Congressional Research Service recently outlined some of them, including: raising the gas tax, last raised in 1993 (requires courage) and exploring mechanisms to ensure electric vehicles pay their fair share; employing mileage-based road user charges; and exploring non-gas tax revenues to compensate for more efficient (less fuel consuming) vehicles (requires imagination). It may even be time to put the idea of establishing a national infrastructure bank back on the table which would, amongst other things, provide a multi-sector platform to use government seed funds to catalyze more private investment. 
There is much more room for courage and imagination and luckily no lack of good ideas, albeit with varying levels of political viability. If the Trump White House intends to play any policy role, it will need to put on the table a more viable proposal for infrastructure investment than its failed effort in 2017. In the meantime, the ball is firmly in Congress's court. 
The HTF will be a focal point for advancing other important infrastructure priorities. 2019 is the time to put those priorities on the table. President Trump failed to do so last night. But with the first important House infrastructure hearing kicking off this week, with any luck, Congress will spend the next year laying the groundwork for a more meaningful focus on infrastructure well before the 2020 SOTU. Given that 2020 is a presidential political year in which bipartisan legislation is even less likely than in the 2019 year ahead, politicians of both parties need to realize that, especially given the short shrift placed on infrastructure by the President last night, if they do not take ownership of the issue themselves, 2020 threatens to provide them with a choice of running out of money or running out of time. Maybe Trump's apparent abandoning of any pretense of any White House-led effort on infrastructure provides Congress—both Republican Senate and Democratic House—the opportunity to work together on this crucial issue and avoid a 2020 debacle.  Maybe the best thing about Trump's SOTU was that he effectively ceded the issue to Congress. Who would have guessed?