International Women's Day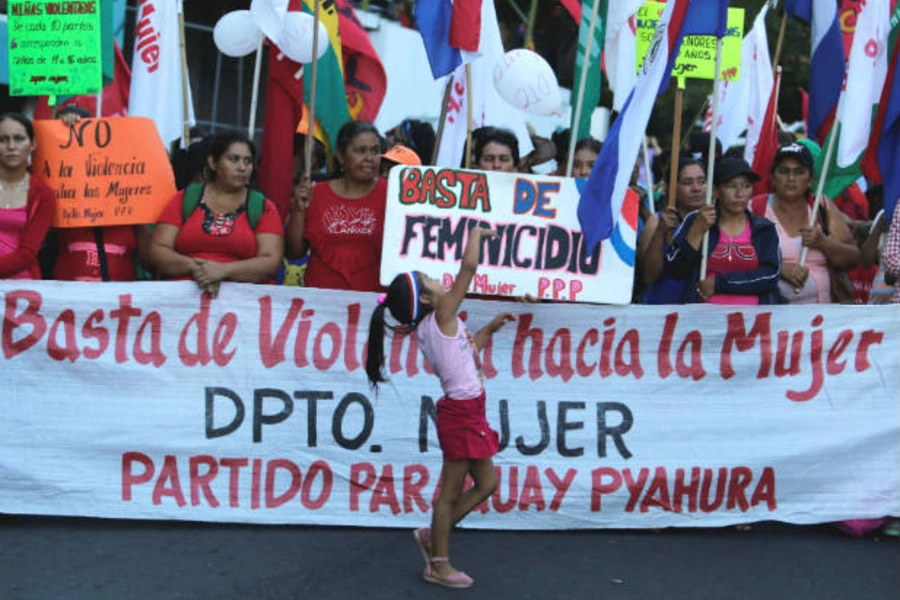 This post is co-authored by Anne Connell, assistant director of the Women and Foreign Policy program at the Council on Foreign Relations.
Wednesday, March 8 marks International Women's Day, an internationally-celebrated day dedicated to recognizing the social, political, economic, and cultural contributions women around the world have made to their countries and their communities. This year, the United Nations commemoration of International Women's Day will focus on how women's economic empowerment across the globe can accelerate progress toward the 2030 Agenda for Sustainable Development.
Learn more about women's economic participation through these ten publications from the Women and Foreign Policy program, and join the conversation on social media with @CFR_WFP for #IWD2017:
At a Council on Foreign Relations general meeting, Rachel Vogelstein, senior fellow and director of the Women and Foreign Policy program, hosted Dina Powell, global head of corporate engagement and president of the Goldman Sachs Foundation, and Darren Walker, president of the Ford Foundation, for a discussion on gender equality and economic growth. Powell highlighted Goldman Sachs' efforts to advance financial inclusion for women around the world through its 10,000 Women program, noting that women face an estimated $285 billion credit gap. Walker suggested that closing that gap and implementing other economic interventions will be critical to addressing the drivers of inequality—including gender inequality—which is "among the greatest challenges our world faces." Watch video of the meeting »
In a 2013 CFR Policy Innovation Memorandum "Banking on Growth: U.S. Support for Small and Medium Enterprises in Least-Developed Countries," Gayle Tzemach Lemmon analyzes policies to boost the performance of small and medium enterprises (SMEs) around the world, which are frequently owned and run by women. Women SME owners have shown great potential in spurring economies, but, as Lemmon argues, "[they] are often unable to acquire the skills, resources, and support necessary to grow and sustain their businesses." Read the Policy Innovation Memorandum »
Women arrange produce for sale at a roadside market in Ojodu district in Nigeria's commercial capital Lagos August 19, 2016. REUTERS/Akintunde Akinleye - RTX2M43J
Catherine Powell, CFR senior fellow, and Ann Mei Chang, formerly the chief innovation officer and executive director at the U.S. Agency for International Development (USAID) Global Development Lab, highlight women's roles in the information and communication technology (ICT) sector in emerging economies in a new CFR Discussion Paper. As Powell and Mei Chang explain, "Expanding women's access to ICT jobs would not only advance economic opportunities for women, their families, and their communities, but would also help address the shortage of skilled workers for these jobs and grow the digital economy."  Read the full report »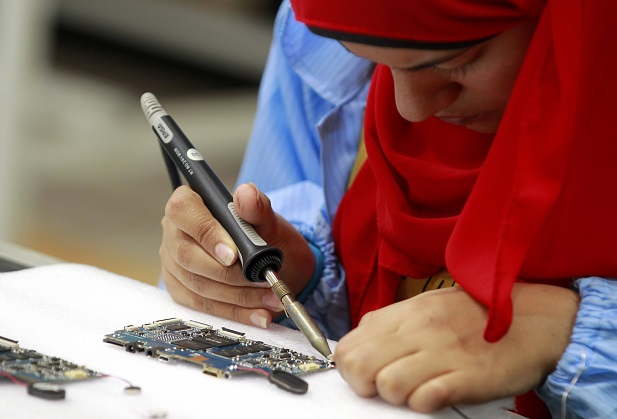 A worker is seen during the manufacturing process for Egypt's first tablet computer "Inar" at a factory in Benha May 18, 2013. Picture taken May 18, 2013. REUTERS/Mohamed Abd El Ghany (EGYPT - Tags: POLITICS SCIENCE TECHNOLOGY BUSINESS EDUCATION) - RTXZZAO
"Because closing the gender gap in development financing will advance U.S. interests in poverty reduction, sustainable development, and economic productivity, the United States should lead the effort to increase international financing for gender equality," writes Rachel Vogelstein in a CFR Policy Innovation Memorandum and corresponding article in Foreign Affairs. Despite the significant economic payoffs of investment in women and girls, international and national efforts to promote gender equality have been chronically underfunded, particularly when compared to other development priorities. To achieve the recently adopted Sustainable Development Goals (SDGs) and foster stability and prosperity around the world, Vogelstein argues, the United States should spearhead a multilateral effort to create a pooled gender equality financing mechanism, commit to an initial contribution of $100 million, and convene a conference to mobilize international pledges.  Read the Policy Innovation Memorandum »
Globally, women do three times more of the world's unpaid work than men. And evidence suggests that economic policies that reduce and redistribute unpaid work could increase women's labor force participation, promote sustained economic growth, and advance gender equality. Gayle Tzemach Lemmon analyzed unpaid work and other gender inequalities across a variety of labor market indicators in a recent roundtable featuring Shauna Olney, chief of the gender, equality and diversity branch (GED) of the International Labor Organization. Listen to the meeting »
Via-Juliana Akre, a nurse, poses in a maternity ward of an Abidjan, Ivory Coast hospital. Ivory Coast has nearly halved its maternal death rate since 1990, but still fell short of the Millennium Development Goal target for maternal mortality reduction (MDG 5) – many Ivorian women lack access to properly equipped health facilities, skilled health care workers, and antenatal care. REUTERS/Thierry Gouegnon
Cherie Blair, founder of the Cherie Blair Foundation for Women, evaluates the International Monetary Fund's warning that emerging and developing economies will converge to advanced economy income levels at less than two-thirds the pace predicted a decade ago, and suggests that more women need to join the workforce in these markets to counter this trend and spur growth. In a guest blog post on Women Around the World, Blair writes that "where women are engaged in employment, they tend to be concentrated in lower productivity sectors, often working in precarious, underpaid, and unprotected conditions."  Read the blog post on Women Around the World »
Photo courtesy of the Cherie Blair Foundation for Women
As part of CFR's ExxonMobil Women and Development Roundtable Series, Jane Nelson, director of the Corporate Social Responsibility Initiative at the Harvard Kennedy School, and Sarah Thorn, senior director of global government affairs of Walmart, joined Rachel Vogelstein for a conversation about private sector innovation to support women's entrepreneurship. The discussion addressed the importance of public-private partnerships to train female entrepreneurs and facilitate the integration of women-owned businesses into global supply chains. Listen to audio of the event »
In a guest blog post on Women Around the World, Henriette Kolb, head of the Gender Secretariat at the International Finance Corporation (IFC)—the private sector financing arm of the World Bank—evaluates international dialogue on gender equality and proposes steps to transform rhetoric into action. Kolb outlines the World Bank Group's new gender strategy, which aims to support governments and the private sector to close unjust and economically costly gender gaps.  Read the blog post on Women Around the World »
In a blog post on Women Around the World, senior fellow Gayle Tzemach Lemmon analyzes the low rate of women in the workforce in Middle East and North African (MENA) countries and the impediment it poses to economic growth. Lemmon asserts that "[a]s it stands now, MENA countries won't reach the current global average for at least 150 years when it comes to women's labor force participation." Read the blog post on Women Around the World »
Asmaa Megahed, a carpenter and designer, works inside her workshop in Cairo, Egypt February 27, 2017. Asmaa argues that "Women can do any business no matter how difficult…there are many men say that women can't do anything just "cooking and cooking", but women can do the impossible." REUTERS/Amr Abdallah Dalsh
Sarah Degnan Kambou, president of the International Center for Research on Women (ICRW), and Lyric Thompson, senior policy manager at ICRW, argue that the UN's Sustainable Development Goals (SDGs) reflect considerable improvement on women's and girls' issues compared to their predecessor, the Millennium Development Goals (MDGs). Degnan Kambou and Thompson emphasize the need to work with the private sector to track, measure, and finance the SDGs, given that private sector financial flows dwarf official development assistance.  Read the blog post on Women Around the World »