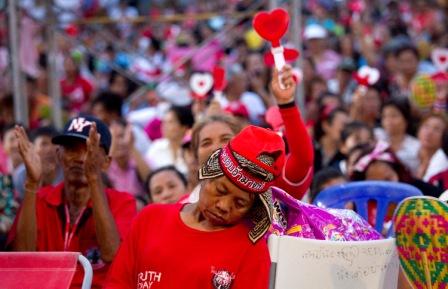 With an apparent compromise this week between the government and the red shirt demonstrators camped out in Bangkok for months, Thailand's political crisis appears to have been defused. The government got much of what it wanted – a delay on a new election until after the reshuffle in the army slated for September. The protesters, who were getting tired of sleeping on the streets during the hottest time of the year, could at least save face by saying that they forced Prime Minister Abhisit Vejjajiva to speed up his time frame for dissolving Parliament and calling a new poll.
But like a bad horror movie, this "ending" will only lead to more, and nastier, sequels. None of the major problems actually have been resolved. For example:
The concern about royal succession. The crisis did not make it any easier for average Thais to discuss the royal institution – in fact, the Thai government shamefully tarred the demonstrators as anti-monarchist "terrorists," and has increased the use of lèse majesté laws to stifle debate.

The schisms in the army. One of the likely reasons why the army commander in chief never moved to crack down on the protesters is that he could not trust his junior officer corps and rank and file soldiers, many of whom have sympathy for the red shirts and may have been leaking intelligence to them about the military's next moves. (The snipers who shot at the military on April 10, provoking bloodshed, had extremely detailed information about the army's command structure.)

The fundamental change in Thai politics has not been accepted. The rural poor and middle class, and those who have not had access to the major institutions of power, like the army and the civil service, are not going to go back to the past, even though they have accepted a compromise with the government. If Bangkokians continue to dominate all elite institutions, and there is not a real federalization of political power, expect the anger to build up again.

The future of Thaksin has not been resolved. Although the red shirt protests became a broader social movement about far more than Thaksin, the former prime minister remains a powerful figure. Without any real resolution on his assets, or whether he can return to Thailand, many of his supporters will remain furious.
So, when will "Thailand Crisis" come to a theater again? Could be as early as September. But certainly plan on watching it by December 2010.