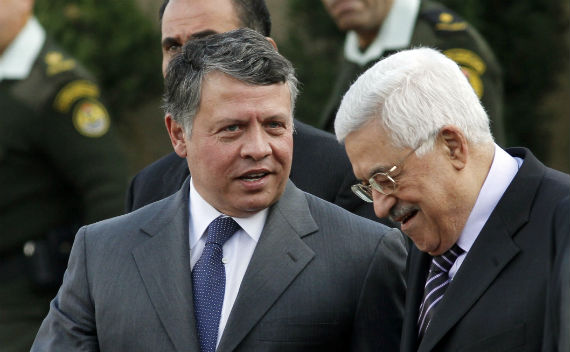 Jordan's king Abdullah made an unusual foray today into the West Bank to meet Palestinian president Mahmoud Abbas. Given that Jordan's capital is a ten minute helicopter flight from Ramallah, it is remarkable that the monarch's last visit there was over a decade ago. But Abbas also has a home in the Jordanian capital, largely obviating the need for—and making all the more unusual—Abdullah's visit to Ramallah.
Abdullah's visit is even more surprising given Jordan's current domestic context. Many East Bankers, who form the King's political base, are worried by (and unusually critical of) the king's recent efforts to improve ties with Jordan's Palestinian majority. Some East Bankers, usually the dominant force in Jordanian society, are disproportionately reliant on the government's patronage and have been hardest hit by the country's economic woes. The country's Palestinians, in contrast, tend more toward the private sector where greater opportunities currently exist. Thus, Abdullah's trip to Ramallah today was all the bolder, given the discomfort it would engender amongst his East Bank base already suspicious of the king's efforts toward the Palestinians.
So why the unusual trip? Abdullah's visit was no doubt precipitated by Abbas's upcoming meeting later this week with Hamas's Khaled Meshal. Many top Palestinians have concluded against the backdrop of developments in Tunisia and Egypt that Islamist parties are on the ascendancy. Closer to home, Israel's recent prisoner trade of more than one thousand Hamas members for Gilad Shalit has "convinced" many top Palestinians that Israel and the West are now making amends with Islamist parties at Abbas's expense. Amman's own efforts to lure Jordan's Islamic Action Front into the government will have only reinforced that misperception.
But Abdullah had another basic objective in seeking out Abbas today: to convince the Palestinian leader to return to negotiations with Israel rather than seek unity with Hamas. Jordan's foreign minister, Nasser Judah, bluntly noted that the visit was an attempt "to support the resumption of direct negotiations, because the goal is to guarantee the creation of an independent Palestinian state." With Hamas's leader slated to visit Jordan next week, Abdullah no doubt sought to signal everybody and reassure Abbas that Jordanian sympathies remain with the Fatah-backed Palestinian Authority, not Hamas. Abdullah surely does not want Abbas to go wobbly on Hamas when the two Palestinian faction heads meet later this week in Cairo.
It is a reflection of both Abdullah's increased boldness (he was the first Arab leader to call for Syria's Assad to step down) and his growing alarm at the current peace process drift that he felt compelled to call upon Abbas to orient his efforts back toward Israel. He sees that diplomatic neglect is sometimes not benign. Moreover, the Jordanians see Abbas edging closer toward a path that will either go nowhere or produce a government with which neither the West nor Israel will want to engage. With so few willing to evidence bold leadership to arrest deteriorating Israeli-Palestinian ties, the king's move should be commended as a necessary diplomatic intervention.