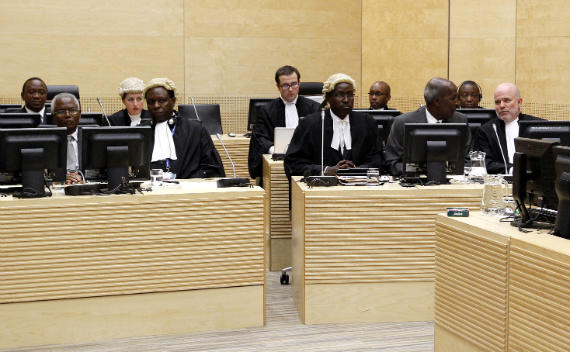 While I have been focusing my attention on Ivory Coast and the elections in Nigeria along with everybody else, there have been significant developments in East Africa—and they have implications for the continent as a whole.
In Kenya, the 'Ocampo Six' appeared before the International Criminal Court (ICC) Pre-Trial Chamber on April 7 and 8 in The Hague. They have been 'indicted,' but the Court will not determine until September 1 whether they will face trial. Their recent ICC appearance has spurred a significant development in Nairobi: popular politician William Ruto, like Moi a member of the Kalenjin ethnic group,  and finance minister Uhuru Kenyata, a Kikuyu and son of Jomo Kenyatta, have used their potential trials to form an informal inter-ethnic political alliance looking toward  the  2012 general elections. Uniting under a Kiswahili slogan—Tuko Pamoja, "We are Together"— the two politicians have used the ICC trial abroad to galvanize political support at home. Nevertheless, while I have mentioned many African leaders' disdain for the ICC, it is not shared by all Africans. A recent poll from a credible firm suggests 61 percent of the general population in Kenya favors the ICC process rather than a local tribunal. With important ramifications for future trials, I will continue to watch how Kenya's ICC process—and the subsequent political situation—unfolds. While the criticism remains that all of the cases currently before the ICC involve Africans, the ICC does appear to be a means of holding politicians accountable.
In Uganda, the Museveni government continued its heavy-handed treatment of political opponents. On Monday, police arrested main opposition leader Kizza Besigye when he was protesting rising food and fuel prices by "walking to work." Although Ugandan authorities released Besigye on bail, his detention on the charges of "inciting violence" and "refusal to take lawful order from the police" demonstrates the Museveni regime's increasing disregard for the freedom of assembly and the right to political expression. In February, I discussed Museveni's "re-election" to extend his twenty-five year rule. Besigye's detention does not augur well for peaceful political reforms, at least in the short term.