Korea's Immigration Policy Backlash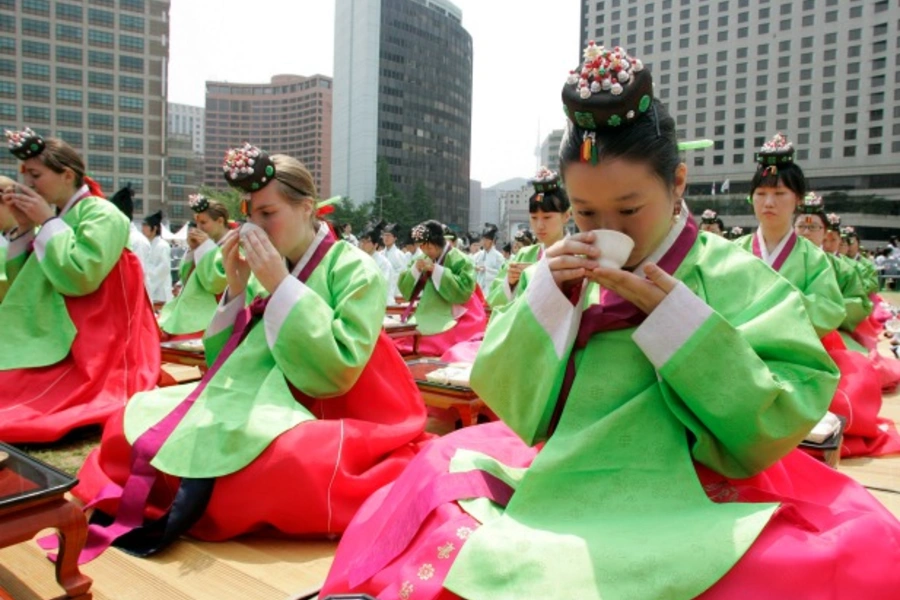 Darcie Draudt is a research associate for Korea Studies at the Council on Foreign Relations.
Late last month, the South Korean Ministry of Gender Equality and Family presented an open discussion titled "Changes and Alternative Models in the Korean Multicultural Family Policy Paradigm." Speaking to Yonhap news about the need for the event, Yonsei University Anthropology Professor Kim Hyun-mi said that in the process of viewing the multicultural families as a vulnerable social group, the South Korean government's welfare programs have led to reverse discrimination and xenophobia due to what many South Koreans perceive as preferential treatment and disruption in the monoethnic social fabric. The event revealed a gap between mainstream civil society's attitudes and government policy on how to treat foreigners, including multicultural families—and reflects a larger debate on the changing ethnic makeup and South Korea's national identity as a whole.
Many of these debates hark back to the years immediately following democratization in the late 1980s; indeed, the human rights and minority rights of Chinese-born residents in particular was part of a civil society–led agenda as well as changes in private company policies to "[interlink Korea] with 'global' structures and processes," leading to a wider debate throughout the 1990s to sensitivities about foreign-born residents in the political and economic sphere. Concurrent with joining international institutions like the United Nations (in 1991) and OECD (in 1996), South Korean policies in general became more effected by international legal and governance norms.
Foreign-owned small and mid-sized business owners contributed to immigrant power on the local level. Ethnic Chinese organizations provided space to discuss human rights for a large group of non-ethnic Koreans that had lived in modern South Korea for decades. But the establishment of major national policies on immigration and multicultural programming did not occur until the late 2000s, when the National Assembly in May 2007 passed the Act on the Treatment of Foreigners in Korea, which expanded and re-organized the Korea Immigration Service and laid out requirements for the Ministry of Justice to write a basic plan for foreigner policy every five years.
South Korea certainly is not the only nation-state dealing with this choice. Many anti-immigrant political parties across Europe in countries with traditionally supportive multicultural policies and high rates of immigration, such as Sweden, France, Germany, and the Netherlands, are speaking out and gaining influence in attempts to protect what they see as their own unique national identities. Japan, similar to South Korea, faces a declining birthrate and aging population. But while Tokyo and the Japanese public have resisted foreigner inclusion despite apparent potential boons for its economy, the South Korean government in the mid-2000s actively sought to consolidate and revise its policies for immigration management and immigrant incorporation—even going so far as to give voting rights to foreign residents in 2006, the first Asian nation to do so.
First Basic Plan: Pathways for a Top-Tier Workforce
According to the First Basic Plan for Immigration Policy [pdf] (2008–2012), the ROK government sought to create a "social integration policy that helps immigrants become responsible and self-reliant members of the society rather than beneficiaries of support." The first five-year plan underscored the importance of moving from a "control-oriented" policy "focused on protecting national security" to a "'strategic opening' to tap into the talent and capital of the rest of the world." The four main areas of the First Basic Plan included enhancing workforce competitiveness, supporting multicultural families, enforcing immigration laws and border control, and preventing discrimination and protecting human rights of immigrants, including refugees.
The emphasis on this first iteration of the immigration and multiculturalism policy was based on the government recognition that South Korea's demographic challenges—including low birthrates, the aging of society, urbanization, and increased inward migration of foreign-born non-ethnic Koreans—were ultimately economic in nature; that is, while the goals of the national immigration framework influenced social policies, they were ultimately servicing an economic goal of supplying short-term labor for the sake of Korea's global economic competitiveness.
In 2005, Cho Jae-hui, who at the time was serving in the Blue House for the Roh Moo-hyun administration, claimed that it was an urgent time to expand the foreign-born workforce to counteract the insufficient domestic workforce; he called for pathways to induce long-term residency in order to create a top-tier workforce. Likewise, Professor Seol Dong-hoon of Chunbuk University in Jeonju said that the road to strengthen the economic power of the Korean society was to actively attract the top global talent. Op-eds that encouraged tolerance toward immigrants noted that doing so would contribute to strengthening the economic power of the country (gukka kyungjaengnyuk ganghwa).
These early days of reviewing and implementing the policy also gave rise to consciousness of the civil rights of foreign-born and multicultural citizens; in 2006 Blue House Spokesperson Jung Tae-ho granted that until that time, consideration of foreigners' human rights, daily life issues, and legal status had not been comprehensively evaluated, either within Korean society or by the Korean government. Spokesperson Jung said Korean citizens' interest in awareness of these issues has risen, leading to greater reason to evaluate these policies; he brought attention to a visit to Korea around that time by NFL player Hines Ward, whose father is American and mother is Korean and who, as a popular and successful public figure, has been able to bring the issue of discrimination against multicultural children to the national discourse.
Indeed, a 2007 survey completed by the National Center for Multicultural Education at Seoul National University revealed that many parents of ethnic Koreans supported preserving "the unique culture of multicultural families" (about 40 percent) and participation of all in multicultural programming at schools (about 45 percent). These public national discussions paved the way for the second five-year plan that reassessed the social aspects of integration and assimilation for an emergent multicultural Korea leading for the first time to a codified series of policy adjustments, such as enabling all multi-ethnic citizens to join the Korean military for the first time in 2010.
Second Basic Plan: Clarifying Korean Multiculturalism
The Second Basic Plan for Immigration Policy, which began in 2013 and will continue through 2017, attempted to address some of the issues of integration the immigrants—particularly the so-called multicultural families—face in daily life in South Korea. It furthermore seeks to encourage governmental integration and cross-ministerial policy coordination, as well as attempting to move past border control into emphasis on social integration and support for inbound ethnic Koreans and non-Koreans. The second plan followed recommendations derived by field studies began in December 2011 by the International Organization for Migration Research and Training Center in Ilsan, a suburb of Seoul, as well as meetings between government agencies and an advisory committee on immigration policy on April 30, 2012. Meetings between government and experts as well as a public hearing were held throughout the fall of 2012.
In evaluating the First Basic Plan, the Second Basic Plan notes that the social integration budget of the plan allocated to programs and benefits for immigrant spouses and their children has increased—from 87.76 trillion won (about $755 million, or about 75 percent of the budget for social integration) to 1.18 trillion won (about $1 billion, or 95 percent of that budget). Combined with overuse and misuse of the term "multiculturalism," the second plan seeks revise its policy portfolio and public messaging.The positive popular conception of a "multicultural society" highlights appreciation of differences in food and language and downplays cross-cultural communication as a two-way dialogue. In some instances, the wider debate may miss the nuance of multiculturalism as a policy that declares recognition of rights of members of minority ethnic, religious, or cultural communities.
The Second Basic Plan also noted the role of criminal and "antisocial behavior by foreigners," widely reported on by the media in South Korea. In order to aid the inclusion of foreign residents, this iteration of the plan seeks to extend the First Basic Plan's focus on human rights, multiculturalism, civil affairs, and public service so that the involved ministries will "reflect public awareness focusing on social order and safety as well as the responsibilities and contributions of the immigrants." The Plan recommends educational and research projects that would promote social integration with mainstream society. To date, much of the public programming has been provided by the Ministry of Gender Equality and Family, including programming for school-aged children to increase awareness of other cultures.
Public Reaction to the National Policy
While the initial government motivation to promoting the incorporation of foreign-born residents was economic in nature, the second iteration of the five-year plans speak to the heightened awareness of long-term, foreign-born, ethnically diverse residents—including both increasing tolerance among some and increasing fear among others. In fact, the increased awareness and government-funded programming has led to a backlash of "anti-multiculturalism" (ban damunhwa) in South Korea. According to the sixth recent iteration of the World Values Survey for South Korea (from 2010), a survey of 1,200 Koreans revealed that 34 percent of respodents felt negatively about multi-ethnic residents living next door and 44 percent of respondents felt negatively about migrant workers living next door.
Longitudinal data show that Koreans on average are becoming more accepting of foreign-born residents—the number of respondents in World Values Survey who responded negatively to living next to immigrants halved since 1990. But at the same time, certain segments of the population have in the past few years grown increasingly wary of the impact immigrants have on South Korean society. Perhaps surprisingly, negative attitudes toward foreigners was higher among those in their 20s and 30s and among women, according to a February 2014 survey by the Asan Instiute for Policy Studies. A Kyunghyang Shinmun article from January this year links the trend to the high level of unemployment faced by those two groups.
Although positive attitudes toward multicultural families were at 67.5 percent, according to according to a February 2014 publication by the Asan Institute for Policy Studies, that figure has dropped 7 percent from two years prior. Moreover, twenty percent of respondents to the survey think foreigners "destabilize" South Korean society. The percentage of South Koreans who believe "multicultural families" (families wherein one parent is Korean and one parent is non-Korean) are disruptive to social integration has gradually been rising, reports JTBC, from 28.5 percent in 2011, to 29.9 percent in 2012, to 32.5 percent in 2013—though 2014 showed a slight dip to 31.6 percent.
"Until now, Korean society has only paid attention to immigrants' functions," Asia Immigration Cultural Solidarity Representative Lee Wan told the Kyunghyang Shinmun. He encouraged the government and the media to lead the way to social inclusion by focusing on the entire life of the immigrants. These sentiments were echoed by Kim Jiyoon, Kang Chungku, and Lee Ui-chul  in a 2014 Asan Institute online publication. They wrote that the current government policy of multiculturalism is "heavily weighted with assimilation, without social integration," and that most multicultural programming throughout the country teach immigrants how to assimilate as a "Korean."
As Steven Denney of the University of Toronto recently pointed out, the increase in the number of non-Korean migrants and immigrants has led to an evolving social hierarchy of foreign-born residents living in South Korea. Citing a JTBC news report on South Korean public opinion toward multiculturalism and foreigners, he writes that not only is the demographic change spurring discussion over Korea's national identity, but also a social hierarchy that incorporates the wariness and confusion on the roles Koreans have with their new diverse neighbors. For example, Koreans polled are more likely to have positive perceptions (about 25 percent higher) of U.S.- or Canadian-born immigrants than those immigrants coming from other countries.
The phenomenon of reevaluating the terms of national identity is not new nor is it unique to South Korea. But, because history and immigration patterns have until now left Korean monoethnic identity unchallenged, the current debate and policy revisions in South Korea seem out of step with North American visions of multicultural societies and policies. For outsiders, the de facto social hierarchy apparent in the daily practice of discrimination by many in Korea—quantified by public opinion polls on the topic—might be startling when reading the uniform multicultural policy in place since 2007.
The Social Difficulties of an Emerging Multiethnic State
As I've discussed here before, South Korean democracy now faces a test instigated by the increasing number (and awareness) of foreign-born residents and multiethnic citizens as well as North Korean–born defectors living on South Korean soil. At the federal level, the choice can reasonably be understood as a strategic choice, underscored by the need for certain types of labor and the prospect of reunification that President Park Geun-hye has made a cornerstone of her administration.
But the "multiculturalism problem" for South Korea is in fact an existential one: "[Koreans] have generally viewed Korea's ethno-racial purity as an almost singular characteristic.…To the large majority of Koreans, therefore, the very idea that their country would become a significant destination for hundreds of thousands of foreigners had been, for many generations, virtually unthinkable," writes California State University, Los Angeles Political Scientist Timothy C. Lim.
For instance, a 2008 news report would have shocked most South Koreans when it prompted readers to consider why the OECD no longer might consider South Korea a "one-nation state" (dan-il minjok). With the number of foreign-born residents projected to reach 10 percent of the total population by 2030, the iterative process of social integration and government policy will certainly lead to major changes in Korea's national identity in the coming years.