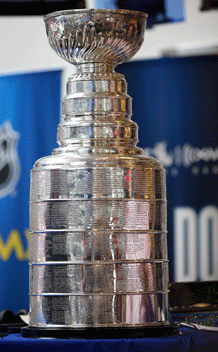 Globalization meets hockey tonight at 8 PM when the Boston Bruins square off against the Vancouver Canucks in Game 7 of the Stanley Cup finals. At stake is not just the pride of two great cities, but the pride of Canada as well. No Canadian team has taken home the Stanley Cup since the Montreal Canadiens did it in 1993. That's hard to believe, given that Canada gave us hockey.
If you tune into NBC tonight you will not only see a great game, you will also see a concrete example of globalization at work. People in my line of work spend a lot of time worrying about all the bad things that globalization generates and facilitates: terrorism, climate change, financial panics, infectious diseases, and so forth. So it's worth taking a moment once in a while to highlight some of the good things.
Here's what I mean. Until the 1980s, virtually everyone who played in the NHL was Canadian. American-born players like Robby Ftorek of Needham, Massachusetts were such a rarity that every fan knew who they were and where they came from. The only European-born players were people like Stan Makita of the Chicago Blackhawks who fled communist-controlled Czechoslovakia as a kid and ended up in Canada.
The Bruins and Canucks today look like the UN on ice. Okay, that's somewhat of an exaggeration. But the countries represented in tonight's game include Canada, the United States, Finland, Sweden, Germany, the Czech Republic, Denmark, Slovakia, and Russia.
If the Bruins win tonight, their captain, Zdeno Chara of Slovakia, will hoist the Stanley Cup. If the Canucks win, their captain, Henrik Sedin of Sweden, will get the honor.This is not your parent's NHL. Who knows. Maybe in twenty years the person lifting the cup will be from Beijing or Osaka
Daniel Sedin, Henrik's teammate and identical twin, has guaranteed a Canucks victory: "We're going to win game 7." My good friend and colleague, Michael Levi hopes that Sedin keeps his word. Mike is a big-time Canucks fan. I will be happy for him if he gets his wish. The Canucks have never won the Stanley Cup in more than four decades of trying. They lost the other two times they made it to the Stanley Cup finals, in 1982 and 1994.
I grew up watching Bobby Orr, Phil Esposito, Johnny Bucyk, Johnny "Pie" McKenzie, Kenny Hodge, Fred Stanfield, Gerry Cheevers, Derek Sanderson, Wayne Cashman, Dallas Smith, Teddy Green, and the rest of the Big Bad Bruins of the early 1970s. So I'll be even happier if Boston wins. Go Bruins!