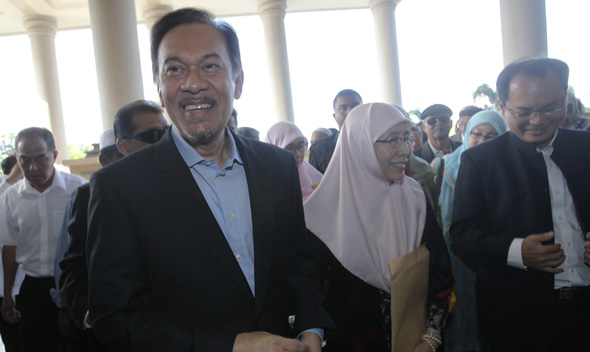 Much has changed in Southeast Asia over the past decade. But travel to downtown Kuala Lumpur today, and walk along the Moorish-influenced public greens, and suddenly the Malaysian capital seems trapped in the 1990s.
At that time, the Asian financial crisis was battering the country's economy, and urbanites hit by the downturn and frustrated by the country's tightly controlled political system, had taken to the streets, where they were met by riot control troops, who battered them on a daily basis until the government's long-ruling coalition put Anwar Ibrahim, the country's popular opposition leader, on trial. The charge: Sodomy, a serious crime in a predominantly Muslim nation.
Though the trial was a farce—accusers later recanted their statements, and Anwar appeared in court with what the government called a "self-inflicted" black eye—he was convicted, and ultimately served six years in prison.
Today, the same story seems to be unfolding across the city. Anwar is again on trial for sodomy, in a sketchy case full of holes, which the government seems to have initiated to end his career and weaken the opposition. As a result, tens of thousands of middle-class Malaysians have been rallying, both to demand his freedom and for greater political openness, and once again, the government has responded with beatings, tear gas, and water cannon.
Yet unlike a decade ago, the demonstrators aren't likely to give up so easily. Though Anwar could once again be sent to jail, Malaysian politics have been changed irrevocably—both by him and by the current prime minister—and Malaysians seem unwilling today to accept anything less than real democracy.
In today's Newsweek Daily Beast, I have an analysis of Anwar's trial, and the significant changes in Malaysian politics today. You can read the whole here.