Managing U.S.-China Relations in Uncertain Times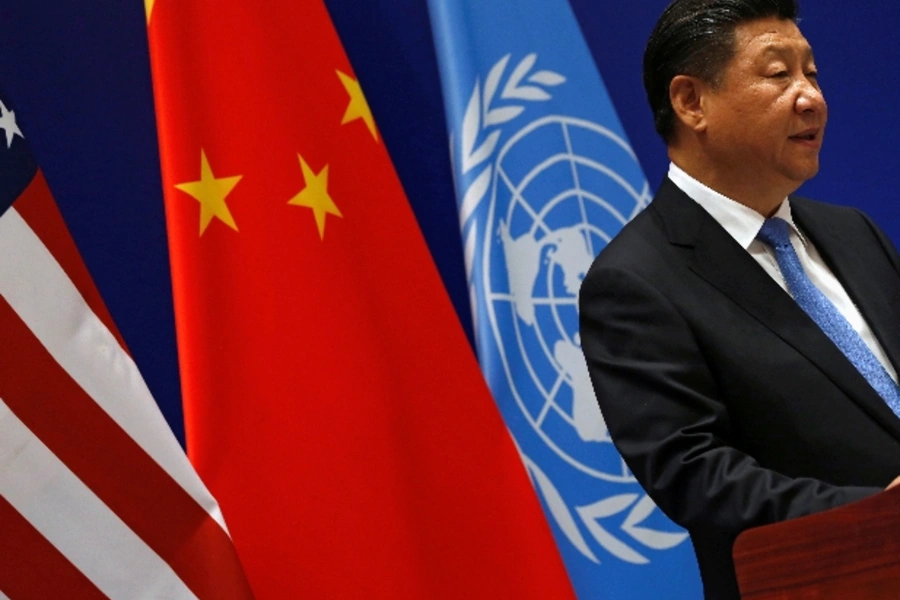 The electoral victory of Mr. Donald Trump has placed U.S.-China relations in a dicey situation. While ordinary Chinese—most of whom dreaded a Hillary Clinton presidency—were delighted that their wishful thinking came true, political leaders in Beijing appeared to be caught off guard by Mr. Trump's stunning defeat of his Democratic opponent. They are concerned about the "improper" remarks made by the president-elect and the lack of experience of his foreign policy team. Memories are still fresh of 1993–1994 when Bill Clinton, whose party had been out of power for twelve years, brought the relationship to a low ebb by establishing the link between progress in human rights and the "most favored nation" tariff treatment for China.
Beijing had additional reasons to be anxious at this "hinge moment" in U.S.-China relations. The president-elect is inclined to trust his own instincts and not to overthink things. Also, his appointed foreign policy/national security team seems to favor a more hawkish China policy. It is no wonder that ever since the election dust settled, Beijing has dispatched several delegations to the United States to suss out the foreign policy direction of the new administration. Meanwhile, Beijing has held out an olive branch to President-elect Trump. The very day Mr. Trump's election victory became known, President Xi Jinping reportedly sent a congratulatory note and expressed his willingness to work with the president-elect to "uphold the principles of non-conflict, non-confrontation, mutual respect, and win-win cooperation." Xi's goodwill was returned by Mr. Trump in their first phone call conversation in mid-November, who said that that he was on "the same side" as Xi in the bilateral relationship and believed that the two would have "one of the strongest relationships for both countries moving forward."
While it is hard to dispute that developing a stable, predictable, and comprehensive relationship with China is in the United States' national interest, to translate the goodwill into policy reality requires the new administration to send clear signals to China to avoid miscalculations and misreading of U.S. China policy. For that purpose, the new administration may consider:
Articulating U.S. national interests in Asia and beyond. Given the uncertainties and complexities surrounding Mr. Trump's Asia policy, the new administration has some serious soul-searching to do: Is the United States still committed to sustaining its primacy in East Asia as a resurgent China reclaims hegemony in the region? How should the new administration reconcile the era of U.S. global leadership and President-elect Trump's insistence on "America first?" Is the U.S. national interest best served by identifying itself as an "indispensable" Pacific power? Can the United States risk a trade war with China without jeopardizing its strategic interests in the region? In the absence of an explicit answer to these questions, the policy framework for U.S. engagement in Asia would be in disarray.
Clarifying U.S. strategic commitments in the region. Mr. Trump's election remarks on allies "paying up" and the pledge to withdraw from the Trans-Pacific Partnership (TPP) have already made U.S. allies and partners in Asia unnerved and upset. This, together with his emphasis on U.S. domestic issues and lack of interest in policing world affairs, has cast a shadow over the advancement of the Asia rebalance strategy. While the new administration may scale back its implementation, a wholesale abandonment of the strategy may cause further instability by emboldening aggressive opportunism while crippling its alliance system in the region. The United States should make it clear that abandoning TPP does not entail the weakening of U.S. strategic commitment to the region or the forgoing of the efforts to maintain regional balance of power. Indeed, even the so-called off-shore balancing strategy does not fundamentally contradict with the Asia rebalance strategy in terms of the strategic objectives; the only difference is the means: the former favors using local powers (e.g., Japan and South Korea) to check the rise of a potential hostile power, and the United States will act as a balancer of last resort.
Sustaining U.S. trade and economic relationships in the region. Trashing TPP is not tantamount to U.S. disengagement from Asia's burgeoning multilateral economic architecture. On the one hand, by joining the Regional Comprehensive Economic Partnership (RCEP) and Asian Infrastructure Investment Bank (AIIB) where China is poised to dominate, the United States can allay the fears of its allies and friends who have found themselves in a next-to-impossible situation to resist the China juggernaut. This is definitely not a zero-sum game. Indeed, as far as President-elect Trump's plan for $1 trillion in infrastructure investments is concerned, Washington may gain a great deal by actively participating in these multilateral institutions. On the other hand, U.S. withdrawal from TPP may highlight the need for the United States to engage and invest in bilateral trade and economic institutions such as the U.S.-China Strategic Dialogue (SED) and the U.S.-China Joint Commission on Commerce and Trade (JCCT) as instruments of pursuing U.S. economic interests in the region.
Promoting U.S.-China cooperation in global governance. Over the past years, both countries have worked together in addressing global challenges including terrorism, the North Korean nuclear threat, and Iran's nuclear program. Last year, the U.S.-China partnership extended to other areas including climate change and global health. Just last week, the two countries signed a memorandum of understanding on jointly supporting the Africa Centers for Disease Control and Prevention. Given the presence of "stressor variables" in the bilateral relations (e.g., frictions in the South China Sea and the potential confrontation over trade issues), cooperation in global governance could serve as a "stabilizer" and ensure that differences and conflicts do not derail U.S.-China relations. Furthermore, U.S.-China cooperation over global governance is consistent with Mr. Trump's idea of asking other countries to chip in more towards global affairs.
Nearly forty-five years ago, when Mao Zedong received Richard Nixon, he said: "I like rightists [Republicans]." While President-elect Trump is not President Nixon, his Chinese counterpart might like dealing with a businessman-turned-U.S. president because he is pragmatic. That may bring a slight dose of optimism to the world's most complex and consequential bilateral relationship.
Read more about how the Trump administration should approach U.S. policy toward China, Japan, Korea, South Asia, and Southeast Asia.