Meet Tom Steyer, Democratic Presidential Candidate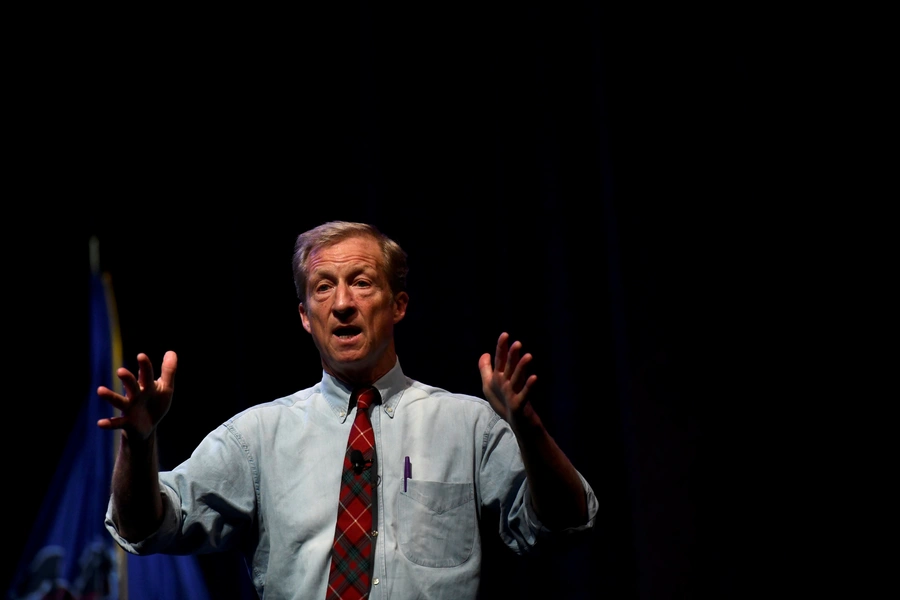 Update: Tom Steyer announced on February 29, 2020, that he was ending his campaign.
Can lightning strike twice? Tom Steyer hopes that it does. Back in 2016, Donald Trump was a billionaire businessman with no government or military service who won a longshot race for the presidency by arguing that Washington doesn't serve the people. Steyer, a billionaire businessman with no government or military service, hopes to win the 2020 presidential election by running a longshot campaign that argues that Washington doesn't serve the people. If Steyer wins, he would be the first president from California since Ronald Reagan.
The Basics:
Name: Thomas Fahr Steyer
Date of Birth: June 27, 1957
Place of Birth: New York City, New York
Religion: NA
Political Party: Democratic Party
Marital Status: Married (Kathryn Taylor)
Children: Henry, Tom, Gus, Evi, Sam
Alma Mater: Yale University (BA); Stanford University (MBA)
Career: Founder of Farallon Capital (hedge fund) and of the nonprofits NextGen America and Need to Impeach
Campaign Website: https://www.tomsteyer.com
Twitter Handle: @TomSteyer
Steyer's Announcement
In January 2019, Steyer told the world that he wouldn't run for president because he wanted to focus on his "Need to Impeach" initiative, which advocates for impeaching President Trump. Six months later Steyer changed course. He released a video on July 9 that announced he was running to combat corporate greed and climate change. "If you think that there's something absolutely critical, try as hard as you can and let the chips fall where they may. And that's exactly what I'm doing."
He did not mention foreign policy in his announcement video.
Steyer's Story
Steyer was born and raised in New York City. His father was assistant to the chief prosecutor of the Nuremberg Trials and later became a successful New York lawyer. Steyer's mother was a teacher and journalist. Steyer attended Philips Exeter Academy, the elite New Hampshire boarding school. He then went to Yale University, where he captained the soccer team. He graduated summa cum laude in 1979. (In case you are wondering, Steyer's time at Yale overlapped with Amy Klobuchar's; he was a senior when she was a first-year student.) He earned his MBA from Stanford University in 1983.
Steyer started his business career on Wall Street. He worked at Morgan Stanley after graduating from Yale, and then at Goldman Sachs after finishing his Stanford MBA. He left Goldman in 1986 to start his own investment firm, Farallon Capital Management. It was a smart move. Farallon became a top hedge fund and made Steyer a billionaire.
Steyer stepped down from Farallon in 2012 to pursue his new passion—environmental activism. In 2013, he founded the environmental advocacy group NextGen Climate and the NextGen Climate Action Committee, a PAC. Among other things, Steyer lobbied President Obama against approving the Keystone XL oil pipeline.
Steyer has been willing to use his estimated $1.6 billion net worth to advance his favored causes. Back in 2013 he spent more than $30 million on a clean-energy referendum in California. He has also contributed generously to the Democratic Party, donating more than $100 million to support Democratic candidates in the 2018 midterms.
Steyer's national television campaign to persuade Congress to impeach Trump caught the president's eye. Last October, Trump tweeted: "Wacky & totally unhinged Tom Steyer, who has been fighting me and my Make America Great Again agenda from beginning, never wins elections!" Steyer's family responded by giving Steyer a T-shirt emblazoned with the phrase: "Wacky and totally unhinged."
Steyer's Message
Steyer's platform focuses on combatting climate change and reforming the American political system through changes such as term limits for members of Congress and the repeal of Citizens United. He argues that Americans inherently have "Five Rights": the right to vote, a clean environment, a full education, a living wage, and solid healthcare.
Like Bernie Sanders and Elizabeth Warren Steyer argues that corporations wield a disproportionate influence on political decisions. He wants to restore political power to the people. As he put it in remarks to the New Hampshire Democratic Party Convention on September 7:
There's been a hostile corporate takeover of our democracy, and I'm determined to undo it–to restore government of, for, and by the people. Because I know if we break the corporate stranglehold on our democracy, we will get the progressive vision that everyone in this room wants.
Sanders and Warren have criticized Steyer for using his wealth to gain the presidency. On the day Steyer announced his campaign, Sanders tweeted: "I am a bit tired of seeing billionaires trying to buy political power." Warren tweeted much the same thing: "The Democratic primary should not be decided by billionaires." Steyer calls Warren and Sanders "part of the establishment" and that only an "outsider" like himself can get things done:
If we're going to reform this system, if we're going to break this corporate stranglehold, I believe it's going to take an outsider to do it. I believe it's going to take an outsider who's done it, successfully, for ten years, not somebody from inside the Beltway, but someone who's going to bring fresh energy to this problem.
Steyer has pledged to spend at least $100 million of his own money on the campaign. To put that number in perspective, that is more than what the top five Democratic candidates combined raised in the second quarter this year.
Steyer's Foreign Policy
Steyer hasn't said much about foreign policy. One reason why is that he didn't launch his campaign until after the first round of Democratic debates, and he didn't qualify for either the second or third round of debates. So he didn't have to answer the (relatively) few foreign policy questions that were asked of the candidates who did make the debate stage. Steyer has, however, qualified for the October 15 (or 16) debate.
But Steyer also hasn't volunteered much about his foreign policy views beyond his intention to make combatting climate change job number one. Nearly three months into his presidential run, his campaign website didn't have a page devoted to foreign policy. He also hadn't responded to the Washington Post's survey on foreign policy or to the New York Times's survey on presidential power.
Steyer has called America First "so stupid that it almost beggars description" and "so darn dumb and so darn self-centered. The result, he argues, is that Trump has "turned allies into enemies" and created "an international leadership vacuum that Russia and China are eager to fill." Steyer wants to work with "our traditional allies in a multilateral way because that's the world we're in."
Climate change is the one foreign policy issue that Steyer has addressed at length. He says that on his first day in office he "will declare the climate crisis a national emergency" and demand that Congress pass a Green New Deal. The plan he is advocating comes with an estimated price tag of $2.3 trillion. It aims to cut "fossil fuel pollution from all sectors in order to achieve a 100% clean energy economy and net-zero global warming pollution by no later than 2045." The plan also proposes to establish a Civilian Climate Corps to create new jobs. Steyer would also reenter the Paris Agreement to ensure that the United States leads global efforts to combat climate change. He would also redouble the U.S. commitment to a host of other international climate agreements.
More on Steyer
The Atlantic interviewed Steyer about why he changed his mind about running for president and got this response: "I was watching how this [impeachment] campaign was going, and in my opinion, the overriding issue today is that the politics of our country, the government, has been taken over by corporate dollars. We have a broken government as a result of corruption from corporations. The solution to that, the only solution to that, is retaking the democracy and returning the power to the people." 
Vogue profiled Steyer last year and concluded that "impeachment is to Tom Steyer what 'build a wall' is to Donald Trump: an incendiary issue with potential both to stoke the base and to inflame its opposition."
The Los Angeles Times followed Steyer last October as he walked the campus of Cal State Fullerton trying to get students to vote, telling them: "You can change this world, or it can be run by a bunch of arrogant, entitled, rich white old men."
Forbes documented how Steyer accumulated his wealth, calling him "the first billionaire to officially challenge America's first billionaire commander-in-chief for the presidency."
Vox sought to explain Steyer's presidential campaign and concluded that "he is a noteworthy figure in the race for one main reason: He's a billionaire."
The New York Times called Steyer "a virtual one-man 'super PAC' [who] is already upending the carefully laid strategies of Democratic rivals who must now grapple with the fact that they are unlikely to have the airwaves to themselves."
Steyer used his time on The View last month to press his argument that "the biggest question in America is the corporate takeover of our government. We have a government that can't get anything done. Because corporations have bought it."
Earlier this month, the New Yorker followed Steyer on a campaign trip to Iowa City, where his uncle was a law professor for many years, and noted that unlike Trump, he lacks "an aggrieved constituency whose interests he appears to represent better than the other candidates. Another difference is that Steyer appeals more to optimism than to aggrievement."
When Steyer failed to make the cut to participate in the town hall that CNN held at the start of this month, he held his own "Climate Change Emergency Broadcast," which lasted more than an hour.
Anna Shortridge assisted in the preparation of this post.