Middle East Matters This Week: Egyptian Bloodshed; Intensified Syrian Fighting and Defections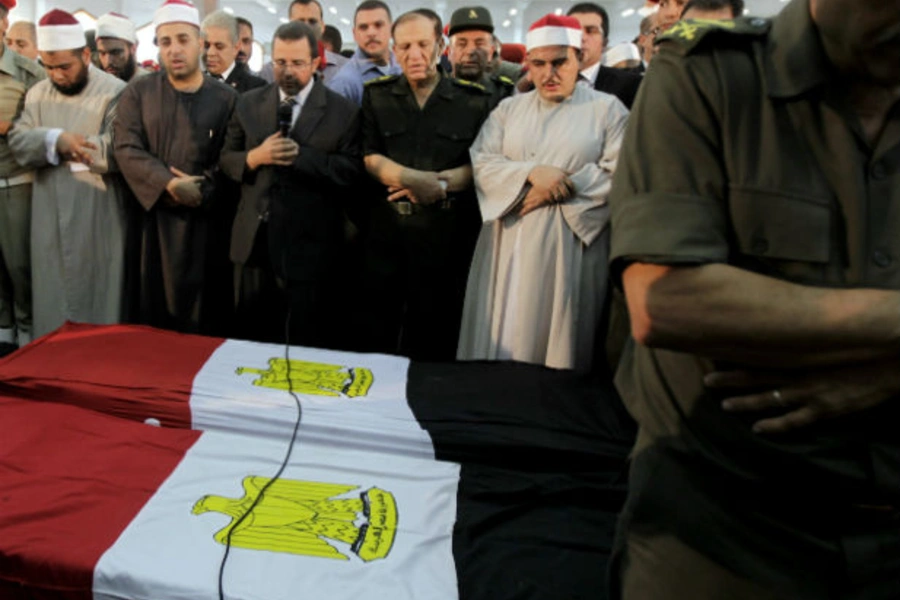 Significant Middle East Developments
Egypt. Clashes between militants and security forces continued today in Egyptian Sinai with gunmen firing on a police station and hundreds of troops entering the town of El-Arish searching for militants. The clashes were sparked by a brutal attack on Sunday in which militants ambushed and killed sixteen border guards at sunset as they were breaking their daily Ramadan fast. The attackers then fled the slaughter in an armored vehicle which they drove into Israel. A subsequent Israeli airstrike then killed at least six of the militants. In response to Sunday's attack, the Egyptian military launched overnight airstrikes throughout the Sinai Peninsula, marking the first time Egyptian fighter planes have carried out strikes there since Egypt's 1973 war with Israel. The army declared a tentative victory with the strikes on Wednesday, saying twenty militants had been killed. Sunday's attack also prompted President Morsi to sack his intelligence chief as well as the northern Sinai governor on Wednesday. As a part of his reshuffling, Morsi has appointed an acting intelligence chief, General Mohamed Raafat Abdel-Wahed, and today named Mohamed Refaa al-Tahtawi as his new chief of staff and Hamed Zaki as new head of the presidential guard. A security source also said on Tuesday that Egypt had begun work closing off smuggling tunnels from the Sinai into the Gaza Strip. On Monday, Hamas also reportedly began implementing its own security measures in Gaza. A Hamas government official said that all smuggling tunnels under the shared border had been closed and additional security forces had been deployed to the border.
Syria. Fighting intensified in Aleppo today as Syrian rebel fighters reportedly gained some ground in parts of the city while strategically pulling back from other areas. Today was the second day of a government-backed ground offensive which has produced heavy opposition casualties. Against this backdrop, President Assad appointed a new prime minister to replace Riyad Farid Hijab, who defected to Jordan earlier this week. The new prime minister, Wael Nader al-Halqi, previously served as the minister of health and is a Sunni Muslim from the southern town of Dara'a. On the diplomatic front, Iran has stepped up to take a more activist role by hosting a 29-country conference on Syria today in Tehran. Iranian foreign minister Ali Akbar Salehi began the meeting by calling for "national dialogue between the (Syrian) opposition, which has popular support, and the Syrian government to establish calm and security." He added that Iran was opposed to foreign interference and military intervention in the Syrian conflict. No Western or Gulf nations participated in the meeting though Russian and Chinese officials attended. France announced yesterday that it is planning a ministerial meeting comprised of UN Security Council members on August 30. Meanwhile, refugees continue to pour out of Syria with two thousand refugees reportedly entering neighboring Turkey within the past two days alone. This brings the number of Syrian refugees in Turkey up to more than 50,000. For a recent tally of refugee estimates, see my recent post Syria by the Numbers.
U.S. Foreign Policy Developments
Clinton travels to Turkey. Secretary of State Hillary Clinton announced on Tuesday that she would hold emergency talks with Turkish officials in Istanbul this weekend, adding a stop to her current Africa tour. Clinton reportedly plans to discuss transition planning for a post-Assad Syria. Speaking from Pretoria, South Africa, Clinton remarked that "The intensity of the fighting in Aleppo, the defections, really point out how imperative it is that we come together and work toward a good transition plan." The Istanbul talks are also likely to cover ways to move U.S. humanitarian assistance into Syria along routes from Turkey recently cleared by rebel gains in the northern Syrian territories between Turkey and Aleppo. The talks reflect the United States' increasing involvement in the conflict in the wake of failed UN diplomacy as well as Turkey's mounting concerns over the impacts of the civil war on its border.
U.S. foreign policy toward Yemen. In a meeting hosted by CFR in Washington yesterday, John Brennan, assistant to President Obama on homeland security and counter-terrorism, defended the United States' tactics in supporting Yemen's fight against al-Qaeda in the Arabian Peninsula (AQAP). Responding to increasing criticism of the Obama administration's use of drone strikes in the country, Brennan emphasized the Yemeni government's substantial successes in the south against AQAP, believed to be al-Qaeda's most active franchise, and denied that the United States' drones use was fermenting anti-American sentiment among the Yemeni people. Addressing the State Department's announcement on Tuesday that aid to Yemen this fiscal year would exceed $317 million, Brennan said that more than half of this monetary aid was directed at humanitarian and economic development projects aiming to address widespread poverty and unemployment. Asked if the United States would consider imposing a no-fly zone over parts of Syria if rebels took significant control, Mr. Brennan said the United States was planning for all sorts of scenarios and that nothing was "off the table."
Quotes of the Week
"Syrian society is a beautiful mosaic of ethnicities, faiths, and cultures, and it will be smashed to pieces should President Bashar Assad abruptly fall," –Iranian foreign minister Ali Akbar Salehi in an op-ed published by the Washington Post on Wednesday

"As far as we know it brings the American assessment much closer to ours ... it makes the Iranian issue even more urgent and (shows it is) less clear and certain that we will know everything in time about their steady progress toward military nuclear capability," – Israeli defense minister Ehud Barak said on Thursday in response to reports that President Obama received a National Intelligence Estimate claiming Iran had made substantial progress toward achieving nuclear weapons capabilities

"That's what I am suggesting as maybe a new chapter in our cooperative threat reduction—that we think about our abilities really to be helpful to each other, but also the rest of the world."  -- Senator Richard Lugar, calling on Tuesday for greater joint U.S.-Russian efforts to eliminate chemical weapons stockpiles in Syria
While We Were Looking Elsewhere
Iran. Iran engaged in multi-prong diplomatic efforts this week to try and secure the return of Iranians captured in Syria and Libya. On Tuesday, Iranian foreign minister Ali Akbar Salehi sent UN secretary-general Ban Ki-Moon a letter seeking his assistance. Forty-eight Iranians were abducted by Syrian rebels on Saturday and seven Iranian aid workers were seized in the Libyan city of Benghazi on July 31. Iran claims the Iranians in Syria were religious pilgrims; the Syrian opposition claims they are Revolutionary Guard members. Foreign Minister Salehi also sought Turkey's aid in the matter during a visit to Ankara on Tuesday aimed at mending the strained relationship between Iran and Turkey. Iran's top general Hassan Firouzabadi enraged Ankara earlier this week when he accused Turkey, as well as Saudi Arabia and Qatar, of helping the "war-raging goals of America" in Syria. On Wednesday, Turkish foreign minister Ahmet Davutoglu warned Iran "in a frank and friendly manner" that "such statements have the potential to harm Iran as well." Also this week, Iranian vice president Hamid Baghaei traveled to Cairo on Tuesday for a meeting with Minister of State for Environmental Affairs Moustafa Hussein Kamel and to invite Egyptian president Morsi to an upcoming summit in Iran. The visit marked the first time a senior Iranian official has traveled to Egypt in decades.
Libya. Libya's National Transitional Council (NTC) transferred power to the newly elected General National Congress on Wednesday. NTC chief Mustafa Abdel Jalil passed over the governmental reins to the 200-seat legislative assembly, which was elected on July 7.
Yemen. State media reported on Monday that Yemeni president Abrabuh Mansur Hadi had ordered a restructuring of the military, reducing the number of units led by rival chiefs—including the son of ousted president Saleh. According to military sources, hundreds of soldiers abandoned their posts in the southern part of the country to protest the restructuring. Meanwhile, Yemeni troops arrested seven alleged al-Qaeda militants in the southern town of Jaar, where a suicide bomber struck on Sunday killing more than forty-five people.
This Week in History
This week in history marks the 197th anniversary of the conclusion of the Second Barbary War between the United States and the rulers of Algiers and Tripoli. The Second Barbary War was a series of naval engagements fought between U.S. naval forces and forces from Algiers and Tripoli--the area covered by modern day Morocco, Algeria, and Tunisia—over the North African states' sponsorship of pirates in the Mediterranean. Prior to the Barbary Wars, the United States and other nations had been forced to pay tributes (bribes) to the Barbary pirates, a group of pirates supported financially by Arab rulers in Algiers, Tunis, and Tripoli, to maintain the safety of their ships along popular trade routes in the Mediterranean. The First Barbary War began in early 1801 when Thomas Jefferson, upon assuming the presidency, refused to pay tributes, eliciting a declaration of war by the Pasha of Tripoli on behalf of the pirates. Despite a U.S. victory in the First Barbary War of 1805, the Barbary pirates resumed looting in the Mediterranean in the period between 1805 and 1815, and the Dey of Algiers, the Ottoman-endorsed ruler of the area known as modern-day Algeria, declared war on the United States for refusing to pay tributes to the pirates for a second time in July 1815. The Second Barbary War ended with a decisive U.S. victory and the signing on August 6, 1815 of a treaty under which the Arab rulers in North Africa committed to end sponsorship of the Barbary Pirates.
Statistic of the Week
The Pew Research Center's Forum on Religion & Public Life published a survey today of the world's Muslim populations, the product of more than 38,000 face-to-face interviews conducted in over eighty languages. The survey addressed religious commitment across generations, finding that the biggest generational differences are found in the Middle East and North Africa. In Lebanon, for example, Muslims ages 35 and older are 28 percentage points more likely than younger Muslims to pray several times a day, 20 points more likely to attend mosque at least weekly and 18 points more likely to read the Quran daily. On each of these measures, age gaps of 10 percent points or more also are found in the Palestinian territories, Morocco, and Tunisia. Somewhat smaller but statistically significant differences were observed in Jordan and Egypt as well.