Middle East Matters This Week: Israel and the U.S. Talk Iran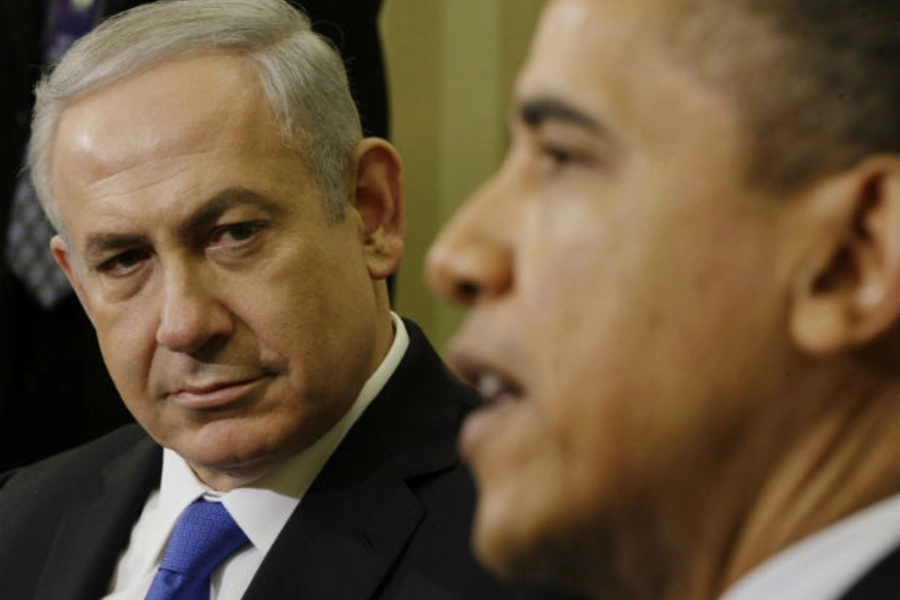 Significant Middle East Developments
Israel. President Obama held three hours of talks with Israeli prime minister Benjamin Netanyahu at the White House Monday. The two focused almost entirely on the challenge posed by Iran's nuclear development efforts. President Obama also met with visiting Israeli president Shimon Peres on the margins of the annual AIPAC convention. All three officials addressed some fourteen thousand AIPAC attendees. Both Obama and Netanyahu focused their public remarks on Iran; the prime minister stressed the danger posed by Iran's efforts to aquire nuclear weapons, and President Obama emphasized the U.S. commitment to Israel's security. The visit generated intense media interest and considerable speculation on whether or not Netanyahu and Obama reached agreement on a way forward or on a timeline for action vis-à-vis Iran. Israeli media speculation after the visit diverged widely, with some seasoned commentators arguing that Netanyahu received sufficient U.S. assurances to forestall a unilateral Israeli strike against Iranian nuclear facilities. Other Israeli analysts argued that Netanyahu's AIPAC remarks, likening the Iranian threat to that posed to the Jewish people by Auschwitz, solidified Israel's path towards military action.
Iran. The United States and the other five global powers dealing with Iran's nuclear program (Britain, France, Germany, Russia, and China) agreed on Tuesday to resume face-to-face negotiations with Iran. The place and time for the P5+1 talks are still to be determined. The six powers issued a joint statement at the IAEA board meeting today calling on Iran to enter negotiations with no pre-conditions and to open the Parchin military base to inspectors. Iran's ambassador to France Ali Ahani said that discussion could not address reducing or eliminating Iran's uranium enrichment activities. On Wednesday, French foreign minister Alain Juppe said that "I think Iran continues to be two-faced… That's why I think we have to continue to be extremely firm on sanctions, which in my view are the best way to prevent a military option that would have unforeseeable consequences."
Noteworthy U.S. Foreign Policy Developments
Defense Secretary Leon Panetta testified before the Senate Armed Services Committee on Wednesday, advising against immediate U.S. military involvement in Syria saying "What doesn't make sense is to take unilateral action right now." Panetta went on to say "I've got to make very sure we know what the mission is ... achieving that mission at what price" though he did "not rule out any future course of action."
Army General Martin Dempsey underscored Panetta's cautioning of military intervention earlier in the week, saying that a long-term air campaign would be a greater challenge in Syria than had been the case in Libya. Syrian air defenses are five times more sophisticated than Libya's, Dempsey said. He also identified Syria's chemical and biological weapons stockpile as one hundred times larger than Libya's.
The ranking Republican member of the Senate Armed Services Committee, Senator John McCain, responded to Panetta's testimony by suggesting that Syria's 7,500 dead called for stronger U.S. leadership along the lines of former president Bill Clinton's involvement in the Bosnian war in the 1990s saying: "In past situations, America has led. We're not leading, Mr. Secretary."
Meanwhile, Kofi Annan, the recently appointed Arab League and UN special envoy for Syria, echoed Panetta's sentiments today, also warning against military intervention. Talking to reporters at the Arab League in Cairo on the first leg of his inaugural trip as special envoy, Annan said that he hoped "no one is thinking seriously of using force in the situation" and went on to say that the solution to the crisis "lies in a political settlement" and must be "Syrian-led and Syrian-owned." He also hinted that military intervention had worsened other regional conflicts, though he failed to identify these by name. Annan is scheduled to arrive in Damascus to begin negotiations with Syrian president Bashar al-Assad this weekend. Earlier this week, I argued on CNN.org that Annan should travel to Moscow and seek to engage the Russians in forging an end to the bloodshed in Syria.
Quotes of the Week
"Humanitarian aid corridors must immediately be opened." – Turkish prime minister Recep Tayyip Erdogan said about Syria during a parliamentary meeting of his AKP party on Tuesday
"We are convinced that it is impossible to defeat the Syrian regime and are therefore not thinking about a subsequent period or an alternative regime." – Iranian ambassador to Lebanon Ghadanfar Roken Abadi said on Thursday
"There is a murderer called Bashar al-Assad's regime, who commits daily, red-handed, dozens of killings, documented in video and audio all over Syria… What kind of religion, ethics and constitution allows all these crimes? Where is the interest of Lebanon in betting on a regime drowning in the death fields that it created?" – Former Lebanese prime minister Saad Hariri addressed the Lebanese people on Wednesday via live video link
"We do want to be partners with them [Egyptian people] over the long term. Now we have had to spend a lot of time, for example, talking to people on Capitol Hill to remind people of the long-term interest that we have in Egypt and the long-term benefits that we think that both countries have." – Assistant Secretary of State for Near Eastern affairs Jeffrey Feltman said in an exclusive interview with Al Arabiya on Monday in response to a question about the potential effects of the NGO-related crisis on U.S.-Egyptian relations
While We Were Looking Elsewhere
Libya. Tribal and militia leaders gathered for a conference in Benghazi on Tuesday and announced their intention to seek a semi-autonomous state in eastern Libya. The participants declared that they sought administrative independence from Tripoli, but that the semi-autonomous state would still recognize the central government's right to represent Libya internationally. Mustafa Jalil, chairman of the National Transition Council, blamed other unnamed Arab states for  "supporting and financing this sedition that is happening in the east" to ensure that "the revolution does not spread to their countries." Jalil went on to warn in a Tuesday evening press conference that remants of Qaddafi's regime were trying to exploit the tribal and militia leaders in Benghazi and that the NTC is "ready to deter them, even with force."
Gaza. Hamas will not be drawn into a conflict between Israel and Iran, a senior political counselor to the Hamas foreign ministry said on Wednesday. Ahmed Yussef said that Iran had great military capabilities of its own and didn't need Hamas' assistance. He also stated that the group "does not belong to any military or regional political axis, and [its] activity is in Palestine." Yussef's statements came on the heels of a report by the Guardian on Tuesday that quoted two Hamas officials as saying that the group would not involve itself in a conflict between Israel and Iran and the immediate refutation by top Hamas official Mahmoud Zahar in the semi-official Iranian news agency Fars. Zahar was quoted as saying, "Retaliation with utmost power is the position of Hamas with regard to a Zionist war on Iran."
UAE. Police arrested an activist after he posted comments on Twitter condemning the government's decision to deport Syrian expatriates. On Tuesday, Saleh al-Dhufairi was taken from his home by the police on the accusation of "spreading ideas by speech, writing and any other means that provoke strife, hurt national unity and social peace." Human Rights Watch had called on the Emirati authorities last Friday to retract the decision to deport a group of Syrians who had protested Bashar al-Assad's regime in Dubai.
Tunisia. Tunisian president Moncef Marzouki has reportedly accepted that Saudi Arabia will most likely never extradite former Tunisian leader Zine el Abidine Ben Ali. In an interview on Thursday, Marzouki said that "We will probably keep putting the pressure on them to have this man here in Tunisia, but as I told you, I don't believe that they will accept because they have their own tradition, they have their own laws… And we do not want to have problems with them about this problem because we have also social and economic ties with Saudi Arabia and we want to keep them."
This Week in History
This week marks the twenty-first year since the outbreak of the Kurdish rebellion against Saddam Hussein on March 4, 1991. The rebellion came on the heels of Kuwait's liberation by a U.S.-led coalition and a few years after the Anfal campaign--Saddam's systemic attempt at destruction of the Kurdish population of Iraq in 1988. On February 15, 1991, President Bush told Voice of America: "There is another way for the bloodshed to stop: and that is, for the Iraqi military and the Iraqi people to take matters into their own hands and force Saddam Hussein, the dictator to step aside and then comply with the United Nations' resolutions and rejoin the family of peace-loving nations." A Shia uprising broke out on March 1 in Basra, but was rapidly suppressed by Iraqi troops. In the north, the Kurdish rebellion began in the town of Rania and quickly spread. Within ten days, the Kurds had gained control of every city in the north with the exception of Mosul and Kirkuk, which they captured on March 20. The rebellion was short-lived as the Iraqi army turned northwards and quickly and brutally retook Kirkuk at the end of March while coalition troops still on Iraqi soil took no action. On April 5, the Iraqi Revolutionary Command Council announced the complete crushing of the uprising.
Poll of the Week
According to an opinion poll conducted by the Muslim Brotherhood's Freedom and Justice Party's newspaper, 30 percent of Egyptians want the next president to have an Islamic background. Four percent of the five hundred people surveyed said that while they have not yet decided on their favorite candidate, they would not support an Islamist president.