Middle East Matters This Week: Syria's Friends Meet, Kofi Announces a Deadline, and Egypt's Brotherhood Fields a Candidate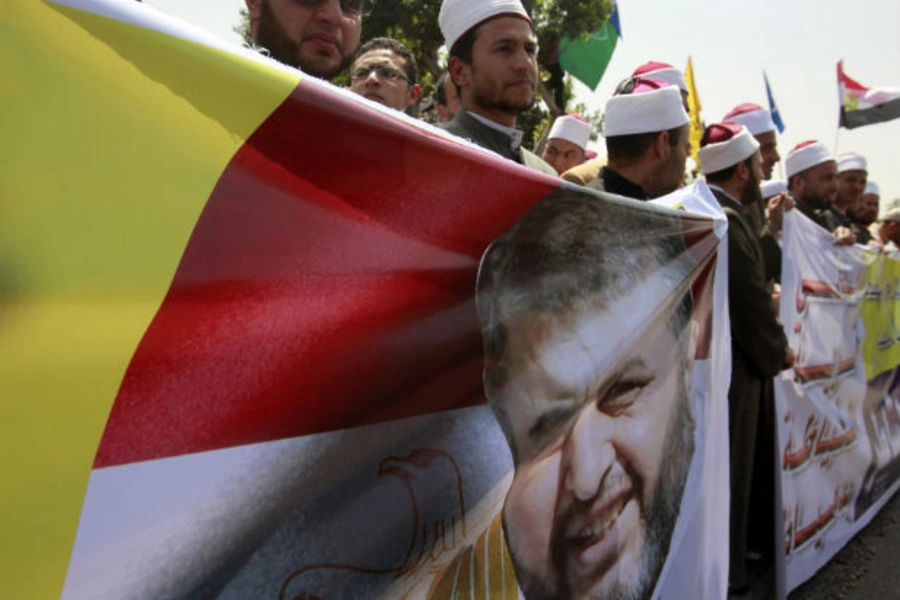 Significant Middle East Developments
Syria. The Friends of Syria group held its second ministerial conference on Sunday to discuss UN special envoy Kofi Annan's peace plan for Syria. Meeting in Istanbul, representatives from more than eighty nations issued a declaration that recognized the Syrian National Council as a legitimate representative of the Syrian people and the opposition, much to the disappointment of SNC members who had hoped the opposition organization would be recognized as Syria's sole legitimate representative and that lethal assistance would be pledged. Instead, the Friends group called on every member to do everything in its power to support the opposition's political activities and to bring about regime change in Syria. Gulf states said they would contribute several million dollars to pay the salaries of opposition soldiers and to encourage more defections from Assad's regime. Secretary of State Clinton said the United States would contribute an additional $12.2 million in humanitarian aid and communications equipment, bringing the total to $25 million since Syria's uprisings began. Annan announced on Monday that Assad agreed to withdraw troops from Syrian cities by April 10. A spokesperson for Annan said today that the envoy expects both the Syrian government and the opposition to implement the ceasefire fully by April 12. Despite these efforts toward a ceasefire, violence in Syria continued unabated, with more than eighty people reportedly killed on Tuesday, and dozens more on Wednesday. Turkish authorities have also announced that more than 1,600 Syrians have fled to Turkey in the last two days. Meanwhile, Russia stepped up its diplomatic involvement, inviting Syria's foreign minister Muallem and members of the opposition to Moscow for talks later this month.
Egypt. The Muslim Brotherhood reversed its longstanding pledge to absent itself from Egypt's presidential election and announced Khairat al-Shater on Saturday as its candidate for the upcoming May vote. Shater is one of the Brotherhood's three deputies as well as its main financier. The announcement of his candidacy sparked rumors of Muslim Brotherhood-military collaboration, as two of Shater's previous convictions in military courts were recently dropped, clearing the way for his run for Egypt's highest office. Shater immediately denied making a deal with the military. Articulating his vision for Egypt, Shater told a meeting today of the Religious Association for Rights and Reform that "Sharia was and will always be my first and final project and objective."
Noteworthy U.S. Foreign Policy Developments
GCC. Secretary of State Hillary Clinton met privately with King Abdullah of Saudi Arabia for almost two hours last Friday to discuss regional military strategy and oil supplies. She was in Riyadh to attend the first U.S.-GCC Strategic Cooperation Forum last Saturday, which discussed Iran's nuclear program, a potential U.S.-supplied regional missile defense system, and the ongoing conflict in Syria. Clinton told the GCC forum that "The commitment of the United States to the people and the nations of the Gulf is rock-solid and unwavering. Our strong bilateral relationships are a rock of stability in the region."
Egypt. Criminal trials for U.S. NGO workers operating in Egypt without a license are slated to begin in Cairo on April 10. The Egyptian government has officially requested that the U.S. government locate U.S. NGO workers who were not in Egypt during the indictment process earlier this year and to notify them of their upcoming scheduled court hearings. Egypt has also reportedly asked Interpol to issue "red notices" for those NGO workers. Such notices are often a precursor to filing extradition papers in the United States and could lead to a long and drawn-out political and legal process. U.S.-Egyptian tensions had appeared to have eased after seven indicted Americans were allowed to leave Egypt on March 1 and  Secretary of State Clinton waived democracy requirements and allowed $1.3 billion in aid flow to the Egyptian military on March 22.  The United States is trying to convince Interpol to dismiss the Egyptian requests. The State Department called the Interpol effort along with Egypt's upcoming trials "politically motivated."
Quotes of the Week
While We Were Looking Elsewhere
UAE. The United Arab Emirates detained two foreign NGO workers on Wednesday, including the U.S. director of the National Democratic Institute (NDI) in Dubai. The detainments follow last week's crackdown on foreign NGOs in which the UAE government shutdown and canceled the licenses of NDI and the Konrad Adenauer Foundation. While the NDI official was subsequently released and allowed to leave the country, the UAE defended its actions, claiming that the NGOs had either violated their licenses or did not have licenses. Secretary of State Hillary Clinton reacted to the developments by saying that both organizations "play a key role in supporting NGOs and civil society across the region, and I expect our discussion on this issue to continue."  She also emphasized the Obama administration's desire to cooperate with the countries in the region on issues of security and counterterrorism.
Palestinians. The International Criminal Court's chief prosecutor on Tuesday rejected the Palestinian Authority's request to investigate Israeli conduct during 'Operation Cast Lead' that began in late 2008. In a statement, Luis Moreno-Ocampo did not take a stance on whether crimes may have occurred, but said that his office did not have jurisdiction because Palestine is not currently recognized as a "state" by the UN. On Wednesday, Moreno-Ocampo clarified that if Palestine were to receive "nonmember observer state" status from the UN General Assembly, it would be able to become a party to the Rome Statute and the ICC would be able to proceed.
Libya. The International Criminal Court called on Libya to surrender Seif al-Islam, who is wanted by the tribunal for crimes against humanity. Libya's rulers have been trying to postpone handing over former dictator Muammar Qaddafi's son in order to have him stand trial at home. Rebel fighters detained Seif al-Islam in November, but legal jurisdiction over his crimes has remained unclear. The ICC indicted him in June along with his father and former intelligence chief Abdullah al-Senoussi and is seeking his immediate surrender.
This Week in History
April 1 marks the thirty-third anniversary of the official declaration of Iran as the "Islamic Republic of Iran." In late March, 1979, after two years of protests, Iran held a national referendum over whether to replace the then monarchy with an "Islamic Republic." On April 1, Iranian authorities announced that over 98 percent of people had voted in favor of adopting "Islamic Republic." In December of 1979, the Iranian public voted in a subsequent referendum approving a new theocratic constitution that made Ayatollah Ruhollah Khomeini Iran's supreme leader.
Poll of the Week
According to a Gallup opinion poll, Egyptians' opposition to U.S. economic aid has increased steeply in the past year. Eighty-two percent of Egyptians surveyed in February were opposed to U.S. economic aid, which is up from 71 percent in December and 52 percent last April. The poll also found that 85 percent of Egyptians oppose U.S. aid to Egyptian civil society groups, which is an 11 percentage-point increase from December.