Middle East Matters This Week: The UN Debates Amidst Regional Turbulence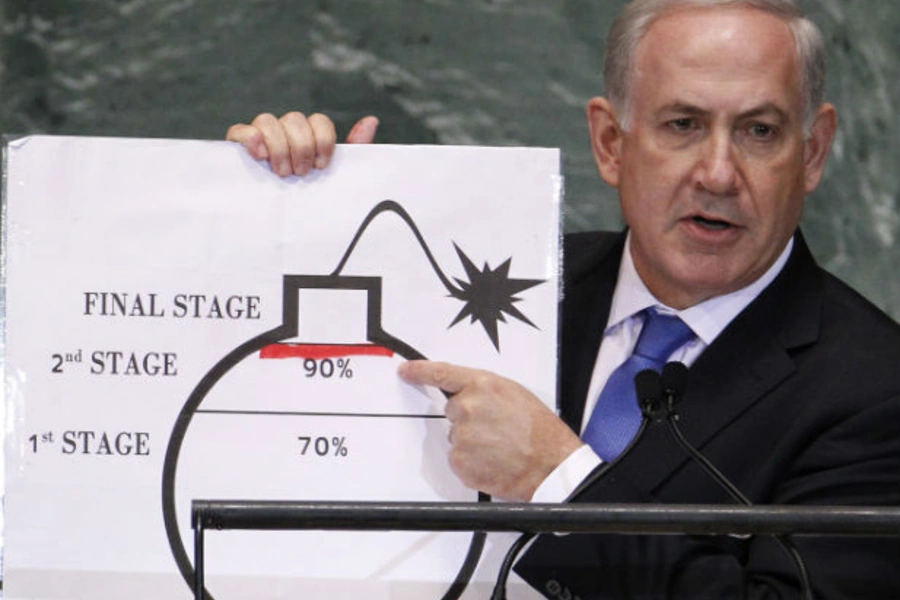 Significant Middle East Developments
Israel and Palestine. Palestinian president Mahmoud Abbas and Israeli prime minister Benjamin Netanyahu addressed the UN General Assembly yesterday within minutes of one another, with each focusing on divergent issues. Abbas lashed out strongly at Israel and called for the creation of a Palestinian state. Netanyahu, in turn, attempted to convince world leaders, the United States in particular, that a red line must be drawn on Iran's nuclear program to avoid a military confrontation. I wrote a "First Take" analyzing both leaders' speeches yesterday, which can be read here.
Iran. General Mohammad Ali Jafari, the head of the Iranian Revolutionary Guard Corps, said today that Israel's purported threats of military action only serve to reinforce Iranian "determination to continue in the same direction." On Wednesday, Iranian president Mahmoud Ahmedinejad addressed the UN general assembly for the last time as president of Iran in a speech seemingly to lack his usual fire and infamous Holocaust denials. My colleague Ray Takeyh prepared an excellent "First Take" on the Iranian leader's remarks. On Tuesday, Iran's Intelligence Ministry claimed it possessed new evidence of attempts to sabotage Iran's nuclear program through computer-virus infected equipment from the United States, France, and Germany. The announcement followed a statement over the previous weekend that Iranian security officials had discovered explosives inside equipment purchased from the German company Siemens.
President Obama in New York.  President Barack Obama spoke before the UN General Assembly on Tuesday, paying tribute to slain Ambassador to Libya Christopher Stevens and then providing a vigorous defense of freedom of speech, particularly in the Middle East. Connecting the transformations across the Arab world to the ideals of the United Nations and to freedom of speech, Obama said "true democracy, real freedom is hard work." Before concluding, Obama addressed Iran's nuclear program, saying, "the United States will do what we must to prevent Iran from obtaining a nuclear weapon." For an excellent analysis of the President's speech, see my colleague Jim Lindsay's "First Take" here.
Egypt.  In response to President Obama's UN remarks calling free speech a universal value, Egyptian president Mohammed Morsi called for restrictions on offensive speech in his General Assembly remarks on Wednesday. Instead, he urged the UN to consider international action against speech that defames religions, saying "Egypt respects freedom of expression…Not the freedom of expression that deepens that deepens ignorance and disregards others." Morsi criticized the world's approach towards the Israeli-Palestinian conflict, calling it shameful that a "member of the international community would continue to deny the rights of a nation that seeks independence." He also declared that stopping the bloodshed in Syria is "our main concern." Speaking separately to Charlie Rose, Morsi reaffirmed his doubts about the perpetrators of the September 11, 2001 attacks against the United States, saying, "However I do not see any tribunal that was held in a clear way to decide for sure who did this and who helped who."
Syria. Rebel and regime forces continued to clash in Aleppo today in the second day of what has been termed a major offensive by the opposition. The escalation follows reports that Wednesday was the deadliest day of the uprising with three hundred and five deaths reported across the country. Rebel forces also bombed headquarters of the army and air force in Damascus on Wednesday. The leadership of the Free Syrian Army has relocated from Turkey to the "liberated areas" of Syria, according to a video statement released on Saturday by Colonel Riad al-Asaad, the FSA's commander-in-chief. On Wednesday, Egyptian president Mohammed Morsi used his UN General Assembly remarks to declare his support for Assad's departure and his opposition to foreign intervention, contrary to Qatari emir Sheikh Hamad bin Khalifa Al Thani, who called the previous day for a unilateral Arab intervention to stop the conflict.
Libya. Defense Secretary Leon Panetta told reporters on Thursday that the September 11 attack on the U.S. consulate in Benghazi "was a terrorist attack." U.S. intelligence officials have shared their belief that the militants involved were largely connected to Libyan Islamist militant group Ansar Al-Sharia, but that one or two individuals had connections to Al Qaeda in the Islamic Maghreb. The State Department has continued to withdraw staff from the embassy due to heightened security alert. Mohammed Magarief, the head of Libya's new General National Congress, promised to disarm militias, but a militia attack on a Tripoli hotel Tuesday housing members of the GNC and an admission that a large number of shoulder-fired heat-seeking missiles were stolen over the weekend underscores the difficulty of the task.
Quotes of the Week
While We Were Looking Elsewhere
Gaza. Hamas' leader Khaled Meshaal will not seek reelection as the movement's head, Salah Bardawil, a senior Hamas official confirmed on Sunday. Potential candidates to replace Meshaal include current Prime Minister Ismail Haniya and deputy chief of Hamas Mousa Abu Marzouq. Meanwhile, hundreds of protesters in Gaza called for Hamas' overthrow on Tuesday after a three-year-old boy died in a fire caused by a lit candle during a power outage. The boy's father proclaimed that he holds "both the governments in Gaza and in the West Bank responsible for what happened to us," while Taher Al-Nono, a Hamas spokesman, blamed Egypt for delaying efforts to solve the energy crisis in Gaza. Also on Tuesday, Qatari ambassador Muhammad al-Imadi announced that Qatar is planning on providing $450 million in assistance to the Gaza Strip over the next three years.
Kuwait. Kuwait's highest court rejected a bid by the government on Tuesday to change the electoral boundaries. The opposition had promised to take to the streets in protest if the ruling was in favor of the government.
This Week in History
This week marks the eightieth anniversary of the Kingdom of Saudi Arabia. On September 23, 1932, King Abd al-Aziz ibn Saud issued a royal decree that unified the kingdoms of the Hejaz and Najd into one realm. The unification of the Hejaz and Najd capped three decades of conquest led by Ibn Saud, beginning with the capture of Riyadh in 1902, and the subsequent establishment of the Saudi state that exists today.