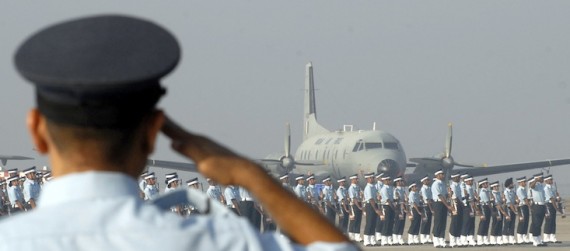 Defense is widely viewed in U.S. strategic circles as a pivotal sector for future U.S.-India cooperation. And at more than $10 billion, India's procurement of 126 new multi-role combat aircraft (MRCA) is among the world's richest pending weapons purchases.  So by shortlisting two European competitors and passing on two U.S. bids, New Delhi has chosen a plane but, I fear, tapped the brakes on broadened security ties with Washington.
My good friend, Dan Twining, has an optimistic take on this over at Foreign Policy.com.  And since Dan and I are true believers in the U.S.-India partnership, I hope he's right.  After all, the strategic rationale for closer U.S.-India ties transcends an airplane and very much remains.
But I fear the decision will dampen enthusiasm for India among powerful U.S. political and industrial lobbies.  And I fear it will raise questions for others about the scope of U.S.-India strategic cooperation.  Indeed, that's true even in India.  Take Sanjaya Baru, my editor at the Business Standard and former media advisor to Prime Minister Manmohan Singh.  Sanjaya has made this argument from the Indian end:  "The decision to make India's choice of fighter jet a technical one," he argues in his biweekly column, "was political." And, he muses, the story says something important about the future trajectory of U.S.-India security ties.
Common interests will, of course, sustain the relationship, but skeptical voices will become more prominent in both capitals and the pace of big-ticket bilateral initiatives could slow.  That would be a shame.
Now, of course, much of the press coverage suggests that Washington was "shocked" by India's decision last week. But New Delhi's choice, reported on 28 April, is not, in fact, much of a surprise. Six planes had been shortlisted: two American, three European, and a Russian option. India passed on the U.S. offerings, selecting the Eurofighter Typhoon and Dassault Rafale to continue their bids.
Taken together, five factors probably explain New Delhi's decision:
(1) Sources suggest that the Typhoon and Rafale bested their US competitors in technical trials, with the exception of tests of the radar.  (I don't have the technical expertise to evaluate this, but it has been widely reported and is well accepted in India).
(2) Deepened ties with Washington are less controversial in India than in the past.  But strategic security ties remain contentious, and the skeptics include defense minister A.K. Antony, who played a central role in the MRCA decision.
(3) The prime minister, an advocate of closer ties with Washington, has been weakened by corruption scandals, not least the scandal swirling around the sale of India's 2G spectrum. These scandals have yet to touch the Prime Minister Singh personally. But they have paralyzed elements of India's government generally, while weakening Singh's leverage.
(4) Such scandals also, no doubt, made it difficult for Indian decision-makers to argue for buying American in the face of apparent European technical advantages. Doing so would have left advocates vulnerable to charges of favoring a "worse" plane for ulterior reasons. And in recent months, Antony himself has shaped that context by loudly arguing that India's MRCA decision must not be "political."
(5) Finally, U.S. government advocacy was uneven. And while senior figures, including President Obama, did push the U.S. bids, the administration did not do so in a sustained way at its most senior levels.
What does India's decision mean?
First, it raises questions about the scope and depth of future U.S.-India defense ties.  Advocates in both countries argued that a strategic relationship, not merely a plane, was at stake. Put differently, by buying American New Delhi would get more than just a plane: it would choose interoperability, closer ties to the U.S. defense establishment, and broadened joint capabilities.  But New Delhi, quite clearly, did not accept this argument.
At the same time, the decision will likely weaken advocacy on India-related issues by a powerful U.S. domestic lobby. U.S. defense industry had pushed hard, for example, for the U.S.-India civil nuclear initiative. And while U.S. firms have won other big Indian tenders--C-130J transport planes, P-8 maritime surveillance aircraft, and so on--the MRCA decision was always seen as the biggest ticket. The decision will likely dampen the sector's enthusiasm for India, more generally.
But most important, the decision will, I fear, almost certainly strengthen U.S. voices calling for a more "transactional" (or quid-pro-quo-based) approach to U.S.-India ties.  In the U.S., the dominant argument for closer relations over the past decade has been that U.S. actions to facilitate the rise of India are, in themselves, beneficial to U.S. interests -- for example by strengthening Indian power as China emerges in Asia. But some, particularly in the U.S. Congress, argue that closer relations and recent major initiatives have yielded too little, especially in the nuclear area, where India's liability law, adopted in 2010, remains contentious and U.S. firms have yet to begin work. Such arguments will now bleed into the defense arena--and potentially into other areas as well--as skeptical U.S. voices seize on India's MRCA decision.
In turn, that will fuel Indian skepticism of U.S. intentions toward New Delhi. India has fiercely resisted a heavily transactional approach from the U.S.. And some in New Delhi are already arguing that the U.S. aims to "punish" India for its abstention on a Libya vote in the UN Security Council.
The bottom line is this: Skeptical voices are sure to become more prominent in both capitals. Relations will advance -- but more quietly, and on the basis of fewer "big ticket" initiatives.  Advocates, including myself, will have to look for new and wide-ranging ways to push it forward, including in the defense arena.  Just take a look, for example, at my piece from earlier this week on the modest, but stalled, idea of a Bilateral Investment Treaty ...