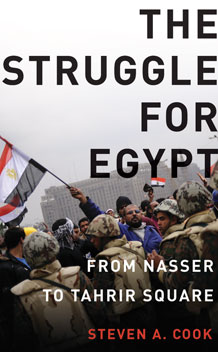 My new book, The Struggle for Egypt, was reviewed in yesterday's New York Times Sunday Book Review. Here's what the Times had to say:
On the morning of Feb. 11, 2011... a half-dozen retired generals sipped coffee poolside at the Gezira Club, kitted up for tennis and contemptuously dismissed the demonstrators in Tahrir Square.

It never crossed their minds that Mubarak might capitulate... or that the passivity of most Egyptians did not equal support for a regime that had squandered Egypt's position at the head of the Arab world while excelling only at abuse and corruption. Yet Egypt had managed to remain a stable linchpin of American policy in the Middle East for decades, until suddenly it wasn't.

This transformation... is the subject of Steven A. Cook's "Struggle for Egypt: From Nasser to Tahrir Square."

Cook's central contention is that since the military coup of 1952, Egypt's leaders have never had an ideology. Instead, they have resorted to an increasingly complicated and cruel apparatus of coercion, bullying the citizenry into consent but failing to create any positive reason to support the state.

Cook isn't trying to tell us why Egyptians revolted in 2011, or what might come next, although his perceptive analysis helps answer both questions. His real aim is to diagnose Egypt's decline and directionlessness in the modern era, from Nasser's charisma to Mubarak's dead-man governing act, and to shed light on America's role. With meticulous historical context and the acumen of a political scientist, Cook... weaves together a narrative drawn from archives, interviews and his own firsthand reporting during a decade of visits to Egypt.
To read the full review, please click here.