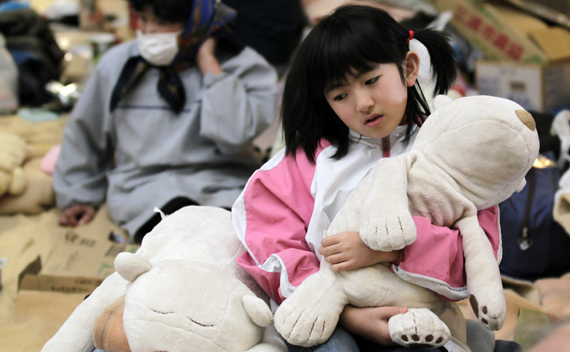 The March 11 disaster in Japan has prompted a broad effort at civic support, both within and without Japan, to provide assistance to the stricken Tohoku region. In a country where non-governmental organizations have struggled to create space for civic involvement in public affairs, today there seems to be a profusion of groups engaged in the disaster relief effort.
Japan has for decades supported disaster relief efforts abroad. The Japan International Cooperation Agency (JICA), the national government's agency tasked with administering Official Development Assistance, has staffed disaster relief efforts in countries as far afield as Pakistan, Mexico, Philippines and Haiti. Moreover, the JICA staff has worked closely with a growing group of Japanese NGOs organized to provided medical and technical assistance to those in need around the globe. Peace Winds Japan, for example, has played a significant role in post-conflict reconstruction activities in Iraq, Afghanistan and the Sudan.
But today, the roles are reversed. It is Japan that needs the world's help; the international outpouring of donations to the Japanese Red Cross Society, Save the Children Japan, and Mercy Corps (working with Peace Winds) has been tremendous. Fundraising by other nonprofit organizations here in the United States has also been active. Community-based fundraising has raised millions of dollars. The Japan-America Societies around the country have been some of the first to begin their communities' efforts to collect donations in 24 cities. (The National Japan America Society website has a full listing of individual societies.) Other organizations such as the U.S.-Japan Council have similarly accepted donations on behalf of Japanese organizations. The Japan Center for International Exchange (JCIE) has also compiled a list of Japanese organizations and has directed overseas donations to those most in need.
Within Japan, there is a strong response from the NGO community. Civic Force, an organization developed in the wake of the 2004 Niigata earthquake, has been hard at work supplying basic needs and beginning to build temporary shelters for the evacuees. The Japan Red Cross was first on the scene, of course, with medical assistance and support for the few remaining hospitals in operation. Save the Children Japan was also operating relatively quickly out of Sendai to assist families who were separated and children who had lost their parents. Mercy Corps, in cooperation with Peace Winds Japan, was also one of the first on the scene providing immediate relief to families in evacuation centers and improving access to clean water and sanitation. International Medical Corps has assessed post-disaster needs of the isolated coastal communities north of Sendai, and has identified mental health as a critical need.
But there are many more organizations within Japan working in the localities and shelters currently tending to the victims of the March 11 earthquake/tsunami. Japan Platform and the Japan NGO Center for International Cooperation provide an umbrella of cooperation for smaller NGOs. Moreover, they work jointly to provide guidance for international NGOs working on disaster relief in East Japan. Services provided to date have been mostly focused on servicing the evacuation centers, and in providing support in the form of medical treatment and supplies. Yet many affected remain isolated in their homes with little access to support or information.
The nexus of disaster relief remains the local governments. Humanitarian and welfare assistance efforts in Japan are coordinated through Prefectural Social Welfare Councils (SWCs), and from there via Municipal SWCs. It is the Social Welfare Councils that are responsible for coordinating with volunteer groups, and the first step is the creation of a Disaster Volunteer Center. These Disaster Volunteer Centers have been created in the following prefectures: Iwate, Miyagi, Fukushima, Ibaraki and Chiba. But many of the municipalities have lost considerable capacity—both in terms of the loss of personnel and infrastructure. This is creating a bottleneck between the many volunteers available to help and those evacuees most in need.
Thus, those disaster relief organizations already at work on the ground are the recommended point of contact for international NGOs. The Japan Platform and the Japan NGO Center for International Cooperation can help in partnering international assistance with these Japanese NGOs. Furthermore, close coordination with the Prefectural Disaster Volunteer Centers is a must. International support is desperately needed, but it is increasingly clear that donations and supplies are a higher priority than staff at this point in time.
But the real need for Japan's volunteers and international assistance efforts will be in the months to come. Local government capacity was badly crippled in these regions. In some municipalities like Rikuzen Takada where the devastation is almost complete, both the people who manned local governments as well as the physical infrastructure needed to function have been lost. Only now can those remaining begin to consider how to move forward. Providing care for those in charge of local relief activities will also be a priority in the days ahead.
Rebuilding these communities cannot be done by the government alone, and the NGO community in Japan, with support from international NGOs, will need to continue its critical role for some time to come.