Nigeria Security Tracker: Weekly Update December 27-January 2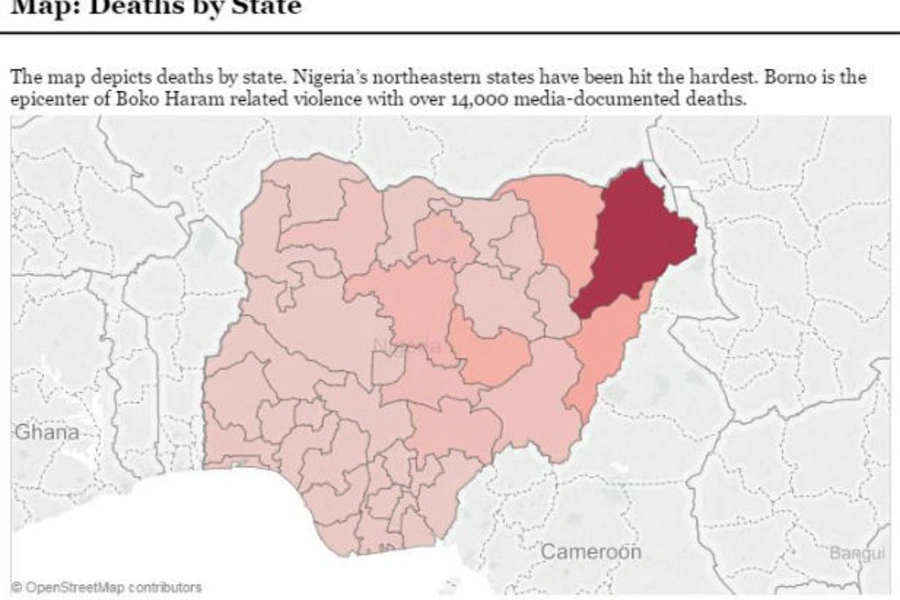 Below is a visualization and description of some of the most significant incidents of political violence in Nigeria from December 27, 2014 to January 2, 2015. These incidents will be included in the Nigeria Security Tracker.
December 27: Sectarian violence in Sanga, Kaduna killed ten.

December 28: In a series of attacks in Cameroon, Boko Haram killed thirty civilians in Mbaljuel, and the Cameroon military killed fifty-three militants in Soueram, thirty-four in Chogori, and seven in Waza while losing 1 soldier.

December 29: Boko Haram killed fifteen in Kautikari, Borno.

December 29: Nine Boko Haram militants died when their van exploded prematurely before reaching their supposed target of Biu market in Borno.

December 31: Six more Boko Haram militants died in another botched attack when their bomb exploded early in Fika, Yobe.

December 31: Suspected Fulani herdsmen shot two and beheaded one in Mangu, Plateau.

December 31: Another Boko Haram attack failed when their car bomb exploded, killing only the two bombers in Gombe.

December 31: Boko Haram abducted forty boys in Damboa, Borno.

January 1: Boko Haram killed eleven in Mora, Cameroon.

January 1: A suspected Boko Haram suicide bomber was stopped from entering a church and detonated outside, killing only himself in Gombe.

January 2: Suspected herdsmen killed fifteen in Sanga, Kaduna.