Nigeria Security Tracker Weekly Update: July 30 – August 5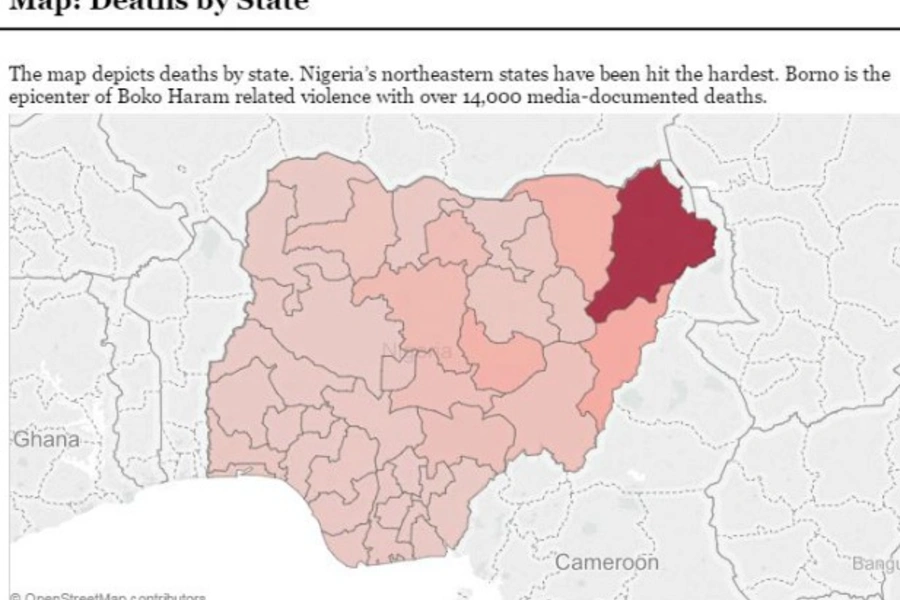 Below is a visualization and description of some of the most significant incidents of political violence in Nigeria from July 30, 2016 to August 5, 2016. This update also represents violence related to Boko Haram in Cameroon, Chad, and Niger. These incidents will be included in the Nigeria Security Tracker.
var divElement = document.getElementById('viz1470670709672'); var vizElement = divElement.getElementsByTagName('object')[0]; vizElement.style.width='100%';vizElement.style.height=(divElement.offsetWidth*0.75)+'px'; var scriptElement = document.createElement('script'); scriptElement.src = 'https://public.tableau.com/javascripts/api/viz_v1.js'; vizElement.parentNode.insertBefore(scriptElement, vizElement);
// ]]>
July 31: Militants attacked a Shell pipeline in Burutu, Delta.

August 1: Nigerian troops killed five Boko Haram militants in Maiduguri, Borno.

August 1: Nigerian troops bombed four Niger Delta militant camps, killing 114 militants.

August 1: Herdsmen killed ten in Jema'a, Kaduna.

August 1: Herdsmen killed twenty-two in Demsa, Adamawa.

August 2: Sectarian violence led to the deaths of five in Irepodun/Ifelodun, Kwara.

August 3: Kidnappers kidnapped two civilians and killed three policemen in Obio/Akpor, Rivers.

August 5: Nigerian troops clashed with civilians in Bosso, Niger, resulting in the deaths of three soldiers and seven civilians.