Nigeria Security Tracker Weekly Update: November 16–22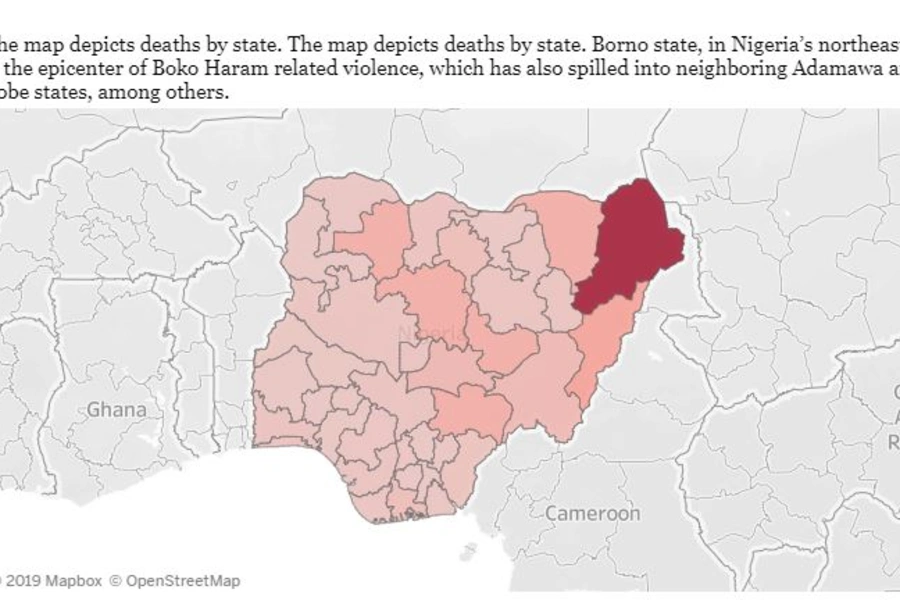 Below is a visualization and description of some of the most significant incidents of political violence in Nigeria from November 16 to 22, 2019. This update also represents violence related to Boko Haram in Cameroon, Chad, and Niger. These incidents will be included in the Nigeria Security Tracker.
(Last week, November 14: Boko Haram killed six in Song, Adamawa, and November 15: Boko Haram killed five in Gombi, Adamawa)
November 16: Electoral violence led to three deaths in Lokoja and two deaths in Dekina, Kogi.
November 17: Bandits killed two in Kaita, Katsina.
November 17: Gunmen killed two in Mbaitoli, Imo.
November 17: Gunmen killed nine in Ukum, Benue.
November 17: Gunmen killed fourteen in Gummi, Zamfara.
November 17: Gunmen killed two in Malumfashi, Katsina.
November 18: A political clash resulted in two deaths in Ofu, Kogi.
November 18: Boko Haram killed four Nigerian soldiers and one vigilante in Marte, Borno.
November 19: Police killed three kidnappers in Gboko, Benue.
November 20: Kidnappers abducted six in Igabi, Kaduna.
November 21: Robbers killed one policeman and one other during a bank robbery in Oye, Ekiti.
November 21: Gunmen killed two in Kaura, Kaduna.