Nuclear Plans Are Closely Held Secrets for a Reason
If Washington alone must shoulder the responsibility for the deployment and possible usage of weapons of mass destruction, it alone must control when and how they are deployed and used.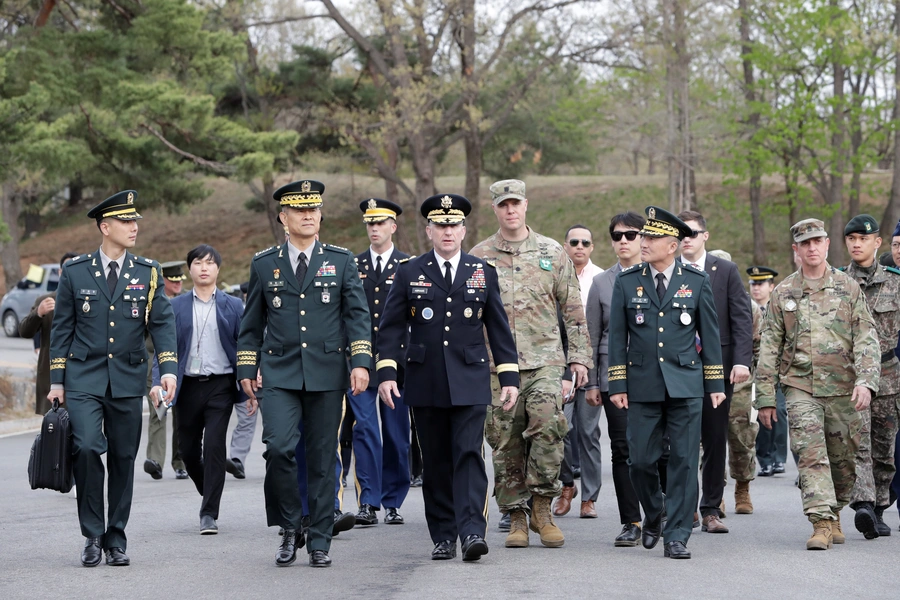 This post is authored by Robert E. McCoy, a former U.S. Air Force intelligence specialist whose twenty-year career focused on Korea. McCoy responds here to an article by Chun In-bum, vice president of the Korea Freedom Federation and a former lieutenant general in the ROK military. The below discussion is part of a project conducted by the program on U.S.-Korea policy at the Council on Foreign Relations, supported by the Smith Richardson Foundation and Korea Foundation. This series of posts addresses the U.S. nuclear posture in Northeast Asia, implications of North Korean nuclear and missile programs for U.S. extended deterrence commitments, operational and tactical dimensions of deterrence on the peninsula, and regional dimensions of stability.
The article by Korea Freedom Foundation Vice-President and retired three star general officer Chun In-bum  presents a well-articulated and poignant argument for more openness regarding American nuclear weapons, but it does not reflect the totality of the context in which U.S. nuclear plans are maintained.
Begin by taking Chun's case at face value and assuming he has no sinister political motive in asking for such disclosures, and recognizing that it is entirely appropriate that Chun voices his concerns as an informed, highly experienced, and influential South Korean citizen. Even so, policies regarding the use of nuclear weapons on the Korean Peninsula transcend any one nation's boundaries and thus require a wider understanding.
Chun takes issue with the fact that the United States is reluctant to divulge the details of its nuclear inventory, weapons deployment, and policies regarding their usage. He further laments that there is no mechanism through which these policies are exercised or even discussed with South Korea. Chun also points out that there are conflicting messages coming out of Washington regarding an American nuclear response to any crisis.
That is by design. As both Clausewitz and Sun Tzu would point out, one never openly discusses one's own battle plans lest the enemy discover what they are and take measures to counter them. The perceived inconsistency of the statements is part of a policy one might term "strategic ambiguity" to prevent North Korea – or any other country, for that matter – from discovering American intent.
Furthermore, one must consider that strategic weapons are owned by the United States and that it is only America that bears any responsibility for their use. With that responsibility comes commensurate authority. If Washington alone must shoulder the responsibility for the deployment and possible usage of weapons of mass destruction, it alone must control when and how they are deployed and used. This is not to say that consultations with host nations or other stake-holders in the region are unwarranted. They are, but certain aspects of nuclear policy are not open to discussion.
Even so, Chun does ask some answerable questions such as what are the yields of various nuclear devices, what their effects might be, and how much reaction time could South Koreans expect to have if they are used. General information could be provided to facilitate Seoul's planning. However, these questions most likely have already been answered to the proper South Korean authorities, with further disclosure based on a strict need-to-know basis.
Chun, however, additionally argues that the South Koreans have a right to know such things as targeting and the conditions in which a nuclear response is appropriate. The answers to those questions too have most likely been provided to the appropriate levels of the South Korean military and civilian government. They therefore do not require further discussion or exposure to outside scrutiny.
This brings up a critical issue. In October 2017, it emerged that North Korean hackers accessed joint U.S.-South Korean military operational plans through a South Korean military network. At the time of reporting – fully a year after the hack was discovered – the significance of more than three-fourths of the information that had been compromised remained unknown by the South Korean military. There has since been no further public mention of the 235 gigabytes of exposed data.
It is difficult to imagine sensitive nuclear information about particular targeting, under what specific circumstances weapons would be used, which weapons would be used against what targets, and other relevant details being released to a system that has already failed to protect highly classified information – or even to recognize the value of what was stolen.
Recognizing that the United States has sole responsibility in the world's eyes for the use of its own weapons of mass destruction, and given the inability of the South Korean military to adequately safeguard military secrets of the highest order, Chun's petition for more openness must be rejected as ill-advised even under the best of circumstances.
Chun In-bum Response:
I welcome McCoy's comments on extended deterrence issues on the Korean Peninsula. Above all, his pointed reminder of the hacking that occurred in October 2017 is accurate and indeed a "critical issue." I must also concede he is correct that if an ally is unable to adequately safeguard military secrets, information sharing would be dangerous. I know this never happens to the United States. Having said this, I appreciate the opportunity to clarify my point. I was referring to "answerable questions." As McCoy states, these questions include: "What are the yields of various nuclear weapons? What could their effects be? How much reaction time would we have? What is the process? Who do we call?" In my mind, these questions remain unanswered.