Predictions for the New Year
January 3, 2011
Blog Post

Blog posts represent the views of CFR fellows and staff and not those of CFR, which takes no institutional positions.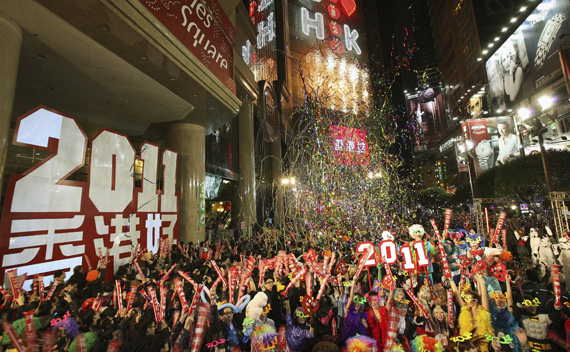 Liz already handled the top stories of 2010, so how about a few predictions for Asia for 2011. Of course, predicting is always an inherently dangerous game, so don't bet your fortune on any of these. Or at least, if you do, don't come after me.
1.   China-US relations will become even more touchy. (Or tetchy?)
With the run-up to the leadership change in Beijing in 2012, I think it's unlikely that Beijing is going to back significantly off of its harder-line, and sometimes confusing, policy-making shown in 2010. There may be some concessions to better relations with the United States and China's neighbors, such as China's supposed recent mediation with North Korea, but don't expect a wholesale shift back to the charm offensive of the early 2000s. And China's behavior will continue to push Asian nations – most notably, Vietnam, but also others – into the arms of the Obama administration.
2.   Aung San Suu Kyi will be locked up, limited,  or attacked again.
No way will the Burmese junta allow Suu Kyi to repeat the early 2000s, when she was released from house arrest and toured the country, drawing crowds in the tens or even hundreds of thousands. With Burma, you can rarely go wrong expecting the worst from the regime.
3.   Thailand will go farther downhill
Thailand is like an aging actor. You see him in a film, with his makeup and airbrushing and special effects, and he looks pretty good. Then, you run into him on the street, without the makeup, the CGI, the airbrushing, and you realize he really doesn't look so great after all. Thailand has been riding its fine policy-making of the past, its generous approach to foreigners, its previous international reputation, and the global respect for Abhisit and the king, as long as it can. Behind the makeup, there's a looming political divide, an educational morass  (Thailand is falling behind regional neighbors like Vietnam and others in English and other basic skills), rampant drug use among young men and some women, a potential succession crisis, and a military with too much power. Sure, foreign investors who are there will stay, particularly the Japanese, but in the long run, this actor needs to remake himself to survive.
4.   Indonesia will continue its strong growth, and perhaps even challenge India or China's growth rates.
Despite continuing challenges with graft and other disincentives to foreign investment, Indonesia boasts the demographics, the increasing stability, and the resources to continue its strong growth rates. Foreign Policy named the Indonesian economy one of the underrated stories of 2010, and it could well be so again next year.
5.  North Korea will embark upon more brinkmanship, further upsetting the fragile balance in Northeast Asia.
You have to have some easy predictions to look good. This is like betting that Ichiro will hit .300 or the Redskins won't make the playoffs.