President Obama's March Summit with Israeli Prime Minister Netanyahu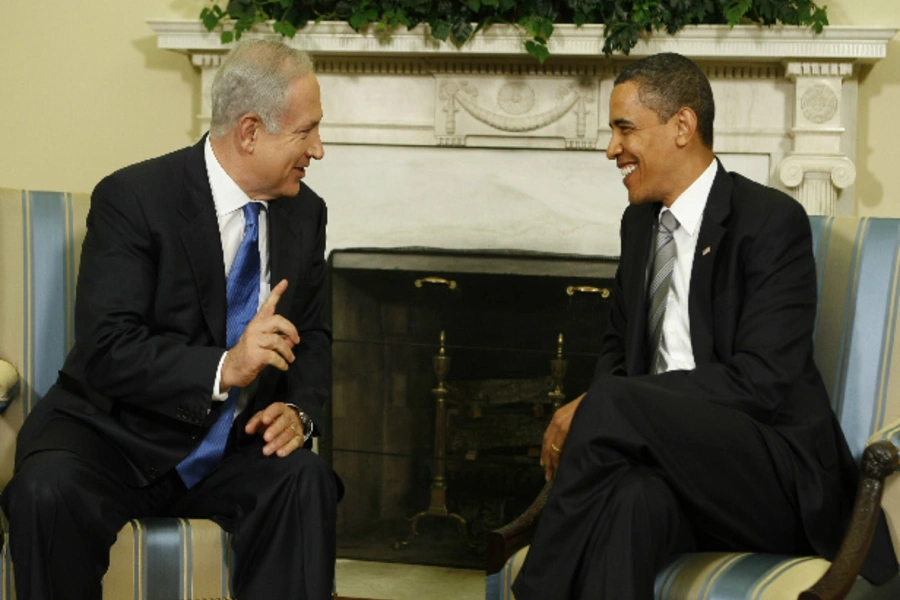 President Barack Obama hosts Prime Minister Benjamin Netanyahu in Washington on Monday. The last time the two leaders met together—September 30, 2013, in the same Oval Office—Obama had big news for the Israeli leader: his administration had been engaged in secret high-level negotiations for the previous seven months with Israel's most menacing adversary, Iran.
The upcoming Israeli-American summit will surely lack such drama. While their conversation will focus on the same two issues that have dominated their nearly five year long dialogue—Iran and peace with the Palestinians—the discussion now will be over major negotiating tactics, not fundamental strategy. President Obama will not spend time trying to keep Israeli aircraft from attacking Iranian nuclear facilities nor will he push Netanyahu to stop settlement activity.
For now, the Obama administration is in the driver's seat, leading negotiations both with Iran and between Israel and the Palestinians. Netanyahu is largely a bystander to one process and a reactive participant in the other. Differences between the United States and Israel have not been removed so much as deferred. Netanyahu will react to Obama; he is not positioned to advocate a wholly different approach on either front.
Iran: The fundamental gap between Obama and Netanyahu's objectives regarding Iran remains: the American leader's goal is to prevent Iran from developing a nuclear weapon, the Israeli objective is to see Iran deprived of the capability to develop a nuclear weapon. But the United States has signed an interim nuclear accord with Tehran in the period since Obama and Netanyahu last met, and negotiations on a comprehensive deal between the P5+1 and Iran are ongoing.
Given the now open U.S.-Iranian channel, the Israeli leader will settle, for now, on trying to affect Obama's negotiating behavior. Israel's declaratory position is to demand no Iranian enrichment. In recent talks with Israeli officials, lead U.S. negotiator Wendy Sherman suggested that position, while desirable, is unattainable. While Netanyahu will adhere to his public position, in private he is more likely to focus on the types of constraints on Iranian enrichment activity necessary to both detect and prevent an Iranian breakout attempt. Should the negotiations with Iran produce an agreement with ample safeguards, Israel's planes will likely remain grounded.
Israeli-Palestinian peace:  With the Obama administration's self-imposed deadline of April 2014 for a comprehensive, conflict-ending Israeli-Palestinian peace agreement rapidly approaching, Middle East peace will once again feature prominently in the two leader's discussions. But expect no dramatic fireworks on this front either. The Obama administration, recognizing that a comprehensive peace treaty will not be signed over the next few months, is now reportedly preparing a "framework agreement" that it will soon present to the Israelis and Palestinians.
While this remains a work in progress, with details yet to be outlined publicly, Secretary of State John Kerry is apparently preparing an outline that largely meets Netanyahu's objectives on two issues of paramount concern to him: recognition of Israel as a Jewish state, and robust security arrangements for Israel as part of a peace agreement. On the area most likely to prove difficult for Netanyahu to agree to at this time—the final status of Jerusalem—the United States is reportedly preparing formulas sufficiently vague so as to be unobjectionable to the Israeli leader or his coalition partners.
This effort to remove Israeli negotiating objections is likely to achieve its intended result. The word out of Jerusalem late this week is that Netanyahu will probably accept the U.S. formula, or at least not reject it outright. The prime minister's coalition partners most likely to oppose significant concessions seem to prefer a U.S. approach that keeps Israeli-Palestinian negotiations going while allowing them to keep their ministerial posts. Hence, the upcoming Obama-Netanyahu Oval Office meeting is likely to end in public professions of friendship and comity.
However, such an encounter would then set the stage for a potentially more difficult tete-a-tete when President Obama hosts Palestinian president Mahmoud Abbas on March 17. White House officials backgrounded the press this week saying "now is a very timely opportunity for [the president] to get involved." Yet according to the Palestinian daily al-Quds, Abbas reacted angrily to the American proposals when he met recently with Secretary Kerry in Paris. To be sure, much haggling will likely continue behind the scenes. The March summits with Netanyahu and then Abbas will test whether or not this is indeed a "timely opportunity" for President Obama.