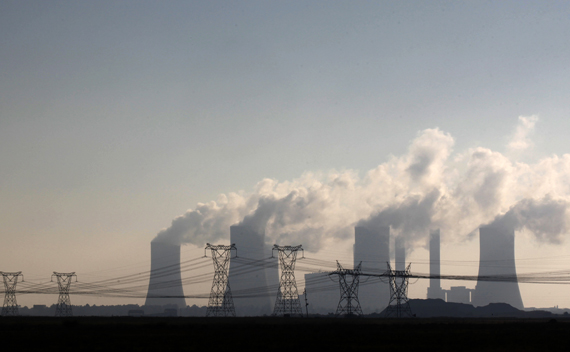 With delegates from around the world gathering in Durban, South Africa to discuss the future of the Kyoto Protocol and other climate initiatives, the question looms: What support is there for environmental action in the midst of continuing economic stagnation? An updated digest on "Public Opinion on Global Issues" from IIGG and Worldpublicopinion.org reveals some significant trends in U.S. and international attitudes. The central message is that publics around the world—including in the United States—believe that global warming is an urgent problem and want their governments to make it a higher priority, by taking vigorous national and multilateral actions to confront it.
A few key headlines:
Publics around the world, including in the United States, perceive climate change as a real danger. In extensive multi-country surveys covering a majority of the world's population, majorities in almost every nation surveyed believe that global warming is a threat or a problem. Globally, the percentage of respondents holding this view is an overwhelming 84 percent. In the United States, the figure has declined slightly in recent years but remains a robust 70 percent (according to a 2010 Pew poll). Moreover, solid majorities in most countries—including the United States—believe that climate change is related to human activity and that, if it is left unchecked, they will be negatively affected by it in their lifetimes. This public consensus on the reality of climate change is particularly striking, since only about half of respondents globally (and only 38 percent in the United States) believe that scientists themselves have reached agreement on the reality of climate change and the need for steps to address it. For those seeking to mobilize vigorous U.S. and multilateral action on climate change, establishing the reality of scientific consensus in the mind of the public should be a priority.

Citizens around the world believe their governments are not doing enough, individually or collectively, to combat global warming. Despite poor prospects for a successor to the Kyoto Protocol, publics in developed and developing countries alike overwhelmingly endorse a global treaty placing binding limits on greenhouse gas emissions. On the domestic front, a majority of U.S. citizens (58 percent in a 2009 WPO poll) believe the United States is not doing enough to address global warming and want it to commit to new international goals. Indeed, support for some actions has actually climbed since the start of the global financial crisis. In a Yale poll in May 2011, 66 percent of Americans endorsed signing an international treaty "that requires the United States to cut its emissions of carbon dioxide 90 percent by the year 2050." In a 2010 poll by the Chicago Council on Global Affairs (CCGA), 62 percent of U.S. respondents favored "a new international institution or agency" to monitor countries' compliance with treaty obligations to cut greenhouse gas emissions. At the national level, Americans endorse a variety of schemes to reduce U.S. emissions. Eighty percent of Americans in a 2010 CCGA poll, for instance, favored "tax incentives to encourage the development and use of alternative energy sources, such as solar or wind power." Another 80 percent "supported increasing the availability of local public transportation and 77 percent supported installing bike lanes on city streets, according to a May 2011 Yale poll. Finally, 76 percent agreed that the "U.S. government should limit the amount of climate change gases businesses can produce" in a June 2010 Stanford poll.
U.S. and foreign publics are willing to bear economic costs to make progress on global warming. In a 2009 poll by WPO, majorities in fifteen of sixteen countries (including the United States) accepted that climate change must be addressed, "even if it causes slower economic growth and some loss of jobs." More generally, publics worldwide are willing to increase the cost of fossil fuels to motivate changes in energy use. Indeed, majorities in most countries polled would accept increased costs equal to 0.5 percent of gross domestic product. Majorities in most countries also support limiting new coal-fired plants, even if this raises the costs of energy. In the United States, most Americans say they would be willing to accept increased energy costs of about $20 dollars a month, per capita, to combat climate change. Majorities also endorse raising fuel efficiency standards for cars and reducing subsidies for private transportation—even if the costs are passed onto the consumer—and express optimism that increased fuel efficiency will bring long-run economic benefits. When it comes to the prospect of actually raising taxes on fossil fuels, publics express greater ambivalence. Still, support becomes high, including among Americans, if respondents are assured that resulting tax revenues will be specifically earmarked to address climate change—or offset by tax reductions elsewhere.

Publics in developed and developing countries are more aligned than their leaders when it comes to climate change. Despite the North-South fissures that continue to bedevil climate negotiations, publics in advanced and developing economies actually see eye to eye on some critical policy questions. At Durban, leaders of developing countries are expected to resist greater commitments. In this regard, they are out of step with their publics: majorities of the public in developing (as well as developed)  nations believe that developing countries have a clear responsibility to limit their emissions. In a 2007 BBC/GlobeScan/PIPA poll, majorities in most developing countries—including 68 percent in China--agreed with the following proposition:  "Because total emissions from less-wealthy countries are substantial and growing, these countries should limit their emissions of climate changing gases." In a similar manner, solid majorities in most developed and developing countries believe that developed countries should provide developing countries foreign assistance to help the latter curb their greenhouse gas emissions. In the United States, more than two-thirds of respondents (70 percent) agreed with this proposition. Beyond efforts at mitigation, majorities in most countries polled—including 54 percent in the United States—believe that developed countries should provide assistance to help poor countries adapt to the effects of climate change, including drought or flooding. This is an important finding, as rich-world governments are lagging badly in meeting their pledge to finance a $100 billion global climate adaptation fund.
The world is looking to the United States—and China—for leadership. Progress on climate change at Durban and beyond will depend on renewed commitments by the two greatest emitters of greenhouse gasses. Publics around the world disapprove of how the United States has addressed the problem of climate change—and name it the country having the most negative effect on the world's environment, followed by China. (Germany receives the best ratings). Unfortunately, gridlock in Washington has continued to hamstring U.S. leadership, including the passage of any credible energy and climate legislation. As the polling data outlined above suggests, public opinion in the United States for strong action on climate is robust—it just needs to be mobilized. China, too, has been a disappointment—although here public opinion polling may offer grounds for hope. At Durban, nations should note that 93 percent of Chinese citizens consider climate change a "serious" problem­ according to a 2009 WPO poll—and use it as a bargaining chip to encourage China to accept responsibility for addressing climate change.
With several important issues on the table at Durban, this data should inspire leaders to hammer out agreements on imperatives that remain unresolved—like financing climate initiatives in the developing world, guidelines for reducing carbon emissions, and mapping the post-Kyoto landscape. With the International Energy Agency calculating that the world has only five years to moderate climate change before surpassing the limit of safety, the international community cannot afford to remain paralyzed.
View the entire digest of World Opinion on the Global Economy at www.cfr.org/public opinion. View key findings and a short introduction at worldpublicopinion.org.