The Race to Replace Kan
August 25, 2011
Blog Post

Blog posts represent the views of CFR fellows and staff and not those of CFR, which takes no institutional positions.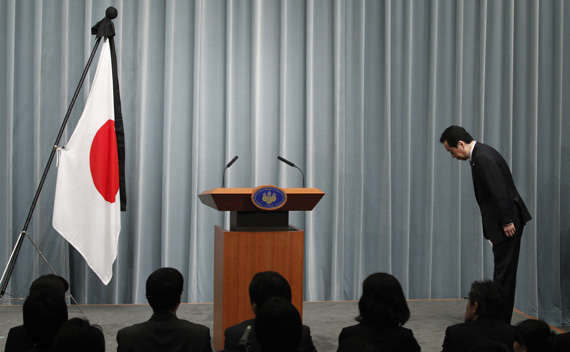 The Democratic Party of Japan (DPJ) has announced that it will hold an election on August 29 for the man who will replace Prime Minister Naoto Kan. Kan is expected to step down this Friday, opening the way for an intense weekend campaign before Monday's party election.
Already the field of candidates is full. At the moment at least six DPJ members have declared their interest in running. This will be the third DPJ party leadership race since Japan's new ruling party came to power in 2009.
The distinguishing feature of this race is that it will bring new leadership to the fore. To date, it has been the senior troika of leaders—Yukio Hatoyama, Ichiro Ozawa, and Kan—and the struggles between them that have defined Japan's new ruling party. The DPJ's early efforts at governing Japan have been characterized by intense differences between these party founders over the identity of the party, as well as its policy agenda. In fact, it was the intense strife between these three that led to the electoral setback in last summer's Upper House election as well as the near miss of the no-confidence vote against Kan this past June.
Moreover, unlike earlier DPJ races, this leadership field is rich with candidates who have already had experience in government. Japan's current minister of finance Yoshihiko Noda, minister of agriculture Michihiko Kano, and minister of economy, trade and industry Banri Kaieda are all in the mix. Noteworthy too are the former Cabinet members: former foreign minister Seiji Maehara, former minister of land, infrastructure, transport and tourism Sumio Mabuchi, and former minister of the environment Sakihito Ozawa.
Each of these individuals will need to produce at least 20 supporters if they are to qualify for the ballot. A party debate expected to be televised on Sunday will reveal the contours of the candidates' policy positions. There are clearly deep divisions on energy policy, economic growth strategies, and the way forward on fiscal reform. Add to that the intense pressures on Japan's government to implement an effective program of reconstruction in the tsunami-ravaged region of Tohoku, and the agenda ahead of the next prime minister of Japan becomes incomparably difficult.
This is a time of unprecedented challenge for Japan. The DPJ can no longer afford to offer a tentative response to the nation's call for strong and concerted political leadership.