To Resolve Syria, Send Annan to Moscow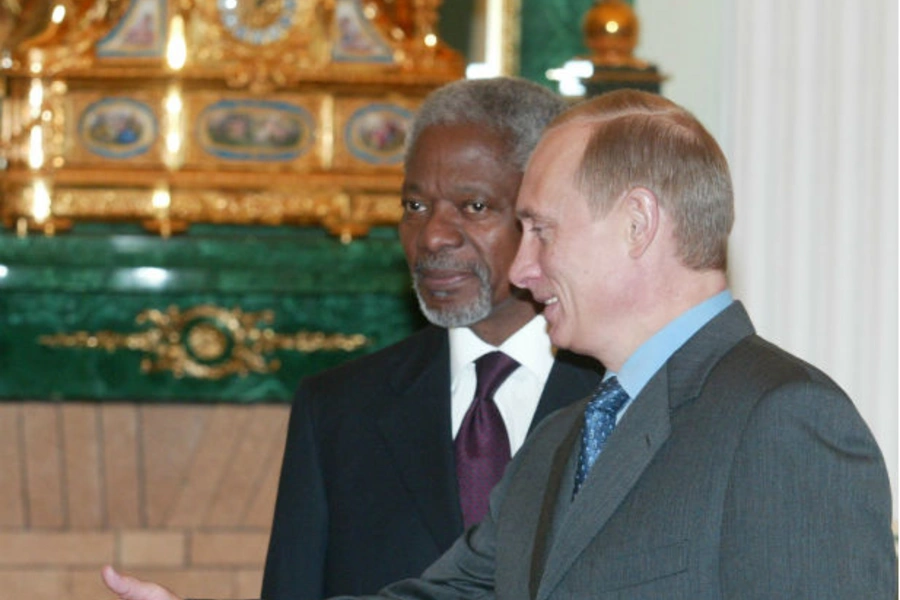 Kofi Annan, the newly appointed United Nations and Arab League envoy to Syria, travels to the Middle East today to kick off his diplomatic efforts. He will stop first in Cairo, where he will meet Arab League representatives. On Saturday, Annan visits Damascus to see President Bashar al-Assad as part of a mission "to seek an urgent end to all violence and human rights violations, and to initiate the effort to promote a peaceful solution to the Syrian crisis." Traveling to Egypt and Syria are surely necessary, but will soon prove to be insufficient.  
The key to ending the bloodshed rests more in Moscow than in Damascus as I suggested in early February. Russia provides Assad the critical support that allows the Syrian dictator to survive. Russia has protected Assad diplomatically twice so far, vetoing UN Security Council resolutions critical of Assad. More importantly, Russia provides the Assad regime the arms that it uses to kill Syrians and destroy their towns. According to the Moscow defense think tank CAST, Russia sold Syria nearly $1 billion worth of weapons in 2011, with some $4 billion remaining in outstanding contracts. The former chief auditor for Syria's defense ministry, who defected in January, claims that Russia has stepped up its arms supplies to Damascus since the unrest in Syria broke out. Russian arms manufacturers have reportedly increased production to meet the Syrian demand.
Yet the Russians appear increasingly uncomfortable with how their support for the brutal Syrian regime is positioning them internationally and isolating them from the Arab world. Last month, Saudi king Abdullah publicly chastised Russia for exercising its veto at the Security Council and for failing to coordinate with the Arabs. Russo-American ties have strained over Syria as well, with Secretary of State Clinton calling Moscow's UN votes "just despicable."
Russia has indicated that it wishes to repair its relations with Washington as well as the Arab world perhaps at the expense of Assad. It supported a March 1 Security Council statement chastising Damascus for preventing humanitarian workers access in Syria. And just as Annan touches down in Syria on Saturday, Russian foreign minister Lavrov will arrive in Cairo for talks to repair Moscow's relations with an Arab League leery of Assad's most influential backer. And Russia signaled yesterday that now that Vladamir Putin has successfully put his presidential election bid behind him, Moscow seeks an improved relationship with Washington. 
There are also hints that the Russians may be willing to be open to a Syria deal. They repeatedly state that they are open to further Security Council efforts to end the violence in Syria. And five days ago, Putin told interviewers that Syrians should decide who should rule their country: "We don't have a special relationship with Syria. We only have interests in the conflict being resolved."
The Russians will not agree to depose Assad as the first step. Moscow, like China, is suspicious of Western meddling in other countries' internal affairs in general, and in regime change in particular. Russia still believes that the West "baited and switched" by taking Security Council backing for a humanitarian intervention in Libya and using it as the basis to oust Qaddafi. But Putin may be open to a deal that eases Assad out as part of a larger process that begins a political dialogue and protects Moscow's interests such as retaining its naval base at Tartus and Syria as a major Russian arms purchaser. Participating in such a deal would also help Moscow repair its relations with the rest of the Arab world, and end the embarrassment of standing behind a brutal and vicious regime. 
But bringing Russia on board requires that Moscow also believe that it could lose everything if it does not help solve the crisis. A post-Assad Syria is one that well may be hostile to a Russia that stood by while Bashar slaughtered his countrymen. Moscow could salvage its position in Syria and hedge against a complete loss by helping to solve the crisis there. But it will do so only if it is convinced that the alternative is Assad's departure. 
This is yet another reason that the West must, at a bare minimum, not take the use of force off the table. International resolve is required to convince the Russians that the Arabs and the United Nations are committed to pursuing a peaceful resolution in Syria, but that if such an option is not possible shortly, then the use of force--through some combination of outside military support and Syrian rebel fighting--will have to be employed.  
That is where Kofi Annan comes in. His job is to convince a reluctant Putin that he stands much to gain both in Syria and internationally by working for an end to the violence and a political process that will perforce require the departure of Assad, whose bloodshed has simply robbed him of the legitimacy to continue ruling in Syria. As the International Crisis Group has suggested with a study just released, "if Annan can persuade Russia to back a transitional plan, the regime would be confronted with the choice of either agreeing to negotiate in good faith or facing near-total isolation through loss of a key ally."
In the wake of Russia's election and Annan's launching of his diplomatic efforts, now is the time to engage Moscow and present it a way out of the diplomatic cul-de-sac in which it finds itself. Having isolated itself in the Arab world and in the international community by siding with the butcher of Homs, now is the time to see if Russia will take a lifeline out and become part of the solution, rather than the problem. Moscow should be forced to choose between preserving its interests in Syria while staving off greater conflict and possible military intervention there, or taking its chances by sticking with a ruthless dictator whose departure will also end Russia's special relationship with Syria.
Can a deal be reached that makes Russia a handmaiden to resolving the Syrian bloodshed? Or is Russia willing to risk everything by remaining implacably opposed to any compromise? There is only one way to find out—by putting that proposition before the Russians.