Reviving Competition in Mexico's Economy
In trying to explain why Mexico isn't growing quickly, or "why it isn't rich" as Gordon Hanson puts it in a great paper, there is much talk about economic concentration -- the monopolies and oligopolies that dominate the economy. They spread beyond just telecommunications and media – the most obvious and maligned sectors. In cement, one company alone controls almost 90% of the market. In bread, tortillas, soft drinks, hospitals, and glass production just one company controls at least 70% of the market. This doesn't even consider those areas still under state control, such as energy and electricity.
This wasn't always the case. Looking back at the 1960s and 1970s -- when the Mexican economy was much more closed and the state more involved -- its markets were arguably more open, at least in terms of competition. At least four major firms competed in even the most concentrated sectors (granted, those not consigned to state-owned monopolies).
This internal competition was at least in part behind the rising competitiveness of Mexico's economy – as measured by total factor productivity (TFP). Mexico's TFP, a measure of an economy's long-term technological dynamism, rose steadily through the 1960s and 70s, comparing favorably to the United States and the so-called Asian tigers. It began to fall in the early 1980s (in conjunction with its debt crisis and economic opening). It hasn't recovered since.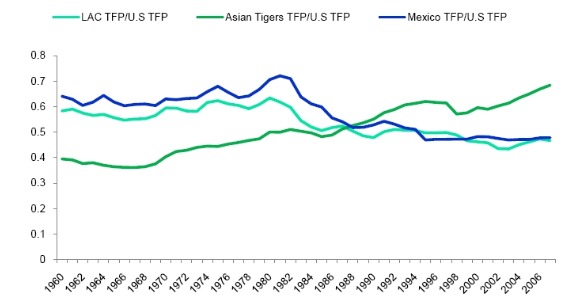 The fact is that while Mexico's economy opened to the world, vital sectors within it closed themselves off from competition. This isn't to say that Mexico should try to return to protected markets - that would just make matters worse. But it does suggest that the dominance of just one or two firms across so many areas of the economy hasn't always been a part of its past – and agreeing with the consensus out there, it shouldn't be part of its future.