Role Reversal: As the United States Steps Back From Global Leadership, India Steps Up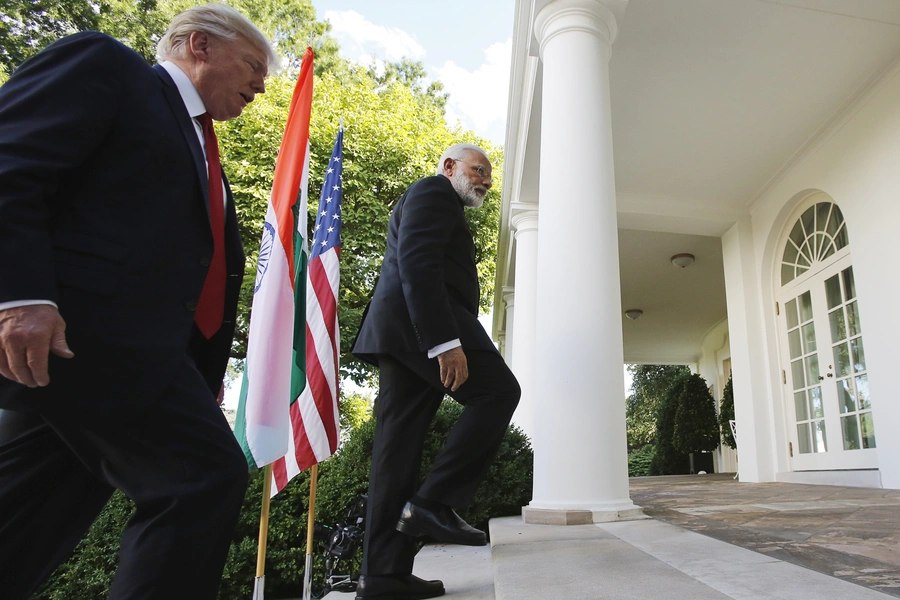 As Indian Prime Minister Narendra Modi arrives in Washington for his first meeting with U.S. President Donald J. Trump, he will find an America rethinking its global leadership role, looking more inward as it scopes its sights down to America First. It's a strange moment for the world, as New Delhi has long bet on closer ties with a United States confident of its traditional outward-looking posture. While much has been written about China's willingness to step into the global leadership gap vacated by Trump's foreign policy, India's quiet commitment to becoming a "leading power" also deserves attention.
In a nutshell, even as the world's oldest democracy steps back from the global stage, the world's largest democracy is stepping up.
India has been among the few areas of bipartisan consensus in U.S. foreign policy. Over the past twenty years, Democratic and Republican governments alike have worked to expand ties with New Delhi. India has at times been a reluctant partner, skeptical of the American embrace, both due to past differences as well as its tradition of eschewing formal alignment with a superpower.
When former Prime Minister Manmohan Singh partnered with former Presidents George W. Bush and Barack Obama to find a place for India—a country outside the Nuclear Nonproliferation Treaty, but with advanced nuclear weapons technology—inside the global nonproliferation tent, New Delhi began a new chapter in its ties with Washington as well as its ambitions to claim India's "due place in global councils," as Singh described it.
Prime Minister Modi then doubled India's bet on the benefits of strong U.S.-India ties. Modi and Obama together crafted a new landscape for Indo-American partnership through a "joint strategic vision" for cooperation across the Asia-Pacific and Indian Ocean. Former U.S. Secretaries of Defense Leon Panetta and Ashton Carter repeatedly encouraged India to become a "net provider of security" in the region. Former U.S. Secretary of State Hillary Clinton encouraged India not just to "look east" but to "act east" as well. Obama supported a permanent seat for India in a reformed UN Security Council, and worked with Modi to secure a global agreement on climate at the Paris Conference of Parties in 2015. India, for its own strategic reasons, which converged with those of the United States, adopted a more active role in all of these areas.
As president, Trump has already changed the U.S. role in the world. Our country, long a champion of global trade—indeed, a point of friction in U.S.-India economic ties, where Washington often pushes New Delhi to open further—has under Trump ditched the Trans-Pacific Partnership and looked to the possibility of protectionist retaliatory measures.
"Globalization" has become less a statement of fact in the Trump era than a term of criticism. On security, whether the United States will remain the active superpower providing security across the Asia-Pacific is less clear today than it was six months ago. And on climate, Trump has announced that the United States will exit the Paris climate agreement, full stop.
Meanwhile, in India a new narrative has emerged about the country's place in the world. Modi has pressed to become a "leading power," not just a "balancing power." India has declared its ambition of primacy in the Indian Ocean, announced its first overseas military base in the Seychelles, and publicly championed freedom of navigation throughout the Asia-Pacific, including in the South China Sea. On climate, India has become one of the world's most active advocates for renewable energy—a major part of its Paris commitment.
In a role reversal from two years back, just as Trump pulled the United States out of the Paris accord, Modi stood with German Chancellor Angela Merkel to declare India's continued support for it. And at a time when the U.S. government has adopted a suspicious view of globalization, India's chief economic advisor is speaking of New Delhi cobbling together a "middle-income country coalition" to revive it.
Take this all in. A country that was once a byword for protectionism now stands ready to defend the benefits of global trade to a Washington grown wary of it. An India once solely focused on its land borders has developed a more expeditionary mindset. An India that for years pushed back against the terms of a global climate deal advanced by Obama has now stepped up loudly in its defense.
It's a complete role reversal. But Washington should welcome New Delhi's willingness to step up. When the United States returns to its traditional leadership role, India will be an important partner.
"Role Reversal: As the United States Steps Back From Global Leadership, India Steps Up." Reprinted with permission of the Indian Express (P) Limited © 2017.
Follow me on Twitter: @AyresAlyssa. Or like me on Facebook (fb.me/ayresalyssa) or Instagram (instagr.am/ayresalyssa). My book, Our Time Has Come: How India is Making its Place in the World, is forthcoming from Oxford University Press.