Secretary of Defense Mattis's Trip to Southeast Asia: A Few Thoughts
Secretary of Defense Jim Mattis traveled to Southeast Asia this past week, and during his first stop in Indonesia signaled a desire to improve strategic aspects of the U.S.-Indonesia relationship including on the South China Sea, training, and defense modernization.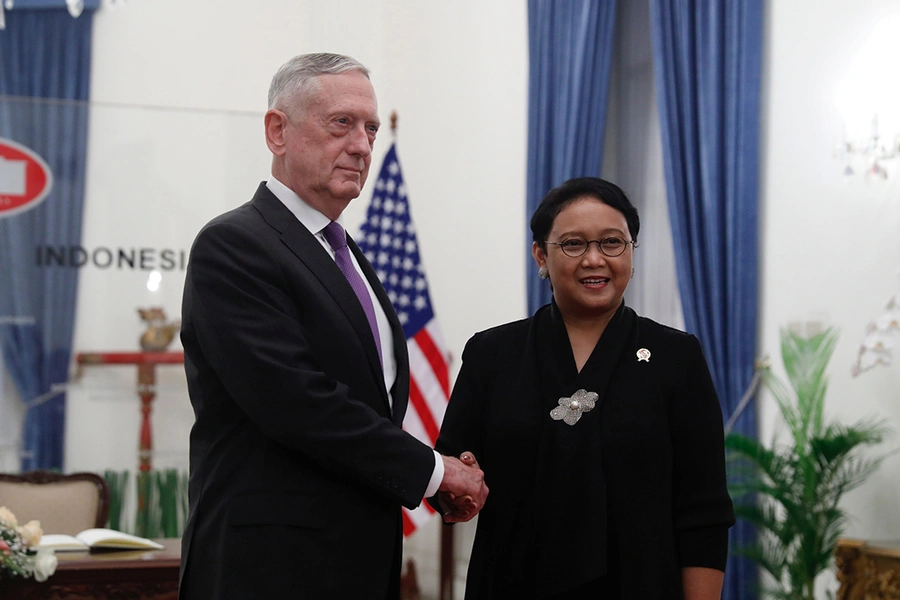 This past week, Secretary of Defense Jim Mattis traveled to Southeast Asia, where he visited Indonesia and Vietnam, two important U.S. partners in the region. As Prashanth Paramesewan notes, the two states could be important actors as part of the "networked security architecture" in Asia that the White House highlighted in its new National Defense Strategy. The trip was designed in part to highlight the administration's commitment to freedom of navigation in the Pacific, and particularly in the South China Sea. Notably, Mattis did not visit the Philippines, a major South China Sea claimant but a country where President Rodrigo Duterte has repeatedly called for downgrading U.S.-Philippine defense ties and, as Richard Heydarian has noted, has been "downgrading certain bilateral military exchanges with the United States." Duterte came into office slamming the U.S.-Philippines strategic relationship, and openly wooing China, Russia, and other external powers, and though he has not followed through on all of his rhetoric about limiting bilateral ties to the United States—he needs U.S. assistance in his counterterrorism fight—he has continued to push Manila closer to Beijing.

In Indonesia, Mattis assertively supported what has been, in the past two years, an increasing hawkishness by Jakarta regarding the Natuna islands, even though the Indonesian government remains wary of alienating China by completely embracing the United States—and as some key leaders in the Indonesian government strongly argue that Jakarta should keep its strategic relations balanced between Beijing and Washington. As I note in a forthcoming Council Special Report on U.S.-Indonesia relations, Indonesian leaders have become increasingly concerned about China's continued encroachment on Indonesian waters near the Natuna islands. Indonesia's armed forces have held several exercises in that area, in a display of strength, and Indonesian policymakers have been searching for ways to boost their abilities to push back against China in the South China Sea, although they still remain wary of being seen as accepting close U.S. support for Indonesia's South China Sea policy.

Although the Trump administration has taken few steps to push the U.S.-Indonesia economic relationship forward—it put Indonesia on a list of potential trade violators last year—the two states have important shared security goals. Mattis and the White House sent clear signals that they want to upgrade the strategic aspects of the relationship—and are willing to offer significant carrots to Jakarta to help foster cooperation, particularly on South China Sea issues, and to convince Indonesian leaders to embrace U.S. assistance. Mattis referred to part of the South China Sea as the "North Natuna Sea," which surely pleased Indonesian leaders, and the Pentagon is apparently pushing to expand training programs with Indonesia's special forces group Kopassus, which had been implicated in widespread human rights abuses in the past. Kopassus is currently barred from training with U.S. peers. Completely rehabilitating Kopassus is a major goal of the Indonesian defense establishment. The Pentagon also wants to help facilitate Indonesian procurement of U.S. arms, as part of an overall modernization of the Indonesian military; other competitors, like Russia, are also keen to expand sales to Indonesia. Newsweek reports that U.S. "officials are working hard to close a big fighter purchase, a deal they think could cover as many as 48 [U.S.] aircraft valued at $4.5 billion."
I will address the Vietnam component of Mattis's trip next week.