Secretary Kerry's Vision-Seeking Israeli-Palestinian Speech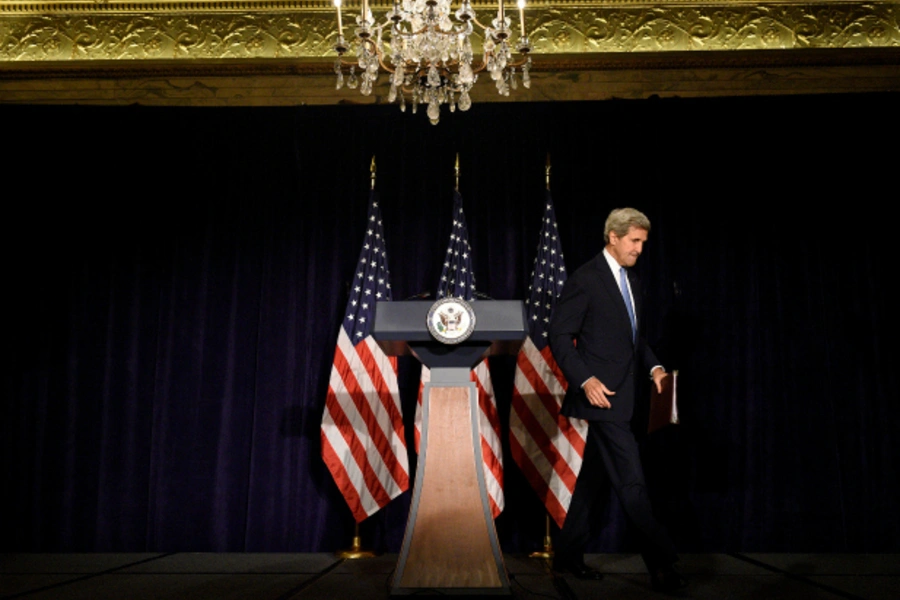 Secretary of State John Kerry just delivered the speech he's been eager to give for several years. Following the abrupt failure of his ambitious all-or-nothing peace initiative in April 2014, Kerry and some of his aides have suggested that their efforts had actually broken important diplomatic ground, and that they had produced new innovative formulas for a conflict-ending comprehensive Israeli-Palestinian peace agreement. The secretary apparently wanted to share these ideas, if for no other reason than to document publicly the seriousness of his efforts and as one final plea over the urgency of solving a problem he is convinced will soon become insoluble due to dynamic changes on the ground—namely Israeli settlement activity.
President Obama, Kerry's boss, has not been convinced that the United States should play one of its last remaining diplomatic cards by laying out a detailed vision of comprehensive peace in the waning days of his administration. Obama himself had tried it in May 2011 when, after considerable internal squabbling, he laid out his own partial vision of a solution of Middle East peace in two precisely crafted speeches—one at the State Department and a second one before the American Israel Public Affairs Committee (AIPAC). Rather than break the Israeli-Palestinian impasse, however, Obama's 2011 speeches were marked by an absence of follow-up diplomacy. American peacemaking efforts went into hibernation until John Kerry returned to them almost two years later upon becoming secretary of state.
No doubt, the impending inauguration of Donald Trump helped convince Obama to let Kerry make today's speech, if only for legacy purposes. Trump, who previously donated money to a West Bank settlement in honor of his recently named ambassador to Israel, David Friedman, clearly shares few if any of the assumptions on which American peacemaking diplomacy has been conducted over the past eight years. Obama probably surmised that even if it does not advance the cause of peace, at least Kerry's remarks could help contain the uproar unleashed by the United States' abstention from last week's Security Council Resolution 2334, which is strongly critical of Israel. And today, Kerry clearly sought to explain and justify the administration's thinking in not vetoing the resolution.
Yet that today John Kerry, rather than the president himself, went before the cameras suggests that Obama either remains ambivalent over the utility of laying out a comprehensive American vision or doesn't really see there being much more left to say. Instead, as with Kerry's peripatetic Israeli-Palestinian diplomacy, Obama appeared willing to let his lead diplomat once again scratch a longstanding itch and devote time and effort to the Israeli-Palestinian conflict. Kerry has already made many remarks on the need for Israelis and Palestinians to make peace, including some delivered just several weeks ago. So why not one more?
After listening to Kerry's speech, the president must feel that his disinclination to give his own speech was correct. For what was striking about Kerry's 75-minute long address was not what was new, but rather how little new there really was for him to say. Just about everything Kerry said today he has said in one form or another previously in multiple speeches as secretary of state. Kerry has long warned of the danger that settlements pose to a two-state solution, cautioned that time is running out for such a solution to be viable, noted the dangers of a one-state reality in the land between the Jordan River and the Mediterranean, and stressed the need for Israel to chose soon if it wants to be both a Jewish and democratic state.
Perhaps even more striking is that despite the lengthiness of the speech, it failed to deliver on the one thing it had promised: New American parameters for a solution to the Israeli-Palestinian conflict. Instead, Kerry offered up a set of "principles" for the basis of a peace settlement. Kerry did not go further than his boss had done in May 2011. And the ideas that Secretary Kerry offered were remarkably similar to those offered up by President Clinton at the end of his presidency in January 2001.
Also missing was any sense of how the principles he articulated can or should be realized. What Kerry seemed to be calling for was something he has been calling for four years: Israeli and Palestinian leaders to become reasonable and prioritize peacemaking in the way Secretary of State Kerry does. Completely absent was a new path to get there, other than through face-to-face negotiations.
Inherent in Secretary Kerry's speech was a fundamental contradiction. On the one hand, the premise of the speech was that a two-state solution is just about unrealizable, owing largely to continued Israeli settlement activity. At the same time, the purpose Kerry gave for delivering the speech was that some future American peacemakers can pick up and build upon on the principles articulated by Kerry. Presumably Kerry doesn't expect that President-elect Donald Trump will do so. So then how could a two-state solution along the lines Kerry articulated be viable sometime down the line if time is just about to run out on such an outcome?
For years, American leaders have said that the United States cannot want peace more than the parties themselves. While Kerry himself has parroted that line, there is no evidence that the secretary of state actually believes it. Instead, he appears to be driven by a belief that American wisdom and willpower can still prevail over the absence of Israeli and Palestinian urgency. That passionate sense was palpable again today. Absent was a compelling explanation as to why he seems more determined and urgent to make fateful choices for peace right now than Israelis and Palestinians are themselves.