Social Mobility in Mexico
October 31, 2014
Blog Post

Blog posts represent the views of CFR fellows and staff and not those of CFR, which takes no institutional positions.
Earlier this month, the Espinosa Yglesias Research Centre (CEEY) launched the English version of its most recent report on social mobility in Mexico. Creating a measure that combines 2011 household assets and occupational status, they find both good and bad news for aspiring Mexicans. For those in the middle, chances of moving up (or down) are somewhat encouraging, as only a quarter will end up in the same economic group as their parents. But on the richer and poorer ends, the chances of intergenerational change are much lower—only one out of every two individuals will lead an economically different life.

Educational mobility is more positive. In fact, Mexico is quite close to the United States, Switzerland, and Ireland in the likelihood that children will go further in school than their parents. Here, Mexico bests Latin American peers such as Colombia, Chile, and Brazil.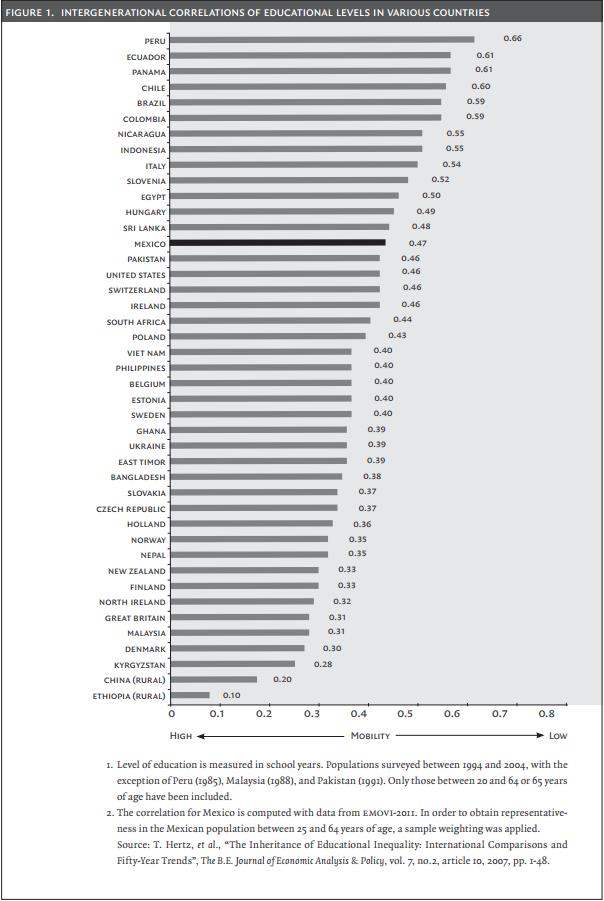 The survey also finds significant gender disparities. Overall, women are more mobile than men. But this movement in part reflects workforce discrimination, as women born wealthy are more likely than men to lose their socioeconomic position, hitting the proverbial glass ceiling. Women who begin life at the lowest income levels are less likely to move up compared to their male counterparts.
The study shows that educational mobility has increased more quickly than economic mobility. This suggests that the quality of education lags, especially for those starting at an economic disadvantage. Schooling has yet to become the "great equalizer," as the chances of completing an undergraduate degree are much higher for private school students. Expectations also matter, not unlike the story in the United States, where qualified lower income students often don't apply, much less finish, degrees at competitive colleges and universities.
What can Mexico—and by extension other countries—do? More equitable and effective public education is an important start. Affirmative action and other policies for women, minorities, and the socioeconomically disadvantaged would help as well. More generally, a broader social safety net could counterbalance the intergenerational effects of poverty. The survey shows Mexico has indeed made some progress, but also illuminates how far it has to go.