Solidarity in Support of Freedom: South Korean President Yoon's UN Speech
South Korean President Yoon Suk-yeol delivered his first speech to the UN General Assembly that outlined a daunting list of global challenges requiring a collective response through UN-based cooperation.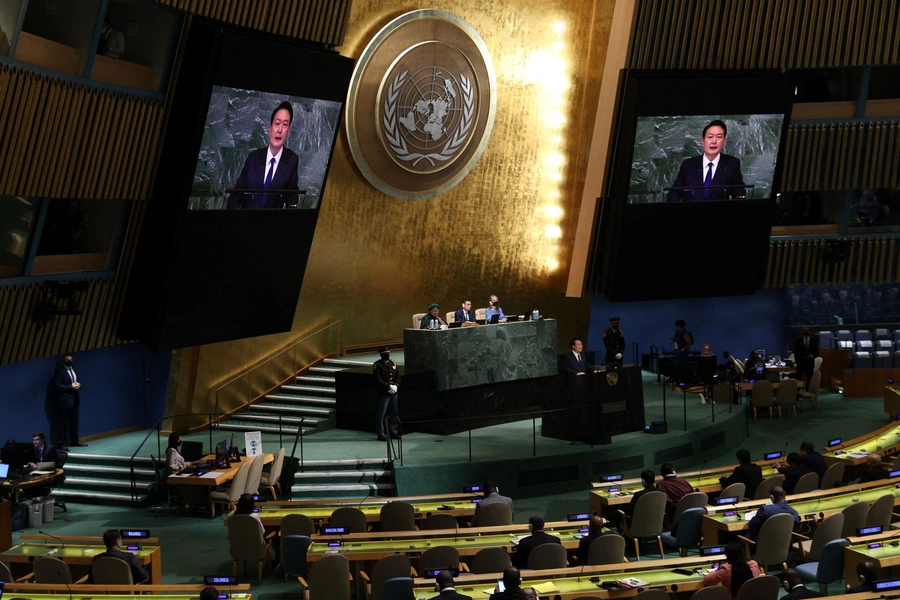 In his first speech to the UN General Assembly on September 20th, South Korea's President Yoon Suk-yeol delivered a comprehensive call for the world to come together in response to a daunting list of conventional and non-traditional security challenges that require collective coordination to address effectively. The speech departed from the conventional Korean approach of highlighting Korean peninsular problems and relating them to global concerns by identifying universal challenges and enumerating Korean efforts to join in forging a collective response. Yoon provided a clear call to action from South Korea as a middle power advocating stepped-up cooperation and urging multilateral efforts and contributions to address the world's most serious problems. 
Yoon's enumeration of the global challenges to peace and human flourishing is familiar and depressing: wars of aggression, growing threats and risks of nuclear weapons use, and the accompanying endangerment of human rights from public health challenges and climate change. But in advocating for solidarity and a collective response through UN-based cooperation, Yoon provided a rare leadership perspective from a country capable of bringing greater resources and political leadership to the table. Against the backdrop of increasing paralysis and stalemate within the UN Security Council resulting from conflicts and a sharpening competition between the United States and Russia and China, respectively, Yoon's call for tangible support for efforts to address daunting international challenges was a refreshing message from a Korean leader.
Yoon's speech leaned forward in urging countries to band together in response to multilateral and transnational challenges to security and prosperity, including overseas development assistance, global public health collaboration, digital technology sharing, and investments in education. At a time when the UN system is beleaguered and in need of structural reforms, Yoon stated that "we must more fully support the system of the UN anchored in a spirit of freedom and solidarity as well as the normative frameworks that have been universally recognized in the international community." 
The impulse to bolster the safeguarding of existing international norms through concerted multilateral actions is a classic characteristic of middle powers. Such an approach is likely to be most effective when states are aligned with other middle powers also dedicated to upholding the existing international order. The rhetoric of Yoon's UN speech suggests that South Korea is likely to pursue foreign policy gains through more active outreach to other middle powers such as Australia, Canada, and European countries. But for such an approach to be effective, Yoon will have to overcome some clear obstacles, including the tendency toward major power rivalry, North Korea's efforts to stay on South Korea's radar, and the risk that domestic infighting in South Korea will paralyze Yoon's capacity to achieve his foreign policy aspirations.
The biggest factor likely to derail Yoon's hopes for a UN renaissance is the paralysis and marginalization of the institution as a consequence of major power conflict between the democratic order led by the United States and authoritarian systems led by Russia and China. Russia's revisionist war in Ukraine has unified NATO in support of Ukraine, but it has paralyzed the UN system over intractable political conflicts resulting from Russia's permanent veto power in the Security Council. The intensification of major power rivalry between the United States and China has been accompanied by a closer partnership between China and Russia represented by Putin and Xi's declaration of a "no limits" partnership. The Joe Biden administration has characterized the nature of the confrontation in ideological terms as a contest between authoritarianism and democracy, further diminishing the prospects for effective cooperation at the UN on any issue, including shared global challenges such as global health and climate change.
A second factor likely to directly impinge on the ability of the Yoon administration to play an active role on global issues of the scope identified in Yoon's UN speech is the prospect of tensions with North Korea. South Korea increasingly has the capability to make contributions on a range of issues that have a global impact, but as a practical matter, South Korea's attention to global issues is only likely to be sustainable when North Korea's posture toward the South is benign and its capacity to instigate tensions with South Korea is fully contained. But Kim Yo-jong's statements toward the Yoon administration have been brutally contemptuous, and there are at present no mechanisms or incentives in place to induce restraint from North Korea. In fact, the more Yoon may aspire to play a role that further raises South Korea's global profile, the greater the incentive may be for Kim Jong-un to take actions designed to draw South Korea's attention and resources back to its immediate neighborhood.
Third, the "hot mic" controversy and dispute over the interpretation of disparaging comments Yoon made following a brief encounter with President Biden on the sidelines of a UN meeting during his trip to New York illustrate the potential for domestic politics to paralyze South Korean foreign policy aspirations. As a result of the controversy, the headline from Yoon's trip was undoubtedly not his UN speech, but rather the contested interpretation of an off-hand comment by Yoon that allegedly disparaged either the U.S. Congress or the South Korean National Assembly.  
Despite U.S. government comments that Yoon's remarks had no influence on the state of the U.S.-South Korea relationship, South Korean media and lawmakers debated for days over both the meaning of the comments and the effectiveness of Yoon's overseas diplomacy. South Korea's opposition Democratic Party even passed a non-binding legislation calling for the resignation of Foreign Minister Park Jin following the incident, suggesting that South Korean domestic political divisions might derail the Yoon administration's global foreign policy aspirations and effectiveness.  
By delivering a speech that advocates for multilateral solutions to shared global challenges, the Yoon administration has attempted to place South Korea as a constructive force in upholding an effective global order. But such aspirations may be derailed by the reality of growing conflicts among major powers, North Korea's aspirations to hamstring South Korea from achieving its global aspirations, and domestic South Korean political opposition that could hamstring Yoon's ability to deliver on his lofty aspirations.
The article was originally published on Korea on Point by the Sejong Institute.