The Fed's custodial holdings of Treasuries just topped $2 trillion. Custodial holdings of Treasuries rose by $25 billion in July. The overall pace of growth in the Fed's custodial holdings did slow a bit in July, as some of the rise in Treasuries was offset by a fall in Agency holdings. But in a world where the US trade deficit is running at about $30 billion a month, a $15 billion monthly increase in the Fed's custodial holdings is significant.
I understand why the Treasury market is so focused on Chinese demand -- China is a the largest player in the market, and a major shift in Chinese demand would almost certainly have an impact. Right now, the market is obsessing over the low level of indirect bids in last week's 2 year auction. At the same time, concern that central banks are abandoning Treasuries should be muted so long as the rise in the Fed's custodial holdings of Treasuries is running far above the US trade deficit. Barring a huge increase in the trade deficit after May, that is certainly will be case over the last three months of data.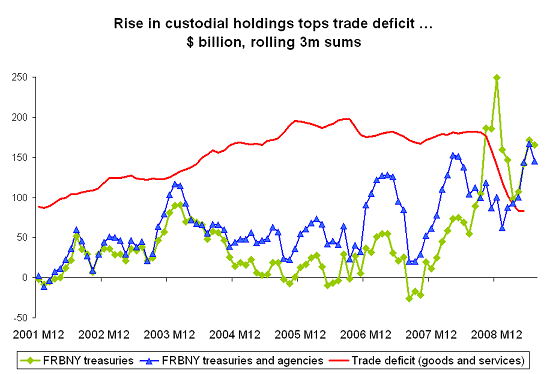 It is also true on a 12m basis.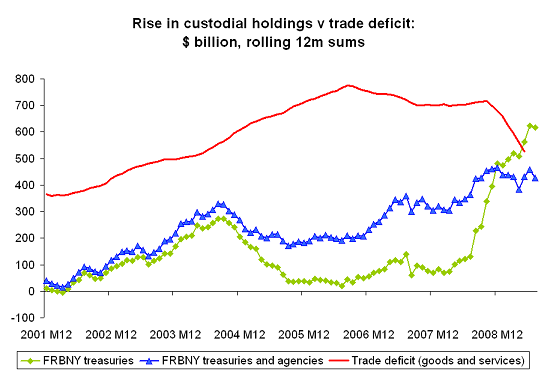 The Fed's custodial holdings may exaggerate central bank purchases a bit, as central banks sought safety in the crisis and moved funds out of private accounts. But so long as the custodial holdings of Treasuries are rising so rapidly, it is a little hard to argue that central bank reserve managers aren't willing to hold dollars.
Central banks simply aren't going to finance the entire fiscal deficit anymore. Not with the trade deficit so much smaller than the fiscal deficit. That's a change. But in a lot of ways it is a healthy change: It is a sign that the US trade deficit is falling and the world is adjusting to a lower level of US consumption.