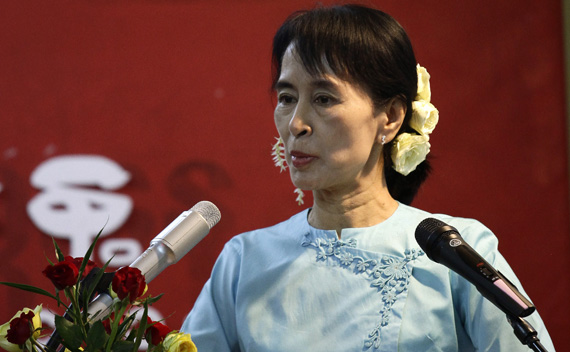 In last week's New Yorker, foreign correspondent Joshua Hammer had a profile of Aung San Suu Kyi, asking whether, after being released from house arrest, she could hold together an opposition movement in Burma battered for years by the ruling junta and now, in some ways, splintered following the recent national elections. Hammer further suggests that Suu Kyi has missed opportunities for compromise that might, in some small ways, have put Burmese politics onto a more open and progressive track. 
Hammer, whom I've known for years as an excellent reporter and edited when I was at the New Republic, raises some interesting questions. They were echoed in cables by American officials, leaked by Wikileaks, in which the U.S. officials question the long-term viability of the Burmese opposition movement, which they call "sclerotic" and dominated by older figures who are not giving way to the young.  "Already frustrated with the sclerotic leadership of the elderly NLD 'Uncles,' the party lost even more credibility within the pro-democracy movement when its leaders refused to support the demonstrators last September [2007], and even publicly criticized them," wrote one US official.
Some of these complaints seem a bit unfair. The contention, by historian Than Myint-U, quoted in Hammer's piece, that Suu Kyi is basically irrelevant today and does not worry the junta, is just not true; the junta still clearly is concerned, and the true test of their worry will come if Suu Kyi travels the country again.
Other points, too, seem unfair. Burma's opposition movement exists in one of the most repressive environments in the world, so to criticize its leaders for being weakened today and, at times, uncompromising, hardly seems fair – it doesn't exactly operate from a position of strength. Suu Kyi herself has been locked up for years; it's the regime that has been largely uncompromising, and has tried to kill her and her colleagues on numerous occasions, so stomaching any compromise with the junta must be quite hard. The fact that many leaders of the NLD are old is not, in itself, their fault: They hail from the last generation of Burmese intellectuals to experience real democracy, in the 1950s and early 1960s, and bring a unique perspective to Burmese politics. And even Suu Kyi herself would admit she is not a saint, though sometimes the global Burma movement has made her out to be as a means of encouraging their followers and supporters.
Still, Hammer raises some important points and hits home on several of them. Though it's uncomfortable to say it, at times powerful opposition movements, in order to survive repression, have to become somewhat controlled themselves. The African National Congress, during the apartheid era, was not exactly known for welcoming dissenting views; neither, for example, was the anti-Kuomintang movement in Taiwan that ultimately developed into the DPP of Chen Shui-bian. In some ways, for the Burmese opposition movement to survive, the NLD has had to ensure that it not become too fragmented and diverse, and that one or two main goals are pursued – it is not always an opportunity for wide-ranging debate or freewheeling politics, which would be possible in a more open political system.
And, like so many political movements organized around one charismatic and brave individual, the Burmese movement, like the Tibetan exiles, have relied so much on Suu Kyi's local and global appeal that it sometimes can be hard for other figures to break through into the public consciousness. Suu Kyi's appeal, like the Dalai Lama's, often leaves the Burmese movement wondering what might happen were she to pass from the scene, but with no ready answer – and no real dialogue about the future.