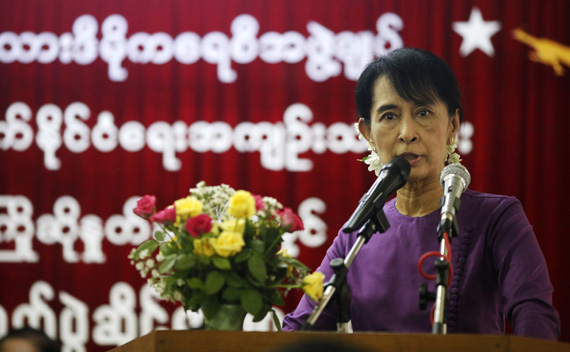 According to numerous Burmese sources, opposition leader Aung San Suu Kyi is planning to travel outside Rangoon within the next month in order to visit provinces, help rebuild her political movement, and generally gauge the political situation. This travel will show whether the regime, following the elections last fall and the civilianization of Myanmar's cabinet of ministers, really has changed its stripes at all.  With Suu Kyi essentially stuck in Rangoon, the regime could claim legitimacy, and given Myanmar's poor infrastructure and communications networks, it could essentially prevent her from reaching an audience across the country.
But traveling outside the largest city is a far different matter. Over the past twenty years, most of which Suu Kyi has spent under various forms of house arrest, every time she has tried to travel outside the capital the regime has pushed back hard. In the mid-1990s, it arrested Suu Kyi before she could even really get outside Rangoon; in the early 2000s, after she had managed to travel outside Rangoon and give a number of well-attended rallies in other parts of Burma, regime thugs attacked Suu Kyi's party on a rural road and massacred them, killing as many as eighty people.
In fact, despite its authoritarian rule, the regime has repeatedly underestimated Suu Kyi's enduring drawing power. In the early 2000s, it was clearly shocked by the size of the crowds she was able to draw upcountry, a major reason why it decided to brutally curtail her further travels. If she ventures out this time, and draws crowds again, what will the government do? More than anything since last year, this will be the crucial test of whether Burma is changing at all.