Taiwan Local Elections Are Where China's Disinformation Strategies Begin
Taiwan's local elections, not the national ones, incubate China's disinformation strategies. Civil society is stepping up to fight them.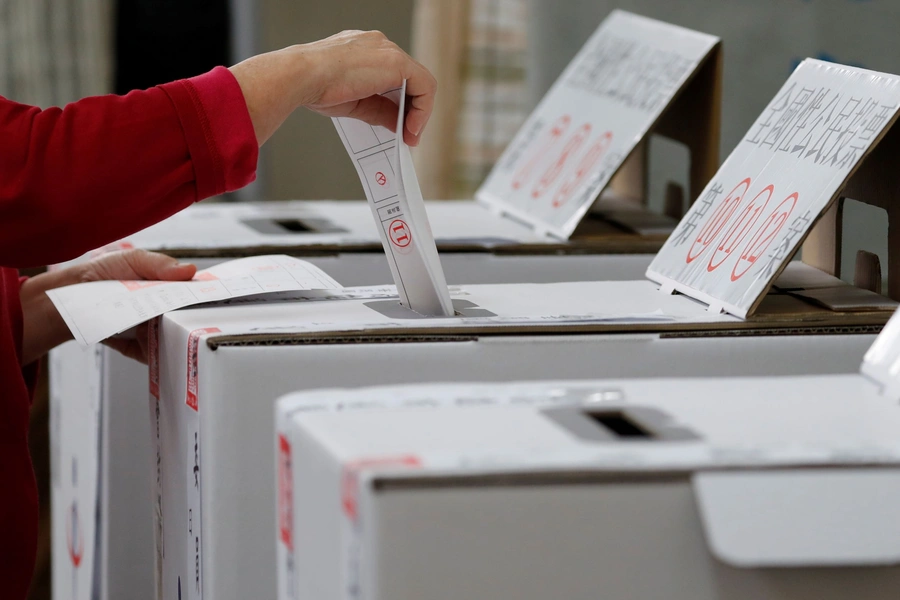 Taiwanese civil society is gearing up to fight another election disinformation battle with China, or the People's Republic of China (PRC). This November, when Americans choose their representatives in the U.S. Congress, Taiwanese citizens will also come forward to vote for a wide variety of local officials ranging from city mayors to village chiefs. Taiwan's local elections have gradually become China's testing ground for techniques to disrupt the democratic process through internet disinformation.
Outside observers are often aware of Chinese attempts to influence Taiwan's presidential elections. However, Taiwanese civil society activists such as Ttcat, co-founder of Doublethink Lab (a digital defense NGO and this author's institution), identify the island's local elections as being far more significant targets for China's disinformation efforts. With Taiwanese voters set to elect candidates to fill over 10,000 offices, the information space is fragmented, which gives China greater scope to spread rumors and conspiracy theories through local communities. China also capitalizes on Taiwanese citizens' lack of attention toward cross-strait relations in local votes. Chinese actors can intervene on behalf of candidates who espouse the value of closer economic ties with China, without these candidates suffering from fatal accusations that they will cede sovereignty to China. Elected candidates, especially city mayors, are then placed in prominent positions to challenge in the national and presidential elections held a year later. 
In the last local elections of 2018, China executed the playbook perfectly to promote the election of pro-China candidate Han Kuo-yu in Taiwan's second-largest city, Kaohsiung. The election of the pro-China Han was stunning in a city that had not chosena candidate of his Kuomintang party for twenty years. The result followed an extraordinary level of social media engagement around Han's campaign. In the months after his election as Kaohsiung mayor, the journalist Paul Huang discovered networks of Facebook accounts that had coordinated mass online groups channeling disinformation to Kaohsiung voters. The groups' creators were paired with inauthentic LinkedIn profiles belonging to mainland Chinese and signaled a professional Chinese influence operation. In spite of these accusations of Chinese support, Han's electoral victory springboarded him to be nominated in the 2020 presidential election to challenge incumbent Tsai Ing-wen. Han led the polls as he advocated for economic and cultural alignment with China but was derailed when Beijing cracked down on democracy activists in Hong Kong in 2019. Han's loss evinces a contradiction in China's interference operations; if Beijing makes domestic or foreign policy decisions that are unacceptable to democratic polities, Chinese-backed democratic candidates will founder on pro-China platforms no matter Beijing's support. Since the 2020 presidential election, Han Kuo-yu has disappeared from the political limelight, but his online support base remains and is able to mobilize disinformation and information manipulation tactics. 
Activists in Taiwan are braced for renewed Chinese efforts to interfere in the November local elections. Doublethink Lab has detected campaigns by Chinese actors to polarize Taiwanese society using false narratives regarding the origins of COVID-19 and incumbent government efforts to manipulate case statistics. Chinese-led disinformation campaigns are increasingly relying on YouTube as a medium for dissemination, the analysis of which calls for human coding at a scale that most watchdogs cannot presently muster. In advance of the November elections, Taiwanese society remains deeply polarized. Research by Huang Chi and Kuo Tzu-Ching fascinatingly uncovers that, while Taiwanese voters do not in reality differ much in their policy preferences regarding cross-Strait relations, they crucially perceive opposition party voters to hold vastly different attitudes. This form of polarization is arguably more dangerous, as it renders voters unable to contemplate an opposition party government and illustrates the success of disinformation in obscuring truth. Observers are anticipating whether Chinese actors will perpetuate a polarization strategy before the election or break in favor of a Taiwanese candidate who advocates China-friendly policies. 
Taiwanese civil society has not shied from Chinese internet interference and has initiated a wide set of counter-initiatives in advance of the local election. Doublethink Lab has established a monitoring hub using AI and human arbiters to detect Chinese information operations before they reach the mainstream and will publish analyses of new Chinese disinformation strategies. Cofacts, MyGoPen, and the Taiwan Factcheck Center have built factcheck tools that tag disinformation as it moves through the internet. The civil society groups Fake News Cleanser and Kuma Academy run workshops to train citizens in media literacy and detecting manipulated information. While these groups offer an obstacle to Chinese interference, they also signal how deeply consolidated Taiwanese democracy has become. Furthermore, they fill a role that the government cannot: the arbitration of truth against falsehood. If disinformation can be overcome through civic activism, a problem that has so far confounded democracy can be solved in the most democratic of ways. In doing so, Taiwan can become a model for an entire digitized world battling disinformation.
Ben Sando is a research fellow at Doublethink Lab and an Asian studies MA student at Georgetown University.