Time for a Comprehensive, Proactive North Korea Policy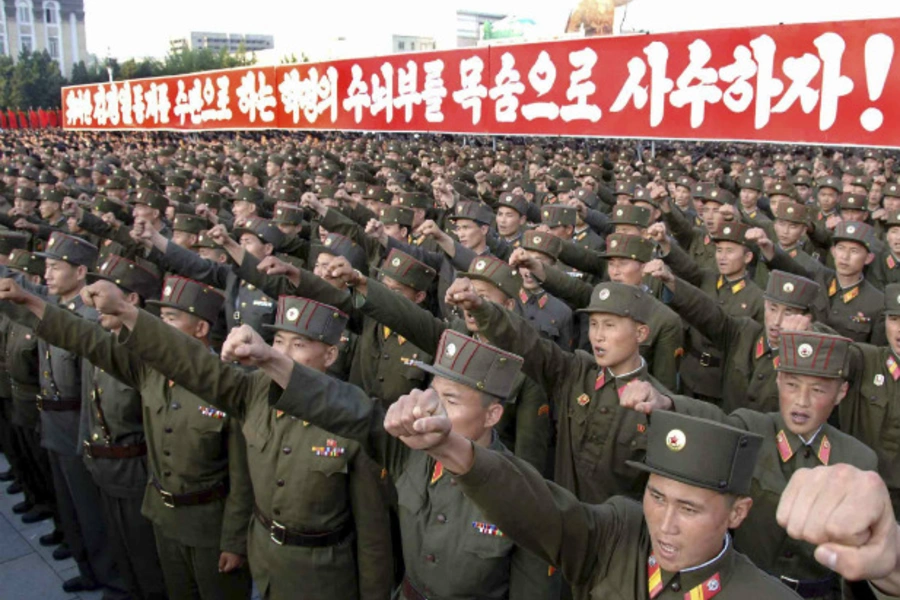 Jack Pritchard was the President of the Korea Economic Institute and was formerly ambassador and special envoy for negotiations with North Korea.
Last year I was privileged to co-chair the Council on Foreign Relations Independent Task Force Report U.S. Policy Toward the Korean Peninsula. One of the Task Force's observations was that there was "significant risk that [the administration's] 'strategic patience' will result in acquiescence to North Korea's nuclear status as a fait accompli." Several months have transpired since the report was published in June 2010 and "strategic patience" continues.
That is not to imply that U.S. policy should change in reaction to bad behavior by North Korea, but rather it is meant to suggest that we need an active policy to prevent proliferation and move us closer to denuclearization.
The administration's "at-arms'-length" approach to North Korea, along with its emphasis on solidarity with Seoul and insistence that Pyongyang first improve relations with South Korea, served an initial useful purpose. However, there is a point when this approach begins to be counterproductive to the ultimate goals of denuclearization and nonproliferation.
Certainly, the administration should continue close consultations with Seoul. The benefit to the alliance as a whole has been remarkable, but it is time for the administration to put forth a proactive North Korea policy.
For its part, North Korea has expressed its willingness to return to talks (under gentle pressure from Beijing), but insists that the agenda should be refocused on the "root cause" of the nuclear problem–U.S. hostility towards Pyongyang. Because of the Kim regime's narrow focus on promoting nationalism in support of eventual succession, actual denuclearization is off the table. This is a formula for continued stalemate.
If U.S. policy remains on the current course, there is little potential that our security concerns will be resolved and every chance that North Korea will drift toward de facto nuclear weapons state status.
This calls for a comprehensive, proactive policy toward North Korea. This is best done by articulating an objective of absolute denuclearization of North Korea using the robust application of United Nations Security Council Resolution 1874 as a means of shaping Pyongyang's security environment. That requires continuous engagement with Beijing to ensure that it does not deviate from our common objective of denuclearization and that it willingly applies reasonable and sufficient leverage on Pyongyang.
Once the basics are in place, the United States should actively engage North Koreans on a host of issues for which we and they have concerns. These issues roughly fall into four broad categories: humanitarian, security, confidence building, and economic.
Specifically, in the humanitarian area, Washington, DC, should open up a distinct dialogue on medical requirements such as tuberculosis management and family reunions between Korean-Americans and North Korean relatives separated by the Korean War. A discussion on best agricultural practices along with sponsorship of student educational opportunities would go a long way in addressing chronic North Korean problems associated with its self-imposed isolation and contribute to the promotion of positive external influences. A corollary discussion on disaster prevention and the development of a regional response package led by the Red Cross would assist in minimizing the impact of natural and man-made disasters on the welfare of the North Korean people.
As for security concerns, engaging Pyongyang on its long-range missile program will not be easy. More than ten years have elapsed since the last serious discussion on this critical issue was held. Pyongyang has used the desire to orbit a satellite as a rationale for its recent missile tests. A permutation of an idea that may have originated in a Putin-Kim Jong-il meeting in the summer of 2000, based on which other countries would deliver North Korean satellites in exchange for a permanent moratorium on its testing and fielding of long-range missiles, needs to be reexamined as a potential starting point.
Likewise, the nuclear fuel cycle discussion that is gaining ground elsewhere needs to be imported into a North Korean context. North Korea is building an experimental light water reactor, which, if successful, could lead to larger, full-scale reactors that rely on the fuel from the recently revealed uranium enrichment facility. The administration is concerned that North Korea has a secret, highly enriched uranium facility capable of producing bomb-grade enriched uranium, and that the claimed low enriched uranium facility may also morph into a nuclear weapons related facility. Bringing North Korea into the fuel cycle dialogue is the best way to guard against this latter concern and would perhaps open the door to discussing Pyongyang's highly enriched uranium program.
With regard to confidence building, we should begin a preliminary four party dialogue, involving North Korea, China, South Korea and the United States, on replacing the current armistice with a more permanent peace arrangement. The precedent for this was the original four party peace talks more than a decade ago that had just such a goal. The primary benefit of the discussion would be to lay the groundwork for what both the south and north require before moving to an appropriate time and venue to negotiate an actual peace treaty.
On the economic front, a serious survey of North Korea's energy capacity is a necessary starting point to establish what types of energy assistance other parties could provide should there ever be the kind of progress in denuclearization talks that would warrant assistance. The precedence and promise of energy assistance is well established. What is lacking is a current forum to ensure that the best empirical data is available for parties to make the right choices.
Finally, in anticipation of eventual success in denuclearizing North Korea and as a tangible incentive to Pyongyang, a dialogue on practical foreign direct investments in North Korea needs to get underway. Sectors for promising joint ventures need to be identified, rules clarified, and limits understood.
In all, there are over ten specific areas where we can begin work with North Korea that reinforces the positive and gives Pyongyang the impetus for seriously weighing the advantages of making the decision to get rid of its nuclear weapons program. These efforts to more deeply integrate North Korea into the regional and global community are in the mutual long-term interest of both Korea and the United States. As long as the basic framework of full application of UN Security Council Resolution 1874 is in force, this approach would not run the risk of creating non-humanitarian safety valves which would unduly delay Pyongyang's ultimate decision to eliminate its nuclear weapons program.