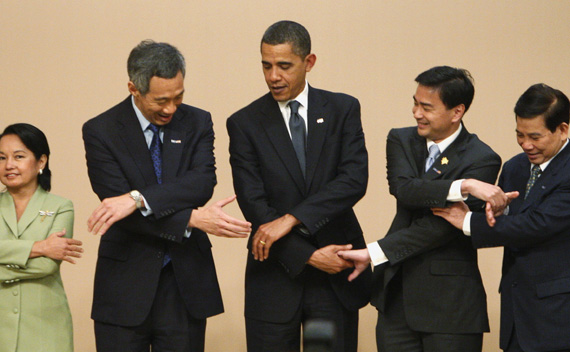 "How Obama Lost His Asian Friends" is the clever title of my colleague Josh Kurlantzick's cover story in this week's Newsweek. The catchy title and the thrust of the article, however, don't do full justice to the Obama administration's efforts in the region or, more importantly, the reality of the situation on the ground. We have room to improve, but the United States and President Obama remain the most desired dance partners for virtually every country in the region…or at least for those with democratically- (or nominally democratically-) elected regimes.
Right off the top, Josh's handwringing over the negative perceptions of the United States throughout the region seems misplaced. The 2010 Pew Research Center polling data reports the United States garnering a 66 percent favorability rating in India, 66 percent in Japan, and a whopping 79 percent in South Korea, reflecting, perhaps, the close relationship between Presidents Obama and Lee. Even Indonesia, where as Josh rightly points out the President has squandered significant good will by cancelling his state visit three times, offers up a 59 percent approval rating.
Josh also elects to see the glass as half-empty, rather than as half-full. He acknowledges the President's accomplishments, but he wants more. Although the Treaty of Amity and Cooperation in Southeast Asia is signed, the Trans-Pacific Partnership is underway, and the South Korea-U.S. Free Trade Agreement is moving forward, Josh argues that there is little of substance in these partnerships. Fair enough. But one could as easily point out that these initiatives have languished for years and yet the Obama administration has made progress on all within the first eighteen months.
My real disagreement with Josh, however, probably comes from his analysis of where China fits into all of this. He criticizes the Obama administration for ignoring China's "central concerns" and "alienating their leaders," then suggests that the administration's "conciliatory policy" toward Beijing has "alienated America's Asian friends, like India and Singapore." Josh concludes by arguing that our policy is "nudging these countries closer to Beijing."
Josh seems to want to have it every which way, and yet I think none of it fairly reflects the situation. The Obama administration began with an extremely conciliatory policy and then reversed course when Beijing failed to reciprocate. And are we really worried about China being more popular than we are? Back to the Pew polls: China's 2010 rankings suggest its soft power needs a rethink. Its favorability rating stands at 34 percent in India, 26 percent in Japan, and 38 percent in South Korea. Only in Indonesia, at 58 percent, does China poll nearly even with the United States. Now, if the United States had polled as poorly, I think Josh would be right on target.
Josh's piece raises some important alarm bells. When we make promises, we need to keep them. And when we start something, we need to finish it. In the end, however, I think that Josh's analysis of where the President has fallen short falls short itself.