Trump-Kim DMZ Meeting: Is Kim Jong-un Foil, Friend, or Foe?
Without proper preparations, what can a handshake at the DMZ deliver?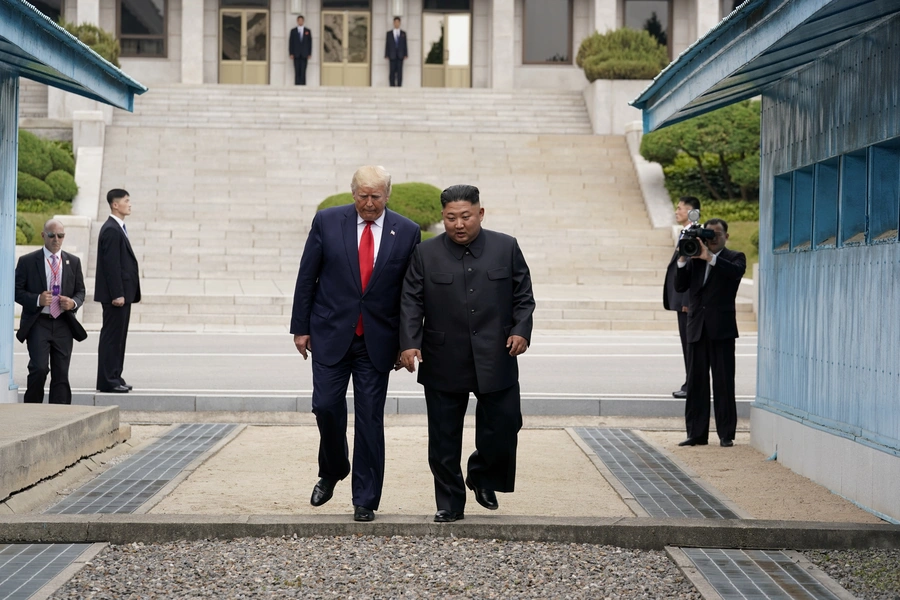 Only four short months after President Donald Trump and North Korean State Affairs Commission Chairman Kim Jong-un parted on civil terms following a no-deal summit in Hanoi, Trump tweeted an invitation to Kim to shake hands at the Demilitarized Zone (DMZ) dividing North and South Korea during Trump's visit to South Korea. An exchange of letters has kept the Trump-Kim relationship alive, but working-level contacts remain stalemated. Without proper preparations, what can a handshake at the DMZ deliver beyond a unique photo op?
Trump Sees Kim Jong-un as a Foil, not a Foe
Trump's offer demonstrates that he sees political value in maintaining the drama of the relationship with Kim as a foil. For Trump, Kim delivers an archetypal relationship that translates directly from his World Wrestling Entertainment days straight into the world of international relations. The relationship is valuable regardless of what it accomplishes because it keeps people interested in the plot line: Will Trump win over Kim to a big deal on denuclearization? What makes the Trump-Kim relationship click? What would happen if Kim gets on Trump's bad side again? The danger of the Trump-Kim relationship plot line is that Trump may value the drama of the relationship or make a bad deal rather than a deal that achieves the goal of a denuclearized North Korea.
Kim Jong-un has warmed to his role as Trump's pen pal and foil because he is reaping enormous gains from a relationship that bolsters Kim's legitimacy and normalizes him as an international leader. Every Trump-Kim meeting distracts from Kim's reputation for ruthlessness, demands for unquestioning political loyalty, and subjugation of his population, while taking North Korea one step closer to acceptance as a nuclear state.
But Kim's normalization to the outside world and his meetings with Moon and now possibly Trump at the DMZ may come at a hidden cost to Kim. When Kim Jong-un dramatically walked down the steps at Panmunjom to meet South Korea's President Moon Jae-in at the military demarcation line marking the border between North and South Korea in April of 2018, it conjured images of Zeus descending to earth from Mount Olympus, in the sense that a ruler treated as a god in his own kingdom becomes just another human being in an earthly environment that he cannot fully control. The gods rarely benefited in Greek mythology from their interactions with humans. Meeting with Trump normalizes Kim Jong-un, but it also humanizes Kim Jong-un.
Getting Working-Level Talks on Track
Beyond the drama of the Trump-Kim bromance, a DMZ meeting provides an opportunity for both leaders to kick-start the working level negotiations necessary to get a peace-and-denuclearization deal done. Working-level contacts between government officials are critically important in ensuring that North Korea is on a path to denuclearization and that North Korea receives the commensurate assurances it seeks that the United States is abandoning hostility in favor of a new relationship. U.S. Special Representative to North Korea Steven Biegun stated last week at the Atlantic Council that both sides understand the need for a flexible approach to successfully move forward the relationship.
The devil is truly in the details and those details cannot realistically be negotiated by Trump and Kim themselves without support from specialists inside both governments. Resumption of working-level negotiations will be an intensive and time-consuming process requiring meetings and many years of technical cooperation to move forward steadily to build cooperation, transparency and verification necessary to build trust between the two governments.
Kim Jong-un has shown a willingness to talk about the objective of complete denuclearization with Trump and other leaders, but he has not yet authorized the kinds of interactions by his government that would be necessary to achieve that goal. Nor have both sides yet agreed on the scope of denuclearization that would be necessary to start such a process. The Hanoi meetings failed to reach an agreement, but they provided clarity regarding the size of the gaps between the two sides and what would be required to close those gaps.
A Trump-Kim handshake at the DMZ will only have significance if it succeeds in starting detailed negotiations that have eluded both sides following Singapore and Hanoi. Otherwise, the Trump-Kim relationship drama may titillate, but if not fully exploited it will lose its value and impact as an instrument by which to actually achieve the goal of Korean denuclearization.
This post originally appeared on Forbes.