Unanswered Questions About Slaughter of Nigerian University Students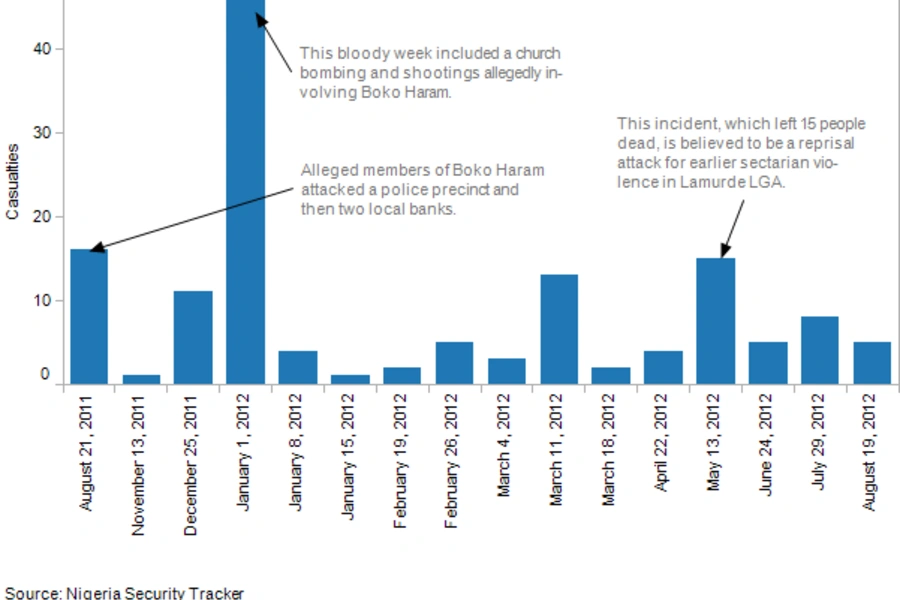 There are more questions than answers about the atrocious murder of university students at Mubi in Adamawa state, northeastern Nigeria, on October 1, independence day. Even the number of victims is unclear, with estimates ranging from twenty-five to forty. Some apparently were shot, others butchered with knives, and mangled corpses were displayed along walls. Some victims were Christians, some Muslims. The Nigerian press reports that the murderers were dressed in military uniforms and called their victims by name. No organization has claimed responsibility for the slaughter. Boko Haram, the radical Islamic movement that is waging war on the Nigerian state, has been active in Adamawa–it destroyed communications towers there recently. But there has been no comment from any of its purported spokesmen.
Some of the Nigerian press speculates that, nevertheless, Boko Haram must have been behind the attack. The Nigerian military launched a crackdown on Boko Haram in Mubi last week, arresting 156 suspected members. Could the murders be retaliation? Other press, including the New York Times, suggest the context for the killings may have been a bitterly contested student election at one of the universities that pitted southern, Igbo candidates against northern candidates. (The former presumably were Christians while the latter may have been mostly Muslim.) There is a history of pogroms against Igbos in the northern half of the country—one was a precipitating factor to the outbreak of the civil war in 1967. Mubi was under a curfew at the time of the murders; under those circumstances, the military dress would have facilitated the murders' movement. The uniforms also raise the question of whether some of the security forces may have been complicit in the murders.
As the graph above shows, violence in Adamawa has been ongoing. However, there has been virtually no reporting of it in the Western press until now. The state's population is evenly divided among Christians and Muslims. Historically, Adamawa has not been a center of ethnic and religious conflict. Adamawa is not a Sharia state. It is not clear to me why the levels of violence have spiked periodically since Christmas 2011.
Three institutions are based in Mubi, which is near the Cameroonian border: the Federal Polytechnic, the School of Health Technology, and Adamawa State University. The murders took place at a privately-constructed student hostel occupied by students from all three. It is likely that the residence included students from all over Nigeria.
In the aftermath of the killings, the Federal Polytechnic has been closed and examinations postponed. There have been wholesale student departures from Mubi.
According to the Nigerian press, a government spokesman urged residents not to panic, and said that President Goodluck Jonathan "was doing enough to checkmate terrorism." Nevertheless, the Mubi atrocity will feed a popular perception that the government can no longer ensure security in large parts of the country.