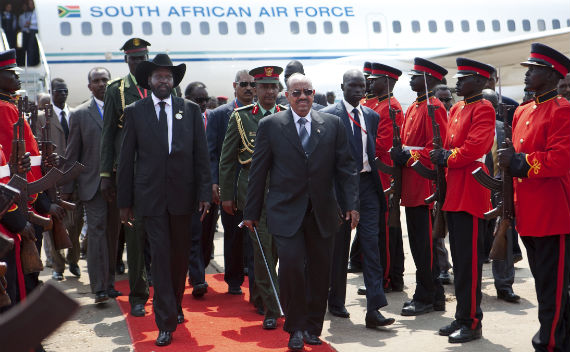 I recently received a request for some reading recommendations on Sudan and South Sudan. The literature is massive, so I thought I would share some resources I've found personally helpful in illuminating and demystifying a highly complex African conflict. Here, I focus on north-south relations, oil, Darfur, Khartoum politics, and the conflicts in Abyei and South Kordofan.
Sudan: Assessing Risks to Stability (PDF), (Center for Strategic and International Studies)
Authors Richard Downie and Brian Kennedy provide a comprehensive analysis of "key stress points" challenging stability in Sudan and South Sudan within a historical context.
South Sudan Country Profile (The Fund for Peace)
This is a brief country assessment outlining basic statistics and various improvements and challenges to watch in bullet form.
Darfur in the Shadows (Human Rights Watch)
Human Rights Watch documents rising insecurity in Darfur, a region that has largely been forgotten by the western media in light of the euphoria around the South Sudan independence referendum and the conflicts in Abyei and South Kordofan.
Divisions in Sudan's Ruling Party and the Threat to the Country's Stability (International Crisis Group)
As the title implies, this ICG report provides an analysis of the often underreported divisions within the Sudan president Omar al-Bashir's National Congress Party and how those may contribute to instability.
The Politics of Resources, Resistance and Peripheries in Sudan (South African Institute of International Affairs)
Author Petrus de Kock goes deeper into Sudan and South Sudan's many localized conflicts, rooted at least partially in competition not only for oil but subsistence resources, that often escape the attention of western media.
Negotiating Peace in Sudan (the Cairo Review of Global Affairs)
United States Special Envoy to Sudan Princeton Lyman writes about the difficult process that led to the 2005 Comprehensive Peace Agreement and the unresolved challenges.
A few organizations and websites with extensive resources:
Enough: The Project to End Genocide and Crimes Against Humanity
Sudan Human Security Baseline Assessment
Finally, I did a few brief video interviews available online:
http://www.youtube.com/watch?v=Ow96-qXZ-iM&
http://www.youtube.com/watch?v=OU1Nmmgm0sA