The United States Air Force Celebrates Its 70th Birthday Today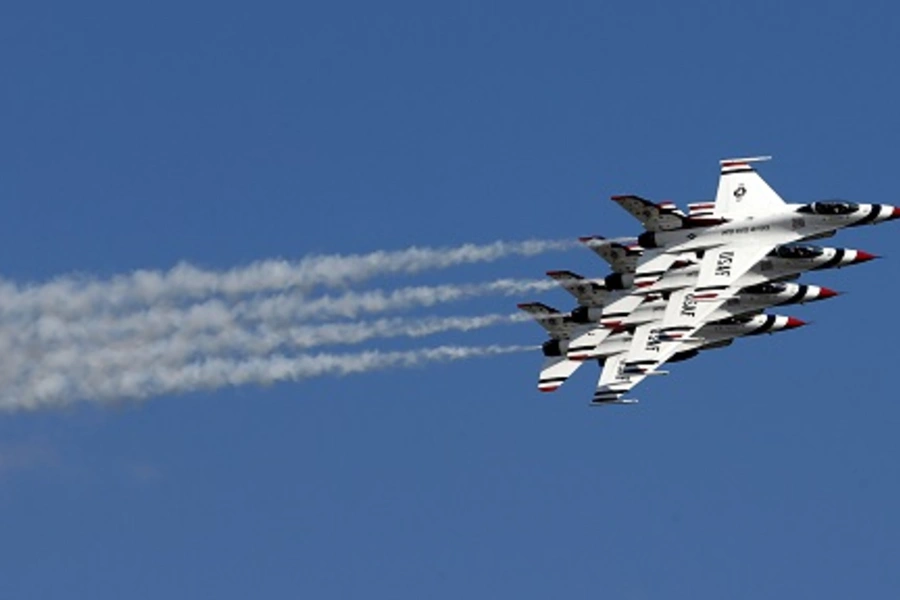 The United States Air Force (USAF) turns 70 years-old today. On September 18, 1947, Chief Justice Fred Vinson swore in Stuart Symington as the first secretary of the air force, officially founding a new branch of the U.S. military. Gen. Carl A. Spaatz became the USAF's first chief of staff eight days later on September 26, 1947.
The origins of the USAF lie in a decision made just four years after the Wright Brothers conducted the world's first airplane flight at Kitty Hawk, North Carolina. In 1907, the U.S. Army Signal Corps created an Aeronautical Division and put it in "charge of all matters pertaining to military ballooning, air machines and all kindred subjects." As aviation technology improved, the army's air force grew bigger. An independent military arm became virtually inevitable after the Army Air Forces became an autonomous U.S. Army Command in 1942 and then grew substantially throughout the remainder of World War II. On July 26, 1947, President Harry Truman signed the National Security Act of 1947 on board the presidential aircraft, the Sacred Cow, and set the creation of the USAF in motion.
I asked Col. George "Marty" Reynolds, an air force officer spending a year as a visiting military fellow in CFR's David Rockefeller Studies Program, to recommend some reading for people hoping to learn more about the air force. He reminded me that the theme for this year's birthday commemorations is "Breaking Barriers." Here are Col. Reynolds' great suggestions and commentary, highlighting what he calls "barrier-breaking moments and leaders" of the air force.
David McCullough, The Wright Brothers (2016). "This story goes straight to our roots—the two original airmen who relentlessly pursued flight. Most of us just know the names, but this is a powerful story that shows us how they overcame countless obstacles and naysayers to realize their dreams. Their unmatched courage and determination were essential qualities that we'll need in every airman to meet our nation's obligations in a changing world."
John Andreas Olsen, Airpower Reborn (2015): "Airpower has changed the way we fight—offering our nation's leaders options for delivering effects around the globe on short order. We must continue to evolve how we generate and employ airpower across the spectrum of conflict. This book offers an array of perspectives and theories on airpower, and will promote critical thought and dialogue among our Airmen as they mold our air force for the future."
Ben R. Rich and Leo Janos, Skunk Works (1996): "Innovation has always been a keystone of the U.S. military, and nowhere is this more apparent than the evolution of stealth aircraft technology. A staunch partnership between the air force and our industry partners started with a bold quest—make an attack aircraft with the radar cross section of a marble. Today, we have unmatched 5th generation fighters, and our B-21 Raider will take stealth into the next century. We must get comfortable thinking outside the box and innovating daily—this book sets the tone."
Phillip S. Meilinger, Hoyt S. Vandenberg: The Life of a General (1989): "As one of the early leaders of the U.S. Air Force, Hoyt S. Vandenberg's influence and leadership were instrumental during the formation of SAC, creation of an independent air force, supporting the Berlin Airlift, development of the hydrogen bomb and fighting in the Korean War. As the second youngest 4-star general in American history, General Vandenberg was an image of 'youth, vigor and good looks.' In fact, 'Marilyn Monroe named him as one of three men with whom she would most like to stranded on a desert island; the others were Joe Dimaggio and Albert Einstein.' He was humble, dedicated to his family and had a gift for influencing those around him. As an example, he once silently wore the new enlisted uniform while a colonel provided prepared remarks to the Senate Armed Services Committee. The colonel stressed that the new officer and enlist uniforms were nearly identical, then introduced the man behind him wearing the enlisted uniform, General Vandenberg. After a stunned silence, the senators rose and began to cheer. Not only were the uniforms approved, but General Vandenberg's relationship with Congress was solidified. If we want to better understand the formation of our independent service 70 years ago, General Vandenberg's biography is a rich resource and a colorful story."
Col. Reynolds also recommended three films to watch:
October Sky (1999): "Set in a West Virginian coal mining village in 1957, an unlikely group of high schoolers are inspired by the launch of the Sputnik satellite. With an idea and innovative spirit, the team sets the goal of building a rocket. Despite a series of setbacks, tough family circumstances, and naysayers, the team presses on towards their goal. The best part—it's all true. Homer goes on to a work as a NASA engineer on projects including the Hubble Space Telescope and the International Space Station. This feel‐good story of innovation and a drive for success is nothing short of inspiring."
Return with Honor: The American Experience (1998): "Return with Honor tells the story of American pilots shot down over North Vietnam and their challenge to survive with honor as prisoners of war. A tribute to heroism, endurance, and brotherhood under duress, this documentary film recalls their transformation from top-gun aviators to captives—it is a universal story of honor and duty."
Inside Combat Rescue (2013): "The elite Combat Rescue members of the U.S. Air Force, Pararescuemen or PJs, have one mission: rescue American or Allied forces in extreme danger. Whether their targets are shot down or isolated behind enemy lines, surrounded, engaged, wounded, or captured by the enemy, PJs will do whatever necessary to bring those in peril home. For the first time in their history, the PJs allow camera crews to cover their missions in Afghanistan. Inside Combat Rescue is the story of the lives of these elite Airmen."
If that's not enough air force material for you, Col. Reynolds also suggested that you check out the Chief of Staff of the Air Force's Professional Reading List. You can learn even more about the history of the USAF online through the Air Force Historical Support Division.
A tip of the TWE cap to all the men and women who have worn the uniform of the USAF.
Corey Cooper assisted in the preparation of this post.