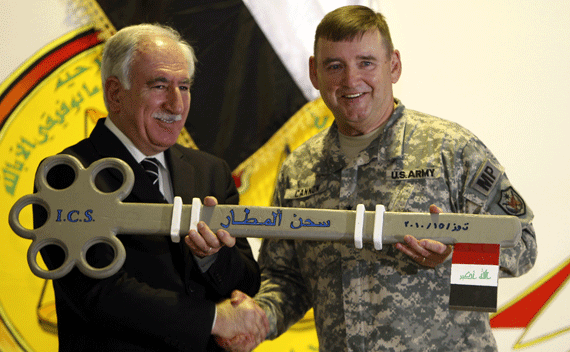 President Obama announced today that all U.S. troops will be out of Iraq by year's end. To everyone who thinks presidential candidates don't keep their promises, consider this a counterexample. Obama vowed in 2008 to bring U.S. troops home from Iraq. Promise kept.
This is not to say that Obama is necessarily happy to have kept his promise so soon. Had political winds been blowing differently in Baghdad several thousand U.S. troops would be staying on past year's end. The White House, the Pentagon, and many Iraqis wanted several thousand U.S. troops to remain behind to continue training the Iraqi military and to help keep the peace. But some Iraqis, led by Muqtada al-Sadr, threatened violence if all U.S. troops didn't leave Iraq as scheduled by December 31. Sadr carried the day. Once Iraqi leaders announced earlier this month that U.S. troops who stayed in Iraq beyond the end of the year would not be granted immunity from Iraqi law, a total U.S. troop departure was inevitable. The United States was never going to put American soldiers in a position where they could be tried by local courts.
The president's announcement presumably didn't come soon enough for Ron Paul. The other Republican presidential candidates, however, aren't applauding the announcement. Mitt Romney issued a statement declaring:
President Obama's astonishing failure to secure an orderly transition in Iraq has unnecessarily put at risk the victories that were won through the blood and sacrifice of thousands of American men and women. The unavoidable question is whether this decision is the result of a naked political calculation or simply sheer ineptitude in negotiations with the Iraqi government. The American people deserve to hear the recommendations that were made by our military commanders in Iraq.
Jon Huntsman congratulated "our brave men and women in uniform" but otherwise hit the same theme:
President Obama's decision, however, to not leave a small, focused presence in Iraq is a mistake and the product of his administration's failures. The president's inability to reach a security agreement leaves Iraq vulnerable to backsliding, thus putting our interests in the region at risk. An ideal arrangement would have left a small troop presence that could have assisted with the training of Iraqi security forces and vital counter-terror efforts."
Michele Bachmann upped the ante by calling for Iraq to reimburse the United States for its liberation:
President Obama's decision represents the end of the era of America's influence in Iraq and the strengthening of Iran's influence in Iraq with no plan to counter that influence. We have been ejected from a country by the people that we liberated and that the United States paid for with precious blood and treasure. The administration claims that we got exactly what we needed, but today's announcement demonstrates otherwise. The United States needed a working democratic partnership in Iraq and we should have demanded that Iraq repay the full cost of liberating them given their rich oil revenues. I call on the president to return to the negotiating table with Iraq and lead from the front and not from weakness in Iraq and in the world.
Herman Cain hedged a bit and repeated his long-standing refrain that he would have sought the Pentagon's advice:
Whether or not it's the right thing to do, I would consult with the commanders. The thing I wouldn't do that the president is doing is telling the enemy how many troops you're going to bring out and when you are going to bring them out. I don't think that's a good strategy…I believe our time there was worth it...But I would not have announced this big draw down, tell the enemy so they are going to basically position themselves."
What none of the GOP candidates mentioned is that the Status of Forces Agreement (SOFA) that called on the United States to remove all of its troops from Iraq by December 31, 2011 was negotiated by President George W. Bush in 2008 and not by Obama.
It will be interesting to see how the Iraq withdrawal plays politically here at home. Polls taken over the past year show that two out of three Americans favor getting out of Iraq by year's end. Not surprisingly, though, Republicans are more supportive of staying on. And those are the votes that GOP candidates Romney, Huntsman, Bachmann and Cain are competing for.
It will be even more interesting if the Iraqis turn around and invite American troops back in. Sadr said just  this week that he would not oppose U.S. military trainers returning after the complete withdrawal was carried out and the U.S. paid "compensation." That's not quite what Michele Bachmann has in mind.