Venezuela's Capriles Radonski Wins Primary, Looks toward October Election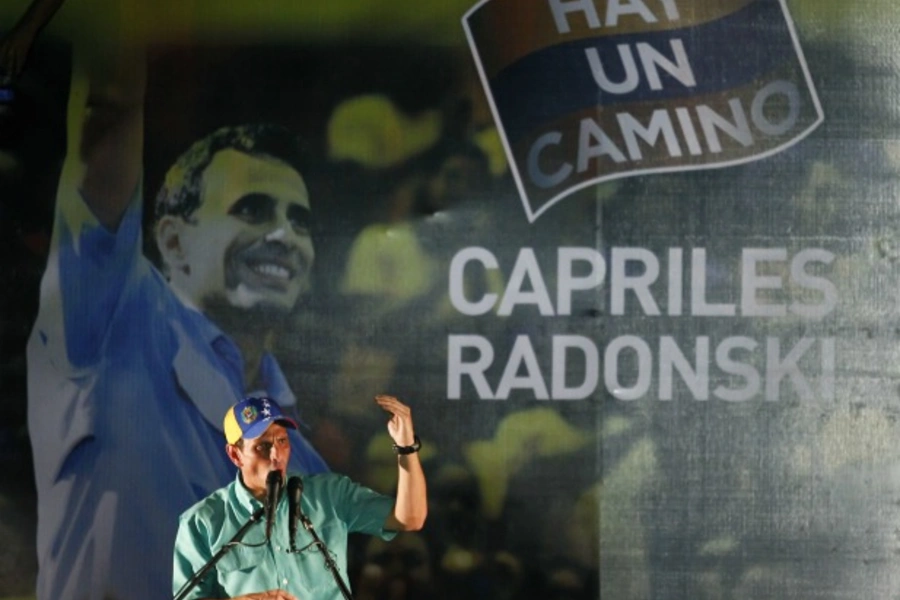 Things are heating up in the two presidential races facing Latin America this year. On the heels of Josefina Vázquez Mota's victory in the PAN party primary last week, on Sunday Venezuela hosted yet another historic vote. For the first time since Chávez won the presidency 1999, the opposition united, giving Venezuelans the chance to choose a single candidate to run in the general election this October against Chávez. And vote they did. Nearly 3 million ballots were cast in a massive turnout,  which is particularly impressive given that many (particularly those with public sector jobs) fear even being seen in line to vote, as it would paint them as opposition sympathizers, perhaps costing them their jobs.
Longstanding front-runner Henrique Capriles Radonski won the contest by a convincing margin, taking 62 percent of the vote to Pablo Perez's 29 percent. The 39-year-old Governor of Venezuela's second largest state (Miranda) told a boisterous crowd of followers last night, "We came to build a distinct future, we came to build a future for all Venezuelans. Now is not the hour of left nor right; it is the hour of Venezuela, of all Venezuelans."
Capriles Radonski – and the opposition more generally – seem to have learned a few important lessons after 12 plus years out in the cold. Most importantly, they have come around to the need to come together in order to take on a dominating incumbent. In the past, divisions and infighting stymied the opposition at least as much as Chávez's electoral machinations. They have also learned the payoff of appealing to the center, and competing with rather than condemning the social programs and public works projects that appeal to the poor – an estimated 30 percent of this oil rich country. Capriles Radonski in particular does this well, donning the "Lula" mantle and advocating policies to spur inclusive economic growth, benefitting Venezuelans rich and poor.
The opposition looks to focus on issues of escalating crime, stagnant growth and rising inflation. But even with this momentum, Chávez will still be hard to beat. Polls show him with just over 50 percent popularity, and diehard support of a third of the population. He also dominates the radio and television airwaves, and has billions at his disposal to spend on campaigning – high world oil prices favor the government. Still, his health remains an issue, calling into question whether he can meet the rigors of the campaign trail, particularly vis-à-vis the energetic Capriles. But despite the uneven playing field, the opening start suggests a close (and closely watched) election season.