This Week: Egypt's Likely New President, Arab League Paralysis, and Turkish-Syrian Fighting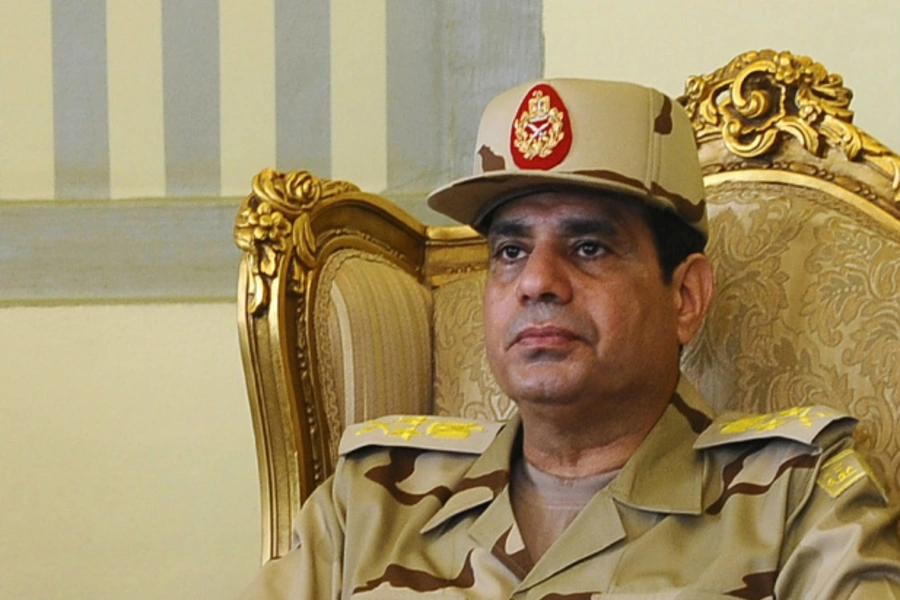 Significant Developments
Egypt. Field Marshal and Defense Minister Abdel Fattah al-Sisi yesterday resigned from the military and announced his candidacy for president. Ibrahim Munir, a member of the political bureau of the Muslim Brotherhood, declared in response to the announcement that al-Sisi is "a man who has killed daily since the coup" and that "there can be no stability or security under the shadow of Abdel Fattah al-Sisi in the presidency." The move comes just days before nominations are scheduled to begin on Sunday. Thus far only one other candidate, Hamdeen Sabbahi who came in third in the 2012 presidential election, has declared his intention to enter the race.
Meanwhile, protests erupted across Egypt yesterday against the mass trials earlier this week of Morsi supporter. On Monday, an Egyptian court sentenced 529 people to death in the largest mass death sentencing in Egypt's history, followed the next day by the beginning of a second mass trial of 682 alleged Muslim Brotherhood supporters, including Muslim Brotherhood supreme guide Mohamed Badie. Yesterday, Egypt's chief prosecutor ordered two new mass trials for 919 suspected Morsi supporters. U.S. secretary of state John Kerry expressed his concern yesterday saying that he is "deeply, deeply troubled" and that anything short of a reversal of the ruling would "dishonor the bravery of all who sacrificed their lives for democratic values."
Arab League. A two-day summit of Arab leaders concluded in Kuwait yesterday without issuing a final communiqué. However, a closing declaration was read, rejecting recognizing Israel as a Jewish state and calling for a Syrian political settlement. The conference barely masked increasingly deepening differences, particularly among Gulf countries, over how to deal with Islamists in the region. Tensions were particularly acute over Qatar's support of Egyptian Muslim Brotherhood and Saudi Arabia's position on the Syrian conflict. One diplomat noted that, "Behind closed doors there is tension, but it's all under the table, no confrontation was made ([in public]."
Turkey-Syria. Turkish foreign minister Ahmet Davutoglu warned this Wednesday that threats against Turkish national security will be met by military action, including possible cross-border operations. The warning came several days after the Turkish military shot down a Syrian fighter plane that had allegedly entered the country's airspace on Sunday. The downing was announced by Erdogan at a political campaign rally that same afternoon, leading to a further escalation of tensions between the Syrian regime and the Turkish government. Meanwhile, an Ankara administrative court overturned a ban on Twitter yesterday that the government imposed last week.
U.S. Foreign Policy
Saudi Arabia. President Obama will meet King Abdullah in Riyadh on Friday in what has been described as an attempt to reassure the monarchy following U.S. efforts to strike a deal with Iran. Last week, Deputy National Security Adviser Ben Rhodes described the visit as "an important opportunity to invest in one of our most important relationships in the Middle East." Obama and Abdullah are expected to discuss U.S. support for Gulf security, support for the Syrian opposition, the peace process, and Iran.
Israel-Palestine. Secretary of State John Kerry met with Palestinian president Mahmoud Abbas for a four hour working dinner last night in Amman in an attempt to keep the peace process alive. The sudden visit comes at a critical point in Israeli-Palestinian negotiations and over an expected release of Palestinian prisoners. Israel is scheduled to release the final tranche of prisoners tomorrow, however, key leadership figures in the Israeli government have protested against the last release claiming that the Palestinian have not followed through on their commitment to nine months of negotiations.
While We Were Looking Elsewhere
Syria. The New York Times reported on Tuesday that CIA director John Brennan recently told a House panel that he is concerned that al-Qaeda operatives and planners from Pakistan and Afghanistan are trying to set up launching pads in Syria. Meanwhile, new clashes between Syrian rebel forces and the Syrian military took place yesterday near the coastal town of Latakia. The town, home to the Alawite minority of Syria, has been the target of a five-day assault by rebels from Islamist groups including the Nusra Front.
Yemen. Twenty-two soldiers were killed by militants in southeastern Yemen on Monday. The attack consisted of a suicide car bomb and then a raid on a security checkpoint. Yemeni Minster of the Interior later said that three senior security officers have been temporarily suspended as authorities begin their investigations on the assault.
Iraq. Pressures for electoral reform began mounting in Iraq after polling chiefs submitted their resignation yesterday in protest of parliamentary and judicial interference. Prime Minister Nuri al-Maliki will seek his third term in the election, which is currently scheduled for April 30.
Libya. The trial of Seif al-Islam and Saadi Qaddafi, two of General Muammar Qaddafi's sons, is scheduled to begin on April 16. They are among a group of more than thirty officials standing trial on a variety of charges including murder, crimes against humanity, and embezzlement of funds. Libya's General National Congress amended the Libyan criminal code on Sunday to allow al-Islam to "attend" his trial in Tripoli via video-link. Seif is currently held by a militia in Zintan, which has previously refused to transfer him to Tripoli over concern that remnants of Qaddafi's regime in the judiciary system might declare him innocent.
Bahrain. Twenty-nine Shiites were jailed in Bahrain on Wednesday for an April 2012 attack on a police center. The defense claimed that their confessions were obtained under duress and through torture tactics.