This Week: Syrian Pre-Negotiations, Egyptian Convictions, and more U.S. Shuttle Diplomacy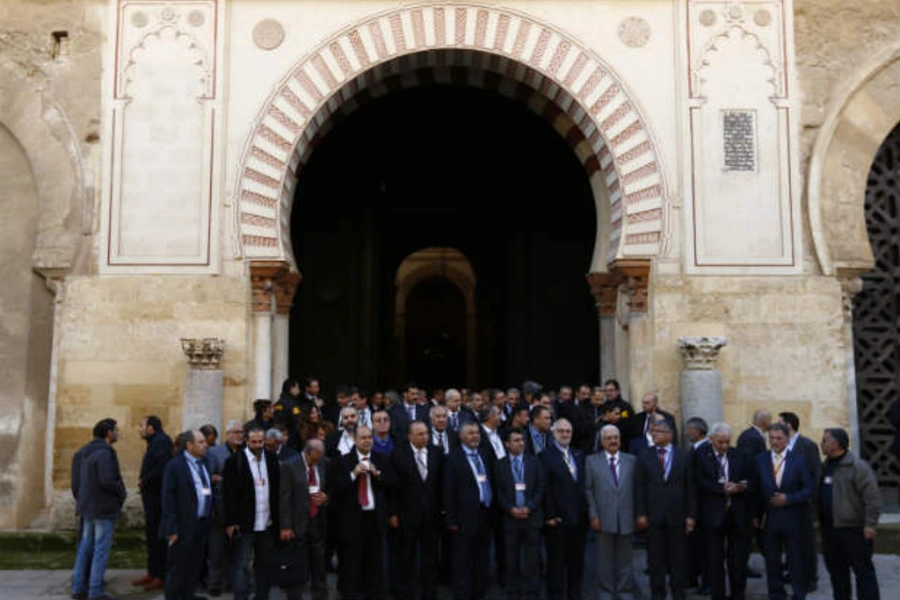 Significant Developments
Syria. Representatives from various Syrian opposition groups-- including some Islamist factions-- met in Cordoba, Spain today to try to forge common ground before the scheduled peace talks with the Assad regime on January 22 in Switzerland. Secretary of State John Kerry floated the idea earlier this week that Iran could play a role from the sidelines, saying that, "Can their mission that is already in Geneva...be there in order to help the process? It may be that there are ways that could happen."
Meanwhile, the first shipment of chemical weapons materials were shipped out of Latakia on Tuesday, a week after the initial December 31 deadline. Bassam Sabbagh, Syria's representative to the OPCW, alleged yesterday that rebels had carried out two unsuccessful attacks again chemical weapons depots. Also yesterday, Russia blocked a British-drafted Security Council statement that would have expressed outrage over the Assad regime's brutal airstrikes in Aleppo that have reportedly killed more than 700 people since December 15. The UN's human rights office announced on Tuesday that it has stopped updating the death toll from Syria's civil war because of the inability to verify information. The last official count was of at least 100,000 people killed in July.
Egypt. Egyptian courts today convicted 113 supporters of ousted president Morsi for destroying property and violating the recently passed protest law. Morsi's own trial was postponed yesterday by Egyptian authorities who claimed inclement weather prevented Morsi's transportation from Alexandria to Cairo. The new trial date is February 1. Meanwhile, Egypt's foreign ministry summoned the Iranian charge d'affaires on Monday to protest earlier comments by an Iranian foreign ministry spokesperson expressing Iran's concern about the rise in violence in Egypt. At least seventeen people were killed last Friday when supporters of the Muslim Brotherhood clashed with police.
U.S. Foreign Policy
Israel-Palestine. U.S. ambassador to Israel Dan Shapiro told Israel Radio on Tuesday that Secretary of State Kerry would likely present a draft framework for continued negotiations in a few weeks or a month. Shapiro's comments came a day after Kerry finished his tenth trip to Israel and the West Bank in a quest for a comprehensive peace agreement. Israeli prime minister Netanyahu reportedly refused Kerry's request to agree to a formula to allow some Palestinian refugees to return. Kerry is slated to return to the Middle East next week, but a stop in Israel, earlier hinted at by U.S. officials, was not included on the announced travel itinerary.
Saudi Arabian and Jordan.  In stops in Amman and Riyadh, Secretary of State Kerry reportedly asked the kings of Jordan and Saudi Arabia to support Israel's demand that Palestinians recognize Israel as the nation-state of the Jewish people, a senior Israeli official said Tuesday. Kerry is reportedly exploring urging the Arab Peace Initiative committee to adopt adding language recognizing Israel as a Jewish State when he meets with API representatives next week in Paris.
Libya. According to the New York Times, the State Department is preparing to officially apply the terrorist designation to two Libyan militant organizations and one individual in connection to the attack on the American diplomatic mission in Benghazi. The designations would apply to Ansar al-Sharia of Benghazi, Ansar al-Sharia of Derna and to Ahmed Abu Khattala, who is thought to have played a key role in the attack. The designation would allow U.S. officials to freeze financial assets.
While We Were Looking Elsewhere
Tunisia. Interim prime minister Ali Larayedh resigned today to make way for an independent caretaker government. Larayedh's resignation is part of an agreement that the ruling Islamist Ennahda made with the opposition to hand over power after a new constitution had been written and an electoral commission had been set up to oversee elections. An independent authority was established yesterday to oversee new elections and the new constitution is on track to be approved by the January 14 deadline. Industry Minister Mehdi Jomaa will replace Larayedh and is expected to present his new cabinet next week.
Iran. Iran and the EU held talks in Geneva today about implementing the November interim nuclear agreement. U.S. nuclear negotiator Wendy Sherman was also in Geneva for the talks. However, Iranian supreme leader Ayatollah Ali Khamenei said just hours before that the talks showed the "enmity of America against Iran, Iranians, Islam and Muslims."
Libya. Prime Minister Ali Zeidan announced yesterday that he will reshuffle his cabinet in the next two weeks and bring in technocrats and independents. Members of the General National Congress tried to pass a no confidence vote on Tuesday, but discussions have been pushed back to next week.  Meanwhile, Zeidan also warned that Libya may sink oil tankers trying to enter eastern ports seized by armed rebels after the Libyan navy fired shots over the weekend to ward off a tanker headed toward the rebel-held ports. The Cyrenaica regional authority, which is seeking more autonomy in eastern Libya, took over three oil ports six months ago.
Jordan. Prince Zeid Ra'ad Zeid al-Hussein, the Jordanian ambassador to the United Nations, called on UNSC members to visit Syrian refugee camps in Jordan on Monday in his first address to the press since Jordan assumed the rotating presidency of the UNSC. Prince Hussein also noted that, "there should not be a use of veto in certain situations where there is genocide, crimes against humanity, or war crimes."
Iraq. Prime Minister Nuri al-Maliki predicted victory in a televised address yesterday as the Iraqi army prepared to launch a major offensive against al-Qaeda militants who hold parts of Fallujah. Maliki acknowledged international support, saying that it is "giving us the confidence that we are moving on the right course." Last week, members of the al-Qaeda-linked Islamic State of Iraq and the Levant (ISIL), which is also battling both Assad's regime and more moderate rebels in Syria, overran parts of Fallujah and another city in Anbar province.
Kuwait. Prime Minister Sheikh Jaber Al-Mubarak Al-Sabah swore in seven new cabinet ministers on Tuesday, including a new oil minister. The cabinet reshuffle follows an order from Kuwaiti emir Sheikh Sabah Al-Ahmed Al-Sabah. It is the sixth cabinet since Prime Minister Sheikh Jaber Al-Mubarak Al-Sabah was appointed in November 2011.
Gaza-West Bank. The Hamas government in Gaza released seven imprisoned members of Fatah yesterday in an effort to promote reconciliation. On Monday, Hamas prime minister Ismail Haniyeh announced that Fatah members could return to Gaza "without any preconditions," but Ahmad Assad, a Fatah spokesman, dismissed the announcement as "superficial."
Bahrain. The Bahraini government suspended reconciliation talks with the Shiite opposition yesterday. The talks began last February, but five major opposition groups stopped attending meetings in September in protest of the arrest of Khalil al-Marzouq, a prominent member of main opposition group al-Wefaq.