This Week: U.S.-Palestinian Summit, Piracy in Libya, Negotiations with Iran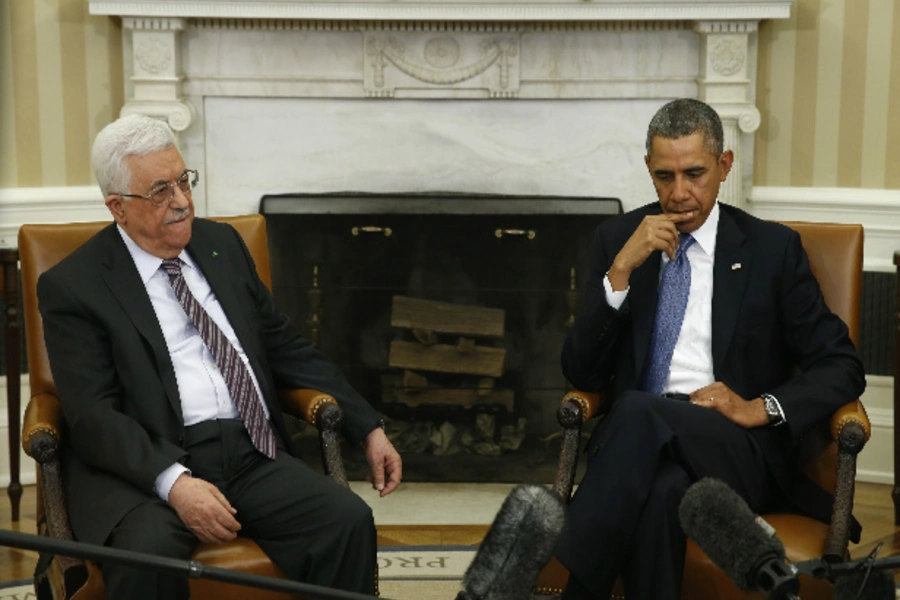 Significant Developments
Israeli-Palestinian Peace.  President Barack Obama met with Palestinian president Mahmoud Abbas at the White House on Monday. The two leaders discussed the April 29 deadline set by the United States for a framework agreement. Obama told reporters at the top of the meeting that risks would have to be taken if progress is to be made. In the meeting, Abbas reportedly requested the release of Marwan Barghouti, one of the most senior prisoners held by Israel, as one way to possibly extend the talks. Chief Palestinian negotiator Saeb Erekat noted on Tuesday that "the meeting was difficult and the meeting was long" and that it did not produce an official American proposal. Thousands of Palestinian Fatah supports rallied in the West Bank on Monday in support of Abbas.
Meanwhile, Israel is slated to release the fourth and final tranche of "pre-Oslo prisoners" by March 29 as part of an agreement brokered when this latest round of peace talks was launched last summer. On Tuesday, Israeli justice minister Tzipi Livni linked the last prisoner release to progress in the talks: "In order to advance serious negotiations, we will all need to take decisions and prove we are determined to reach an agreement and real peace. That burden of proof is also on the Palestinians' shoulders." The Palestinians say they will abandon the talks if Israel does not release the last group of prisoners. Until now 78 of 104 Palestinian prisoners have been released by Israel.
Libya. Libyan militia leader Ibrahim Jathran accused the United States on Tuesday of behaving like "pirates" after U.S. naval forces seized an oil tanker on Sunday in the eastern Mediterranean that was seeking buyers for illicit Libyan oil. Libya's government thanked the United States for seizing and returning the tanker and preventing rebel militia from gaining control of Libyan oil. Jathran heads an eastern militia that has blockaded three of Libya's key oil-exporting ports for the last eight months in a bid for autonomy in eastern Libya. The lack of control of oil revenues led Libya's parliament to pass a vote of no-confidence in Prime Minister Ali Zeidan last week. Following the vote, Abdullah al-Thinni, the interim defense minister, was appointed acting prime minister.
Iran. The second round of talks between Iran and the P5+1 countries on a permanent agreement on Iran's nuclear program concluded yesterday in Vienna. EU foreign policy chief Catherine Ashton and Iranian foreign minister Mohammed Javad Zarif called the talks "useful" and announced a third round to be held April 7-9. According to a senior American official, the talks touched on many of the sensitive issues, including uranium enrichment and the heavy-water reactor at Arak. The talks began on January 20 with an objective of reaching a final agreement by July.
U.S. Foreign Policy
Israel. Israeli defense minister Moshe Yaalon apologized yesterday in a phone call to U.S. secretary of defense Chuck Hagel for comments made on Monday criticizing the United States for demonstrating weakness globally. The apology came after Secretary John Kerry called Israeli prime minister Benjamin Netanyahu to complain about Yaalon's comments. At a Tel Aviv University event, Yaalon was quoted saying, "If you sit and wait at home, the terrorism will come again…This is a war of civilizations. If your image is feebleness, it doesn't pay in the world." He also said that U.S. aid to Israel "isn't a favor America is doing, it's in their interest." It is the second time that Yaalon has apologized to the United States for remarks deemed critical of Washington.
Syria. Daniel Rubenstein, the new U.S. envoy for Syria, announced the closing of the Syrian embassy in Washington on Tuesday. While not officially breaking diplomatic relations with Syria, Rubenstein said that it is "unacceptable for individuals appointed by that regime to conduct diplomatic or consular operations in the United States." Syrian diplomats have until the end of March to leave the country. The United States closed its embassy in Damascus in 2012.
While We Were Looking Elsewhere
Syria. Israel launched air strikes on three Syrian military positions yesterday in response to a roadside bomb that exploded on the Golan Heights Tuesday that injured four Israeli soldiers. Israeli prime minister Benjamin Netanyahu said that, "Our policy is clear. We hurt those who hurt us."
Meanwhile, the OPCW, the Hague-based organization overseeing the elimination of Syria's chemical weapons, announced yesterday that 45 percent of Syria's arsenal has been removed from the country. It was the first status update since the deadline was pushed back from February 6 to the end of April.
Saudi Arabia. A Saudi court sentenced thirteen people yesterday to prison terms for supporting terrorism and recruiting and helping people travel to Iraq, Syria and Afghanistan to fight. According to the Saudi Press Agency, the thirteen people sentenced included nine Saudis, two Jordanians, an Egyptian, and a Syrian. Earlier in March, Saudi Arabia listed the Muslim Brotherhood and al-Qaeda affiliates in Iraq, Syria, and Yemen as terrorist organizations.
Algeria. According to Abdelmalek Sellal, a former prime minister who is currently running President Abdelaziz Bouteflika's reelection campaign, Bouteflika intends to amend Algeria's constitution to introduce reforms to strengthen democracy if he is reelected next month. According to Human Rights Watch, the Algerian police have arrested protesters to prevent widespread demonstrations during the upcoming presidential elections, scheduled for April 17. Bouteflika is expected to win the election.
Egypt. An Egyptian court condemned police officer Lieutenant Colonel Amr Farouk on Tuesday to ten years of prison over the deaths of thirty-seven prisoners. The victims allegedly suffocated from tear gas in a police van during the crackdown on Morsi supporters on August 18, 2013. The decision comes four days after Egyptian security forces stormed two sit-ins organized by supporters of deposed president Morsi in Cairo.